Binotto explains why Ferrari didn't pit British Grand Prix leader Leclerc behind the Safety Car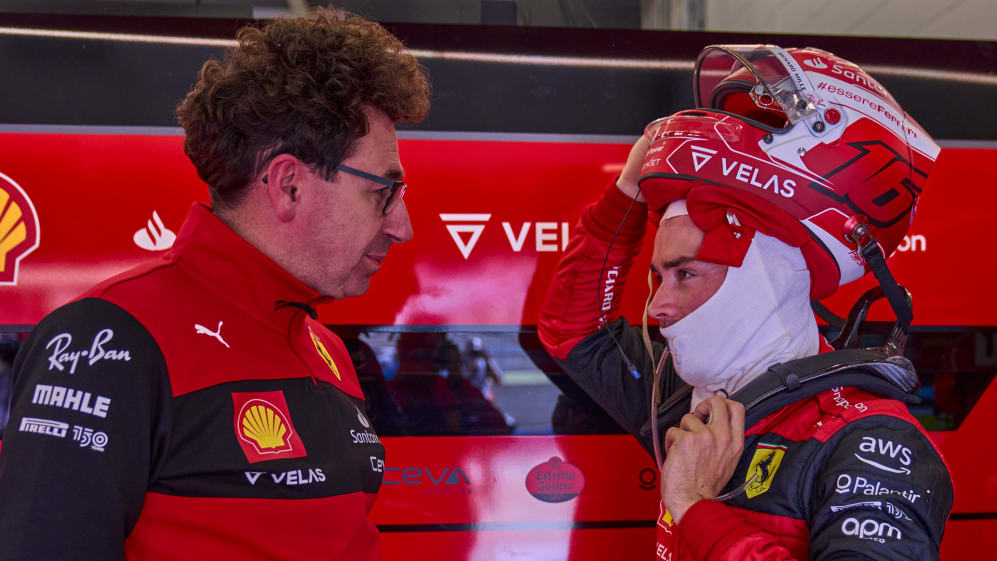 Ferrari boss Mattia Binotto has explained why the team elected not to pit race leader Charles Leclerc during the late Safety Car period in the British Grand Prix – a decision that potentially cost him the win and dropped him down to fourth at the chequered flag.
Leclerc was leading the Grand Prix from team mate Carlos Sainz and looked likely to seal victory with about a quarter of the race left to run – but when the Safety Car was called out on Lap 39 to allow marshals to clear Esteban Ocon's stranded Alpine, a number of cars dived into the pit lane to fit fresh tyres for the final phase of the race – including Sainz in P2 – but Leclerc was left out.
READ MORE: 'It was looking good for victory' – Leclerc says he 'cannot hide disappointment' after falling to P4 at end of British GP
When the racing resumed, the Monegasque – now on used hard tyres – was powerless to defend from the cars behind him on new softs, and was passed by Sergio Perez, Lewis Hamilton, and Sainz who went on to win. Leclerc was visibly frustrated by how events played out, but Ferrari boss Binotto insisted after the race that pitting both cars was not an option.
"We believed that we didn't have enough space between the two cars to stop both of them so we had to make a choice between the first or the second car, so we decided to stop Carlos because Charles had the track position and was the leader of the race at that time, so you don't know what the others would have done if we had stopped as the leader," said the Ferrari boss.
"And then we were hoping for more tyre degradation on the soft – that didn't happen."
He said the team strategists decided there wasn't enough time to do a double stack pit stop of both cars, as Binotto explained: "The others were just behind and you cannot lose even a second at the pit stop trying to organise it, so it was clear: we keep track position with Charles, and stop Carlos.
"Obviously, with the hindsight now, [Leclerc] being on softs would have been better, but that's not what we thought was the right decision."
MONDAY MORNING DEBRIEF: Binotto says there was 'no way' for Leclerc to win the British GP after the Safety Car – but is he right?
Binotto was pictured in stern conversation with Leclerc after the race, and the Ferrari boss shone a light on what he said to his driver.
"No there is nothing to sort out internally," he said. "It was simply to tell him: I understand your disappointment, but you did a fantastic race today, fighting at the start, fighting later on when he was on hard and the others were on softs.
"I think the way he was driving there, protecting the position was amazing, so being happy is difficult – but I think staying calm and being positive is important."
Binotto was full of praise for Sainz, who finally has his first Formula 1 victory at the 150th time of asking.
READ MORE: 'It's about time' – Sainz reveals his relief after ending 150-race wait for victory at Silverstone
"I think that's the strength of Carlos," continued the Ferrari chief, "always trying to be there and get the opportunities – as yesterday in qualifying: maybe the other two made small mistakes, but he did a consistent lap and he made the pole so that's his strength.
"Be consistent to the end, to the chequered flag, and take the opportunity when the opportunity's coming, and for him I'm really very happy because it's his first victory. That was important for him – with Ferrari, even more important – so I'm very pleased and I think he deserved it."