'It's about time' – Sainz reveals his relief after ending 150-race wait for victory at Silverstone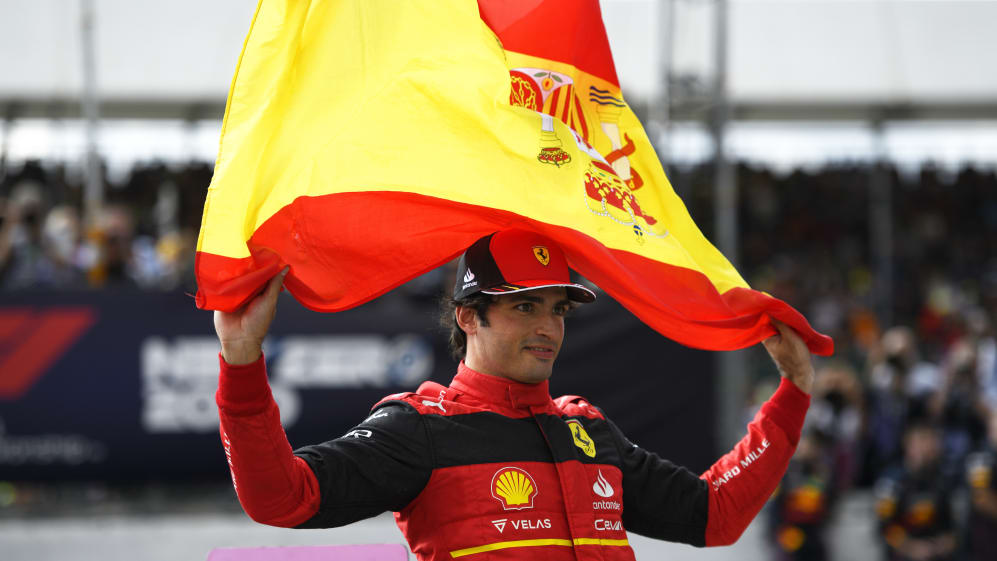 Carlos Sainz has finally done it – the Ferrari driver won his first Grand Prix with a late-race dash for the lead at Silverstone, ending a 150-race wait. And the Spaniard says he never stopped believing.
Sainz took his maiden pole position on Saturday but lost the lead on Lap 1 of the British Grand Prix, retaining it when the field was reset after a brace of crashes going into Turn 1. Sainz led the race restart but lost out to Max Verstappen, only briefly as the championship leader slowed with damage. With a gamble for new tyres for the final Safety Car restart, Sainz snatched victory in front of a capacity crowd.
HIGHLIGHTS: Watch the action from a brilliant British Grand Prix, as Sainz seals maiden Grand Prix victory
"I think a first win is always a bit of a relief, I'm not going to lie," he said. "The same way the pole position didn't feel like it yesterday, today the win does feel like a bit of a relief. There you have it, you have a win in Formula 1 and for sure I'm going to keep fighting for more.
"I'm going to keep improving with this car and try and make it happen. Honestly I never stopped believing that this win was going to come.
"Even if this year has been tough for me, and it hasn't been the easiest, I knew in Monaco I could've won, I knew in Canada it was super close and it was just about time that something happens in a race that you can win… so keep believing; if there's something this sport has taught me, keep believing. This is a great example that still happens."
Sainz also defended Ferrari's use of team orders, having been asked to give up the lead to his faster team mate, Charles Leclerc (who finished P4), midway through the race.
"I gave myself the best chance to stay ahead, by pushing as much as I could, but to a point that I was destroying so much my front tyre that it made total sense for Charles to go through, and I let him by as soon as the team told me to do so.
"I've always been a team player, I will always be a team player and especially in Ferrari, I know the team is in front of me and my personal interests. I had the same philosophy when I overtook Charles, when I overtook him back. Today is a good example that we managed the race; we had two cars, first and second, before the Safety Car restart."
READ MORE: 'It was looking good for victory' – Leclerc says he 'cannot hide disappointment' after falling to P4 at end of British GP
So, it's taken 150 races for Sainz to deliver his first win – how many until his second?
FACTS AND STATS: Hamilton sets new podium record, as Sainz becomes Spain's second F1 winner
"Hopefully next week [in Austria]. It's very special, but it's special to do it in Silverstone, to do it in front of this crowd that we had today. I heard I had a cheer from them. When you have Lewis, an English guy, on the form that he was today, having one of his special days putting on a great drive like he was doing and still you have the whole crowd being happy for me and so many fellow drivers… coming to congratulate me and feeling happy for me.
"And actually the whole paddock, I feel the whole paddock feels proud and happy for me and this is a special feeling and I cannot explain it… and I thank you, everyone, for that."