Bottas admits he 'needs a miracle' in title battle after 'disappointing' Eifel GP retirement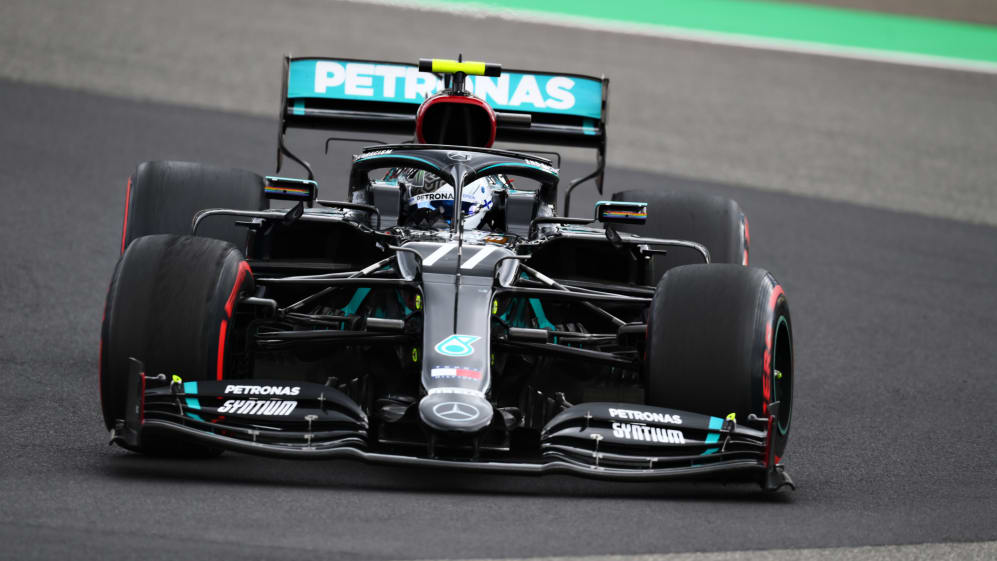 Valtteri Bottas landed in Germany with a spring in his step following an impressive victory in Russia, but he was unable to repeat the trick in Germany after a suspected MGU-H issue forced a retirement and left him "needing a miracle" in the title battle with Mercedes team mate Lewis Hamilton…
READ MORE: Hamilton takes record-equalling 91st victory as Ricciardo claims first Renault podium at Eifel GP
Pole-sitter Bottas bullishly held off a spirited attack from Hamilton at the start to maintain the lead, but a lock-up at Turn 1 on Lap 13 saw him run wide – and Hamilton seized the advantage. He dropped to third after Max Verstappen got a free pit stop because of the Virtual Safety Car and then lost power before retiring on Lap 19.
Bottas' no score in Germany leaves him 69 points behind Hamilton – almost three race wins – with only six rounds to go in the 2020 championship.
READ MORE: Ricciardo: Eifel GP podium 'feels like the first all over again'
"It's disappointing, of course, just very, very disappointing but it's one of these things you cannot do anything about it," said Bottas. "Obviously, I also had the lock up before that but, still, I had all the chances to win, because that made me go into a two-stop quite early and I think two-stops, in the end, was the best strategy.
"I knew there was still all to play for even after that lock up on the drizzle, but then came the engine thing and I couldn't believe it.
"I understand the gap to Lewis is now pretty big in the points, so I would definitively need a miracle, but, as always, there's no point in giving up, I have to keep the bar high for me and keep trying."
READ MORE: Eifel GP Facts & Stats – Hamilton makes history – and Mercedes equal Ford record
Despite the gap, Bottas is refusing to admit defeat just yet and is planning on taking it race-by-race from now on, starting with the Portuguese Grand Prix in two weeks' time.
"I think that's the best mindset, there's no point now to non-stop calculate the points for Lewis because it's quite a big gap," he said. "I just have to set the target for each weekend and then do everything I can for that.
"The mindset for me is to never give up [and that is] is still with me so, no chance to get out of it. Obviously, in a couple of months we'll be a lot wiser about how the season will pan out."