Bottas and Hakkinen to join forces for 2022 Race Of Champions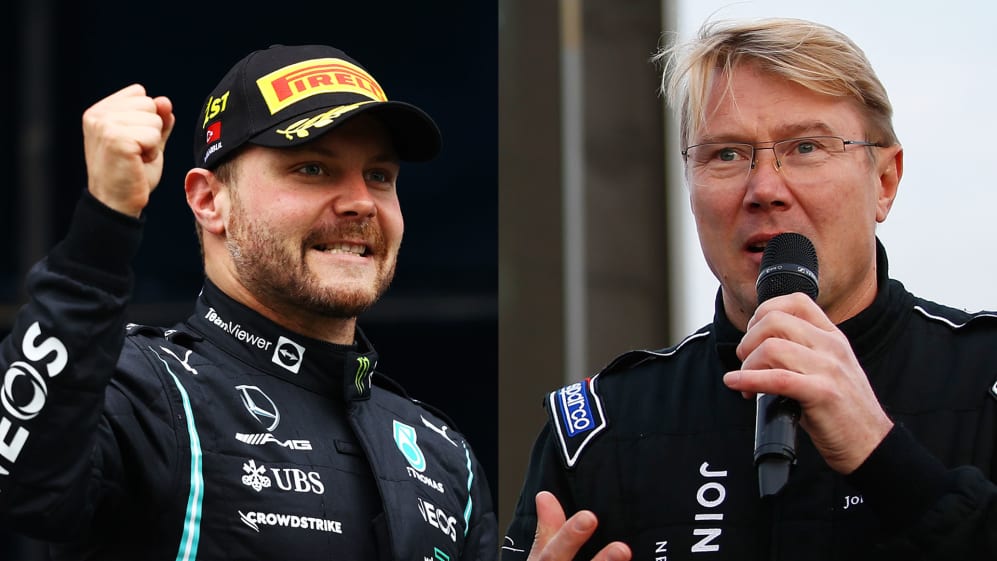 Current Mercedes racer Valtteri Bottas will join forces with his fellow Finn and two-time F1 champion Mika Hakkinen for next year's Race Of Champions, taking place in Sweden on February 5-6, 2022.
Bottas and Hakkinen – who also manages Bottas' career – will form up as Team Finland at the Race Of Champions 2022, which is set to be run on snow and ice in Pitea, in the north east of Sweden.
"We have become good friends with Mika, so I'm very happy to have him as my team mate representing Finland in the ROC Nations Cup," said Turkish Grand Prix winner Bottas. "But then of course we have to try to beat each other in the individual Race Of Champions. It will be entertaining for the fans, whoever wins it."
TREMAYNE: Redemption can rarely have tasted so good for Bottas in Turkey after his year from hell
This tweet has been removed from Twitter
The Finnish pair will join other stars, including nine-time Le Mans winner Tom Kristensen, nine-time World Rally champion Sebastien Loeb and father and son rally pairing Petter and Oliver Solberg at the event, which has been won in previous years by former F1 drivers including Romain Grosjean, David Coulthard and Sebastian Vettel.
Vettel was also famous for forming the indomitable Team Germany partnership with Michael Schumacher, the pair winning the Nations' Cup six times on the bounce between 2007 and 2012.
READ MORE: 'What my dad was to Sebastian Vettel, he is for me,' says Mick Schumacher
Bottas and Hakkinen, along with their fellow Race Of Champions competitors, will have to prove their talent in a host of different machinery, including a Porsche 718 Cayman GT4 Clubsport, a SuperCar Lite rallycross machine and an all-electric FIA RX2e car.
"I'm very excited to be back racing again," said Hakkinen, "and to finally be able to participate in the Race Of Champions. It will be very different from racing in Formula 1, but I love competition and it's so spectacular driving on snow and ice. I'll try to get some practice at my place in the north of Finland before the event."