Bottas on Hamilton's greatest strength after their 5 years as Mercedes team mates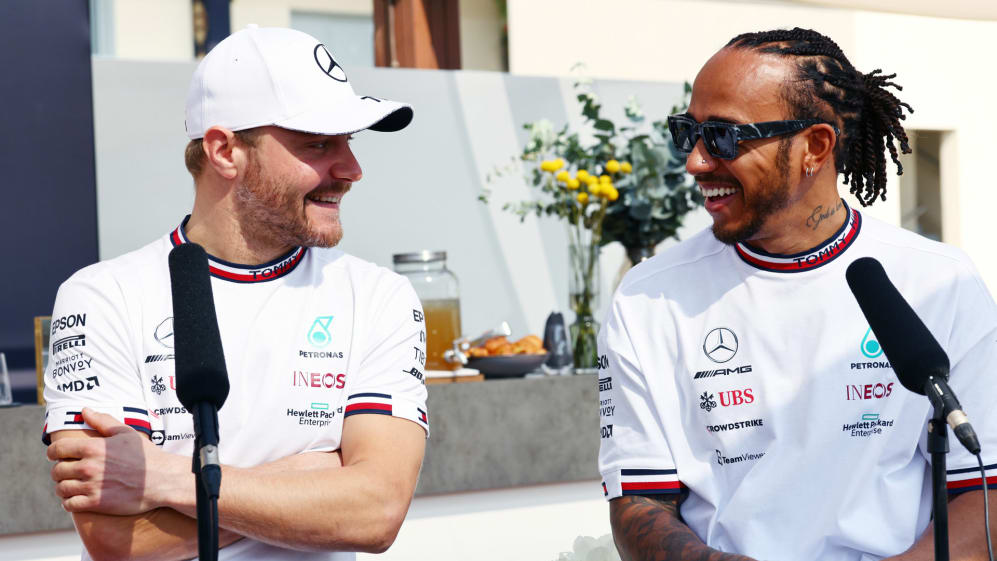 Lewis Hamilton is aiming this season for a record eighth championship – but how has the Mercedes driver managed to stay at the head of the pack for so long? His former team mate Valtteri Bottas gave his thoughts on the matter before leaving the Silver Arrows.
Bottas spent five years alongside Hamilton at Mercedes, helping the constructors win a record eight consecutive titles, and during that time he also witnessed the Briton grow and develop his own talents to stay up front.
WATCH: The biggest stories from a sensational 2021 season
"You know, with Lewis, what has been really impressive is that every year he's been able to develop," explained the Finnish driver. "He's got such a big experience in Formula 1 but still he's been able to always learn more, become better and better.
"For sure, I've developed every year as a driver but so has Lewis, and it doesn't come automatically. He works for it, because he knows that the competition always gets tougher. I've definitely learned many things from him, like driving-wise, set-up-wise, lots of small things here and there, but just it's been impressive that he's been able to still develop and not to get too comfortable, ever."
Although Hamilton missed out on a record eighth title in 2021, he prepares to compete and take on the challenge this season as a new era of F1 dawns.
And Bottas emphasised that the 37-year-old is still improving: "He always wants more out of himself and the team around him, so that's been the same thing every year – he keeps getting better."
READ MORE: New Mercedes racer Russell believes 5 teams could fight for title in 2022
As for the ex-Mercedes driver, Bottas is now at Alfa Romeo and getting ready for a maiden F1 campaign with the squad based at Sauber's Hinwil headquarters.
The 10-time Grand Prix winner will partner Chinese driver Zhou Guanyu – although he's spent his winter break cycling in Australia and snowmobiling in Finland ahead of the season.
Oops! Error retrieving Twitter post