Bottas pinpoints tyre warm-up issues and slow-corner balance as Mercedes' major issues in Monaco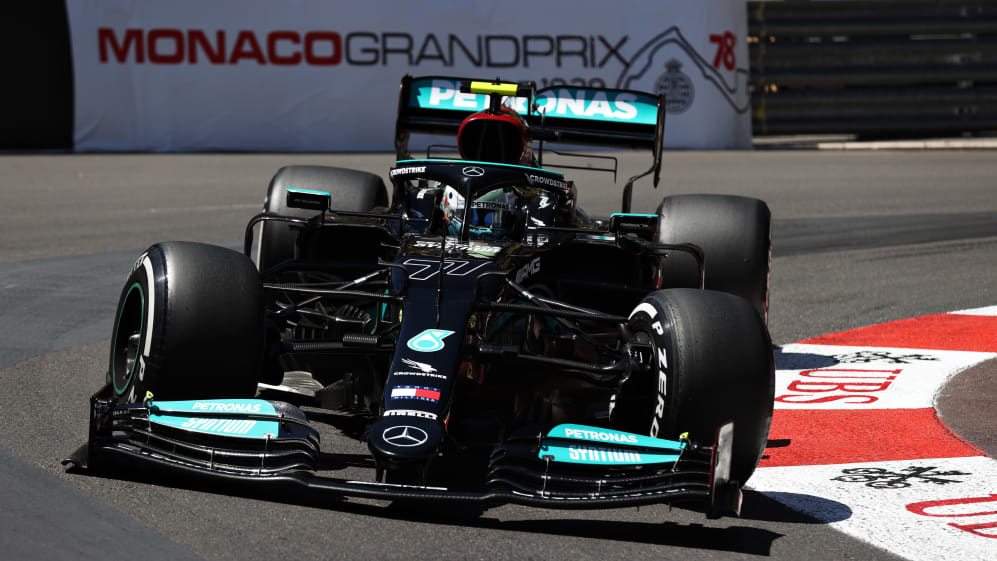 Mercedes' Valtteri Bottas has highlighted Mercedes' ongoing tyre warm-up issues in Monaco, as he admitted that other teams may have an advantage over the Silver Arrows when it comes to getting the Pirelli compounds working on the streets of the Principality.
The Finnish driver, fifth in FP2 and sixth in FP2 on Thursday, wasn't particularly happy with his W12's balance after practice. He pointed out that he couldn't warm up the tyres enough to get them into the right performance window, and added that the car's slow-corner performance and stiffness over bumps was inadequate.
READ MORE: 5 things we learned from Thursday practice for the Monaco Grand Prix
"Today, for the first lap, I couldn't get them [the tyres] to work yet. We need to work hard tomorrow and try to figure it out. I feel like some cars might have a bit of an advantage to us on that," he explained.
"I feel like from my side I'm lacking quite a bit of front end on this track," added Bottas. "We've been facing issues a little bit on some tracks in the mid-corner, but it's mainly small-speed corners. If you don't have the feel of the front, if it's going to turn in or not, you're going to lose easily quite a bit of time.
"Also it feels like our car feels quite stiff, like all the bumps and cambers in the corners is quite upsetting. Something to have a look at."
GOOD LAP vs GREAT LAP: Ride onboard with Lewis Hamilton to see how to nail a lap at Monaco
After Ferrari clinched a shock one-two in FP2 on Thursday, Bottas said it's no longer a two-horse race in Monaco between Red Bull and Mercedes.
"Yes, Ferrari looks really quick and Red Bull as well. It's not going to be only about two teams, so it should be fun.
READ MORE: F1 Fantasy tips for the Monaco Grand Prix – Should you buy Ferrari before Leclerc's home race?
"It's nice to be back on this track especially when it's two years' gap. It's still very tight. I mean there's not much space on this track. It's demanding, and I feel like we still have work to do with the car," he concluded.
Mercedes have a 29-point lead in the constructors' championship, but Bottas is 47 points off team mate Lewis Hamilton in the drivers' standings – and he's searching for a first Monaco Grand Prix pole position on Saturday and a first Monaco victory on Sunday.