Feature
5 things we learned from Thursday practice for the Monaco Grand Prix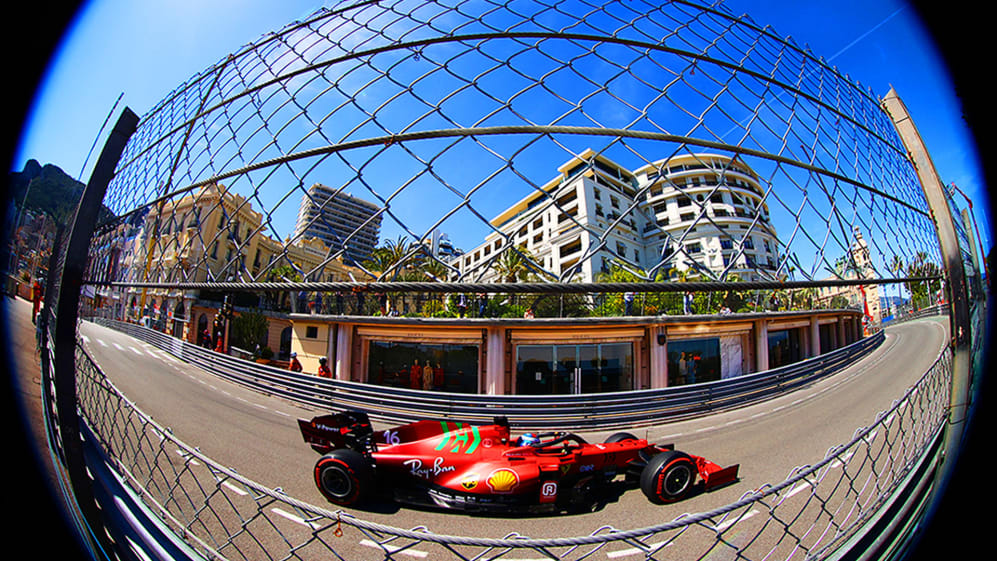 Monaco looked resplendent as Formula 1 rolled back into town after a one-year hiatus, with the drivers united in their excitement to get on track and challenge themselves on the world's most famous street circuit.
Qualifying here, more than anywhere, is super important, so difficult is it to overtake, which is why we saw the teams spend more time than usual on low fuel simulations on the soft and medium tyre – both of which look very close in terms of lap time.
FP2: Home hero Leclerc heads shock Ferrari 1-2 in Monaco as Hamilton takes third
With traffic a real problem around Monte Carlo, teams tend to fuel cars for a handful of laps so they have multiple opportunities to react if they get baulked, even if it's not the outright fastest way to go qualifying. So, after the first two one-hour sessions of the weekend, what did we learn?
1. Ferrari's impressive pace looks genuine
When Lando Norris texted his friend and old team mate Carlos Sainz ahead of the weekend suggesting the Spaniard had a great shot at victory, he may not have imagined that Sainz would finish second quickest in both practice sessions, with his team mate Charles Leclerc topping FP2, to genuinely set up the prospect.
READ MORE: Leclerc says Ferrari's Monaco pace 'too good to believe' as local star overcomes gearbox issues to head FP2
It was a fine performance from both scarlet cars for different reasons. Sainz was ruthlessly consistent, adapting quickly to a Ferrari that he said behaved very differently to his old McLaren around Monaco.
Leclerc, meanwhile, disappointed his home fans – with 40% capacity permitted in the Principality amid the Covid-19 pandemic – by spending most of FP1 in the garage with a gearbox issue, only to make up for it by topping the times in the second session.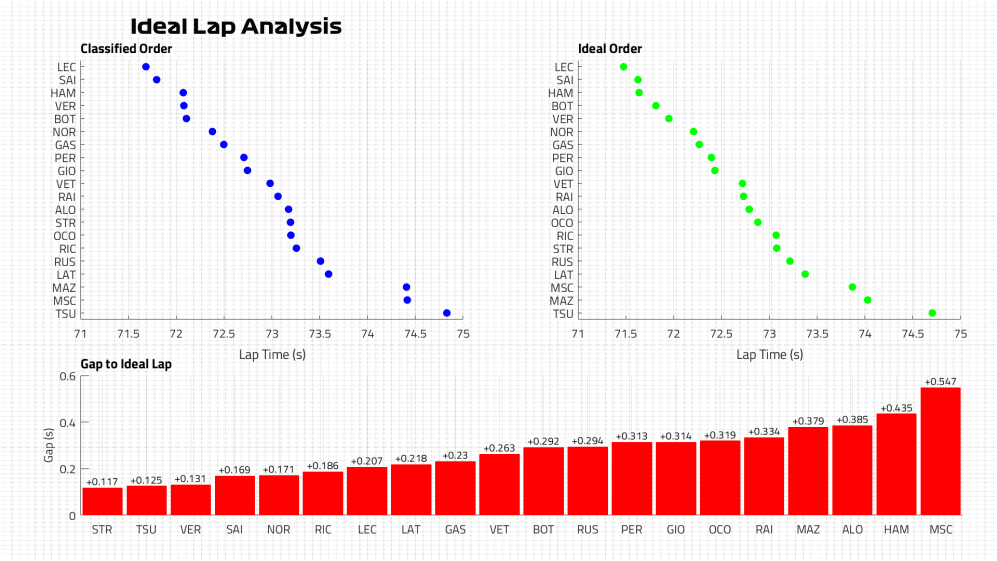 Both were pretty close to their ideal lap, Sainz leaving 0.169s on the table, and Leclerc 0.207s, with the duo's combined pace causing quite the stir up and down the paddock.
"The Ferraris look really strong," said Lewis Hamilton. "It's surprising to see them improve so much – but that's great. It means more competition." His championship rival Max Verstappen added: "I'm just surprised at how competitive the Ferrari is."
HIGHLIGHTS: See all the key moments from second practice in Monaco as Leclerc goes quickest
That everyone is talking about Ferrari – for positive reasons – after the difficult season they had last year is quite the turnaround. But is their pace real? Our data suggests it is, the Ferraris just 0.09s off Red Bull's leading pace, and 0.03s adrift of Mercedes in qualifying trim.
And they are a match for Mercedes in terms of race pace, 0.14s adrift of Red Bull. Potentially exciting times ahead, then, for the Prancing Horse.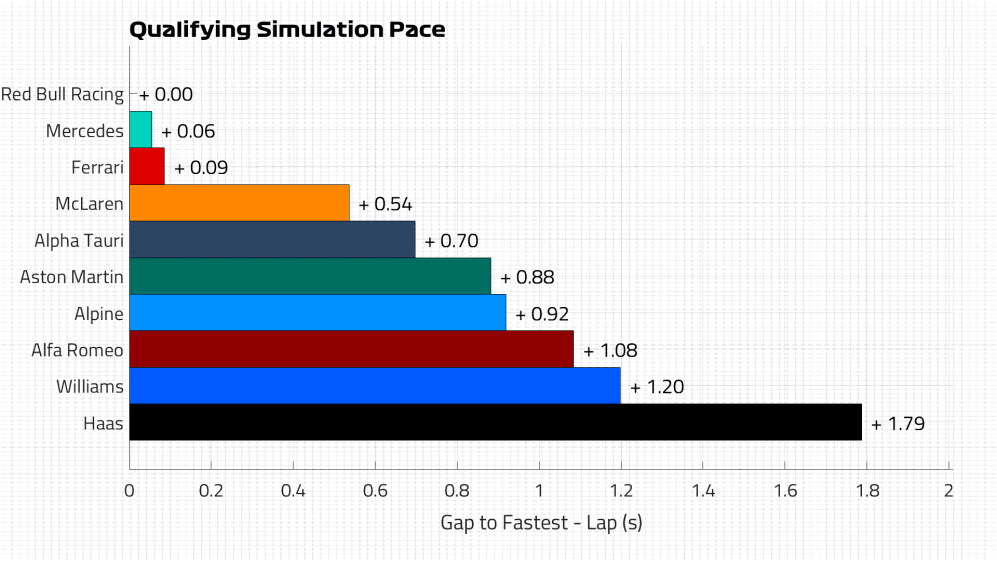 2. Mercedes are wary of Scuderia threat
Hamilton was "very happy" with his efforts, despite not topping either practice session on Thursday in Monaco, but his team mate Valtteri Bottas was less pleased, saying the car "feels quite stiff on the bumps".
Their trackside engineering chief Andrew Shovlin reckons they need to improve both their single lap and long run performance, and made a point of highlighting that "both Ferraris [look] so strong" and that "their pace is genuine".
READ MORE: Hamilton surprised and delighted by Ferrari pace as he welcomes 'more competition' in Monaco
According to our ideal lap data, Hamilton left nearly half a second on the track – only Mick Schumacher lost even more – which might explain the Briton's confidence that things will come good as the weekend progresses.
They are right in the mix in qualifying trim, just 0.06s off Red Bull, and when they piled the fuel on, that only stretched out to 0.14s. All it will take is a bit of Hamilton magic or favourable conditions on track – such as no traffic – and Mercedes will feel that pole is very much within their grasp, handing them significant control for the race.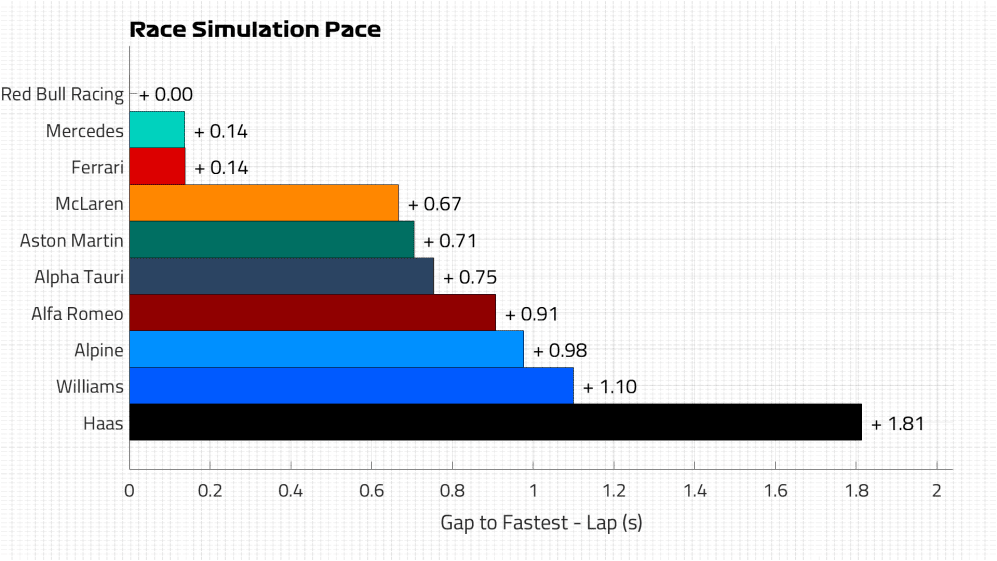 3. Red Bull are probably quicker than they look
Max Verstappen was in a chattier mood than normal after Friday practice, despite ending FP2 behind both Ferraris and his main title rival Hamilton.
He described the car as "pretty weak", admitting Red Bull are "too slow, and not just by a little bit; I think quite a bit".
READ MORE: Verstappen says Red Bull are 'too slow, and not just by a bit' after first day in Monaco
If everyone had done their ideal lap, Verstappen would have dropped behind Bottas in the classification to fifth, nearly a second off Leclerc's perfect pace. However, when our data team dug into the numbers, and worked out their performance taking things like fuel loads and tyre life into consideration, they topped both the short and long run charts.
So while Red Bull may be talking a lot about Ferrari and Mercedes' pace around Monaco so far this year, it could well be deflection, as they appear to look pretty handy themselves.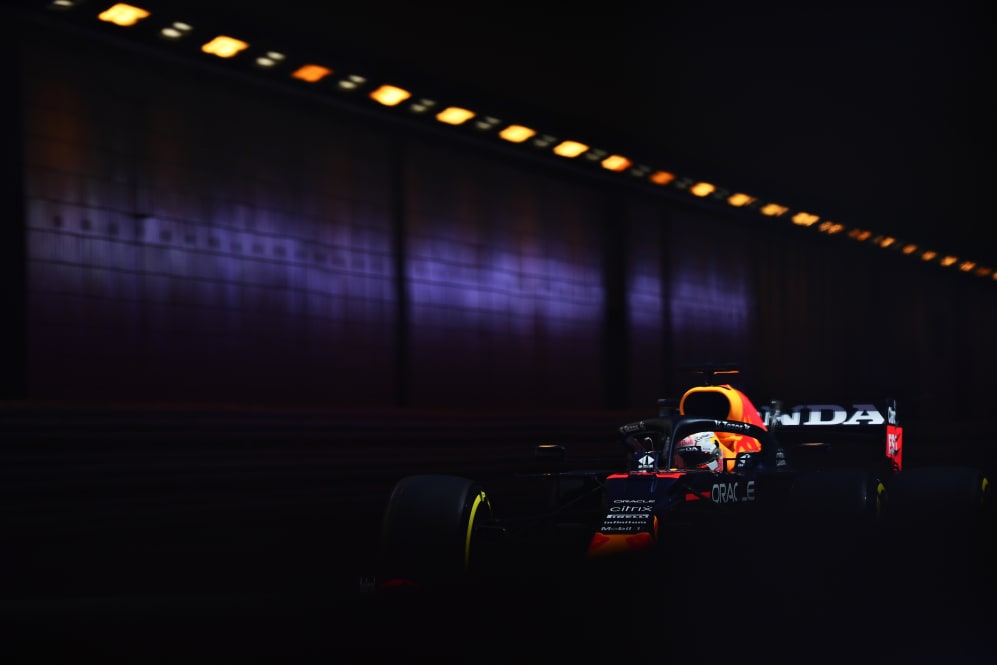 4. McLaren are looking better than they expected
This has been quite the year for Lando Norris, the Briton nabbing himself a fresh new deal with McLaren that runs until the end of 2023 off the back of a supreme run of form, that puts him fourth in the drivers' championship with a podium already to his name.
Repeating that feat this weekend may be tricky, given the gap to Red Bull, Mercedes and Ferrari. But with the team having expected to have their toughest race of the year so far here in the Principality, things are looking pretty good.
READ MORE: Norris tips former team mate Sainz for potential Monaco win as Ferrari top Thursday practice
They are fourth in the qualifying simulation pecking order, nearly half a second behind the top trio, but with a tenth and a half in their pocket over AlphaTauri. They are slightly slower in race trim, but are still P4, this time ahead of Aston Martin.
Daniel Ricciardo wasn't as happy with his day as team mate Norris, but as ever he remains positive that he'll get on top of things and plans to spend the spare day (Friday) before final practice and qualifying on Saturday digging into the data to find some solutions.