Bottas questions those who booed Hamilton after his Mercedes team mate takes 101st pole in Hungary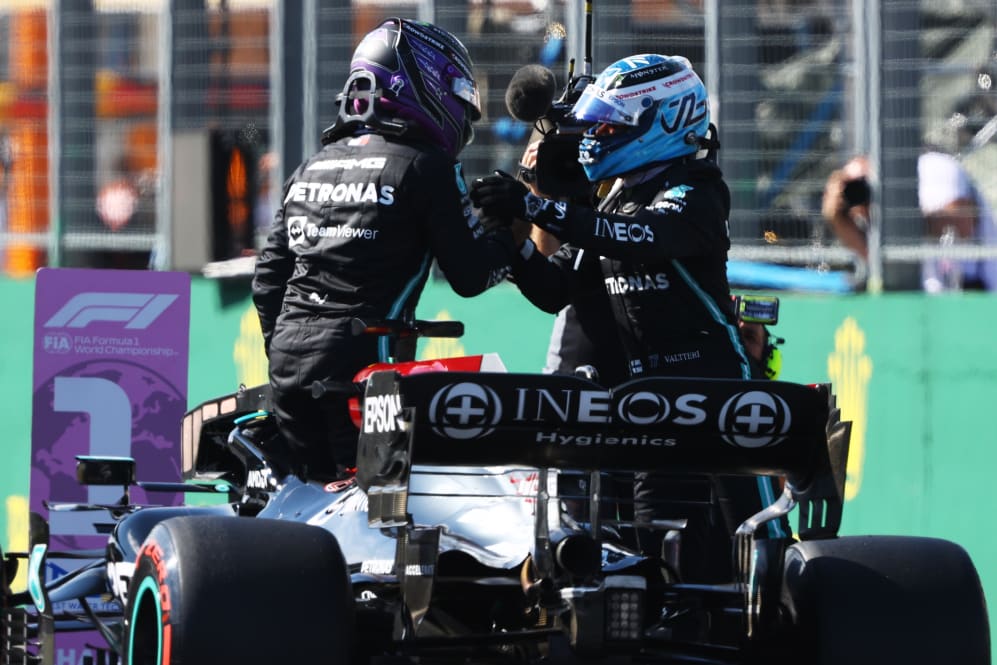 Valtteri Bottas completed a Mercedes front-row lockout in qualifying at the Hungaroring on Saturday, but afterwards his attention was drawn to those in the crowd who booed his pole-sitting team mate Lewis Hamilton, with the Finn saying he felt compelled to speak up for the Briton.
Bottas's best effort was 0.315s off the lap time that sealed Hamilton a 101st F1 pole position, yet the Finn will still start second on Sunday while title rivals Red Bull start third and fourth. However, the Finn took time in the press conference to criticise those who booed Hamilton after qualifying.
READ MORE: Hamilton hails 'beautiful' record 8th Hungary pole, and denies allegation of gamesmanship ahead of final Q3 runs
"I don't normally [talk] about these kind of things, what I think, but I heard a lot of booing at end of qualifying and I don't understand it," he began. "I would like the people to question themselves and the behaviour, which I don't think is fair.
"We are here as athletes to give every single thing we have to the sport we love, and Lewis did an amazing lap at the end and then you get booing. So, the people, just question yourself; it's not right, it's not fair and we don't want to see these kind of things."
Asked if he was content with qualifying second on the grid in Hungary, Bottas harboured mixed feelings – and added that he lost his way switching from the medium compounds that Mercedes used in Q2, to the softs in Q3.
HIGHLIGHTS: Pole for Hamilton and a crash for Sainz – all the action from Hungarian GP qualifying
"To be honest, not 100% pleased," he said. "For me, the issue was, I lost a bit of rhythm in Q2 with the medium tyres – I didn't feel that comfortable with the rear of the car – so then it was not easy to go back on the softs and really attack it fully, so it was not so clean and definitely not my best laps of the weekend. But still good enough to get to the front row, so that's good."
Hamilton himself addressed the crowd after taking pole position as he said: "I appreciate the great support I have here. Honestly, I've never actually felt so great with the booing, if anything, it just fuels me, so I don't really mind it."
While Verstappen, when asked about the negative reception towards his title rival, said that it should have had no impact.
"Yes, well, what do you want me to say? Of course, it's not correct but at the end of the day, I think we are drivers, you shouldn't get disturbed by these kind of things, you know, you should anyway just focus on what you have to do and that's deliver in the car," said the Dutchman.
TECH TALK: A close look at the cooling solutions the teams are using to counter the heat in Hungary
"But luckily of course we wear helmets, so actually when you're driving, of course where it matters, you don't hear anything. That's maybe a bit different to other sports so we are quite lucky with that," he quipped.
Most important to Bottas, Hamilton, and Verstappen, is the resumption of the championship battle that sees Mercedes start on the front row on Sunday – with Red Bull holding a four-point lead in the standings.