Hamilton hails 'beautiful' record 8th Hungary pole, and denies suggestion of gamesmanship ahead of final Q3 runs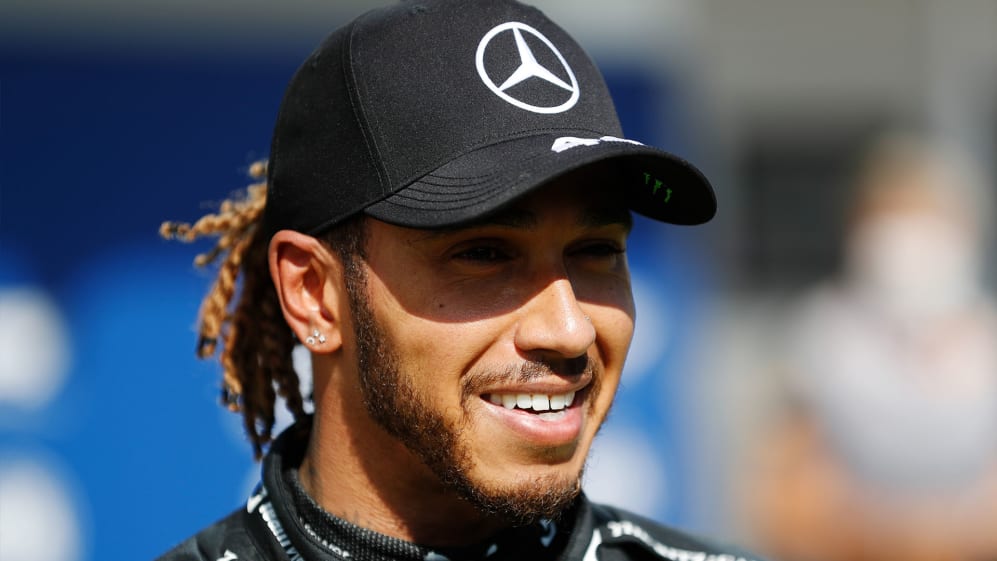 Lewis Hamilton claimed a record-equalling eighth pole position at the Hungaroring for the 2021 Hungarian Grand Prix, with a stellar Q3 effort that saw him lap over three-tenths faster than anyone else. But there was controversy on Saturday afternoon for Hamilton, too, as the seven-time champion was forced to deny claims that he'd deliberately held up rival Max Verstappen ahead of their final runs.
Hamilton set a blistering first effort in Q3 that turned out to be good enough for pole position, stopping the clocks with a 1m 15.419s, and ending up 0.315s ahead of team mate Valtteri Bottas, and 0.421s ahead of Verstappen.
QUALIFYING: Hamilton roars to Hungary pole, as Bottas denies Verstappen front-row start
And Hamilton was delighted with his eighth pole position in Hungary, which ties the record for the most poles at a single venue with himself at Melbourne, Michael Schumacher at Suzuka and Ayrton Senna at Imola.
"The first run [in Q3], the lap really felt beautiful, it was a real build up," said Hamilton. "A lot of qualifying sessions you sometimes get your best lap in Q1 or Q2 or something like that, and it never goes always to plan. But today I got the best lap in Q3, run one, so really happy with it."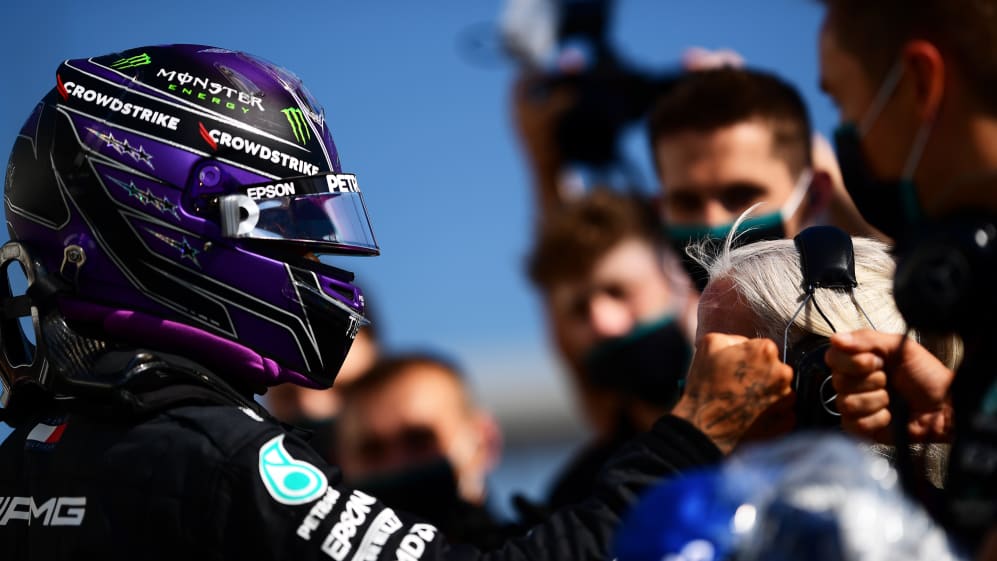 Hamilton was unable to improve on his second Q3 lap.
But there were accusations made against the Mercedes driver that he'd gone deliberately slowly on the out lap for that final effort while running ahead of title rival Verstappen, the implication being that he'd tried to disturb the warm-up of the Dutch driver – with whom he made contact at the last round at Silverstone – while Sergio Perez running behind was ultimately prevented from setting a final lap.
AS IT HAPPENED: Relive all the action from qualifying for the Hungarian Grand Prix
And forced to answer questions on whether he'd done a slow out lap deliberately – with ex-Haas driver Romain Grosjean tweeting: "If that was made on purpose, it's not pretty" – Hamilton replied tersely: "It's so silly. Everyone was going slow, do you not watch everybody else? I don't understand.
"Do you think I could have gone quicker and then been closer to Valtteri?" added Hamilton, who appeared to be booed by the crowd after climbing out of his Mercedes W12. "Everyone was doing a slow out lap, it was no different to any other lap. Of course, each time we go out, we're trying to prepare the tyres and keep them cooler, because they get so hot throughout the lap.
"So I wasn't playing any tactics. I don't need to play no tactics, man. I know what I'm doing in the car and I'm fast enough, I don't need to add tactics. Those that are making the comments really don't clearly know anything about the job we're doing here. Which is probably why they're not driving."
Hamilton's 101st pole position will be followed up by a chance to go for a 100th win on Sunday – and an all-time record ninth victory at a single venue. But despite Mercedes having locked out the front row and gone through Q2 on medium tyres – while both Verstappen and Perez in P4 will start on softs for Red Bull – Hamilton said he wasn't thinking too far ahead.
WATCH: Sainz crashes out of Q2
"This is not even half the job," said Hamilton, who sits eight points adrift of Verstappen in the drivers' standings. "Tomorrow's a long race, we don't know what weather is around us.
"It's such a challenging circuit, and the whole top four will not be easy to beat. We've got a long run down to Turn 1, so it's going to be challenging tomorrow, especially if the temperatures are like this. So should be an exciting race."