Bottas reveals he raced in 30C heat with no drinks system, as he helped Hamilton to victory in British GP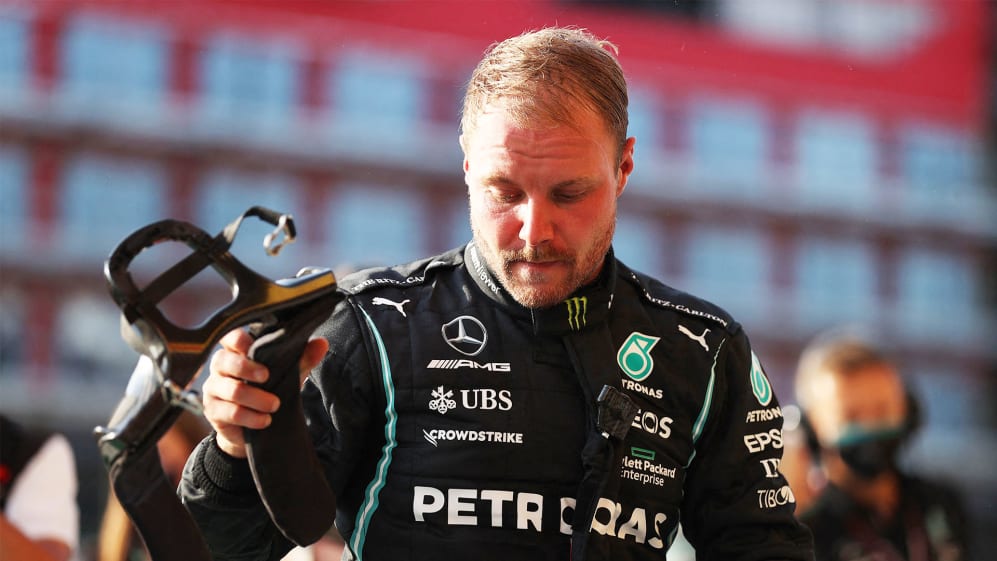 If Valtteri Bottas looked a little hot and bothered after his drive to P3 in the British Grand Prix, there was a good reason, with the Finn's drink system having failed during the race.
Bottas endured a pair of bad starts in the British Grand Prix, first at the race start itself – where he was passed by Charles Leclerc – and then at the red flag restart, where he was overtaken by McLaren's Lando Norris.
READ MORE: Hamilton vs Verstappen – We round up all the opinions after their controversial British GP clash
But after he was able to jump Norris following a slow McLaren pit stop before finishing third, behind team mate Lewis Hamilton – who he let pass him on Lap 40 after instructions from Mercedes – and long-time race leader Leclerc, Bottas was left to reflect on a very thirsty run to P3…
"I had no drinks," said Bottas after the race, which was run in temperatures of nearly 30C. "My drinks system didn't work.
"[But] the main issue was race starts," Bottas went on. "I was wheel-spinning quite a bit… In both of the race starts, I lost a place, and especially the second start when Lando got ahead of me. When he stopped, he had a slow pit stop, so it meant I had to react [by pitting] so we did actually get him that way.
READ MORE: Formula 1, FIA and Mercedes condemn online racist abuse of Hamilton
"But then I also knew that the winning fight was pretty much gone, because my last stint was going to be really long. Already after 15 laps I had blisters in the front tyres, so I was really at the end nursing it home… But at least we got Lando and I helped Lewis to win."
Bottas' P3 marked his third consecutive podium, following a dry run of races for the Finn in Monaco and Baku, and comes at an opportune moment given that his future at Mercedes is currently hanging in the balance, with the team weighing up who to pair Hamilton with for 2022.
READ MORE: Hamilton says Verstappen clash 'not the way he wants to win' – but insists it doesn't take shine off victory
And Bottas' drive – plus his quick swapping of places with Hamilton in the race – drew praise from Mercedes Team Principal Toto Wolff, who told the media: "He was very quick today, he drove a really solid race and just Lewis coming from behind on that hard was just in another dimension to everyone else on track.
"But Valtteri was the second quickest car out there and helped for Lewis to secure the win, and Valtteri's just a great team member and great driver with the right character and personality."