Bottas tyre issue 'cruel' says Wolff as he suggests debris likely to blame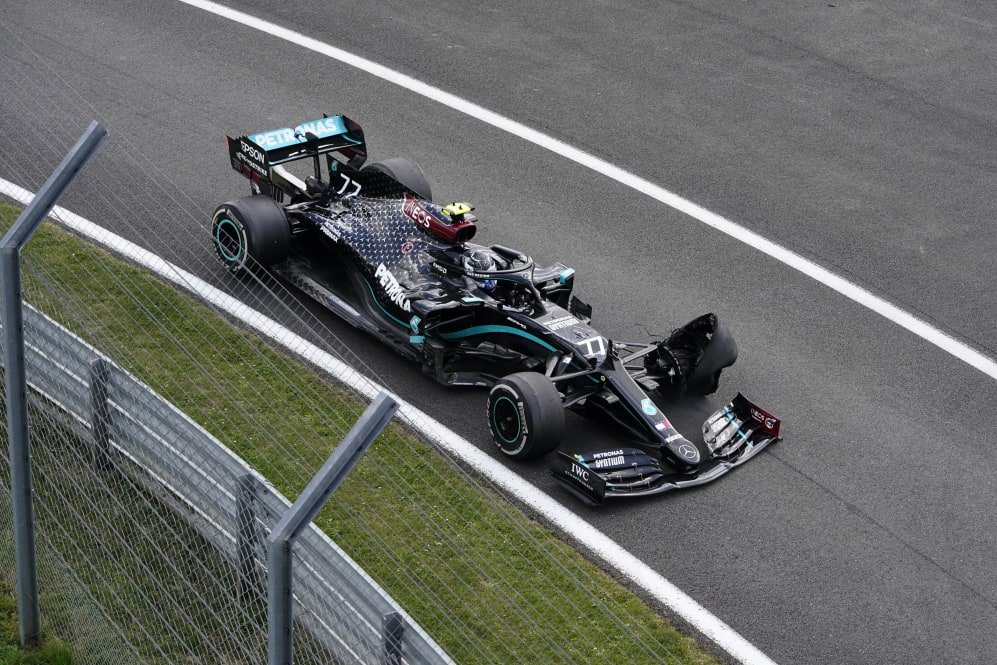 If he loses the world championship by a handful of points, Valtteri Bottas may well look back on Silverstone and grimace. The Finn was on course for his fourth successive podium in the British GP until what his Mercedes boss Toto Wolff described as a 'cruel' tyre issue struck with three laps to go and robbed the Finn of a points-score entirely.
As the race neared it's conclusion, Bottas - who'd run comfortably in formation with team mate and race leader Lewis Hamilton throughout - reported he could feel a tyre vibration and backed off, trying to manage the problem. But then, without warning, it let go suddenly, meaning he had to complete nearly a full lap at slower speed to get back to the pits.
READ MORE: Hamilton limps to seventh British Grand Prix victory after late tyre drama
Having re-joined with fresh rubber he then caught Sebastian Vettel rapidly, but there wasn't enough time to launch an attack for a pass, with the Finn trailing in just outside the points in 11th place.
"Today was cruel," said Wolff. "Valtteri was in second, not losing too many points to Lewis for the championship, and really good for us in the constructors' championship.
"In the moment we got settled in the 'boring' end of the race, cruise home with this one-two, there was drama and then when I realised that Valtteri was at completely the wrong end of the track with the failure, that was quite difficult to swallow.
READ MORE: Hamilton says his 'heart nearly stopped' when tyre let go on last lap
"I think the left front [tyre] is the one that is the most hammered, and therefore more vulnerable also to debris. There were lots of pieces of carbon on the track after [Kimi] Raikkonen's off. We saw some part of the car, part of the front wing on track, so we will never know but I guess Pirelli's going to analyse that."
Bottas had kept Hamilton honest throughout the Silverstone weekend, qualifying second and keeping the pressure on Hamilton in the race as they traded fastest laps. He was set to finish second and minimise the loss to Hamilton, but instead finds himself 30 points - more than a race win - behind after just four races.
"Of course it is really disappointing, and very unlucky," said Bottas. "Also where I got the puncture, I had to go round the whole lap. We knew it would be a long stint with the hard tyre, and of course I was trying to put pressure on Lewis.
"Towards the end, I was starting to get more and more vibration. I reported that and then in the end, I had in my mind, who knows there could be an issue, so I started to manage it a bit. But it happened so sudden, I couldn't predict it happening. Not much more to say really..."