Report
Perez fends off Verstappen to win action-packed Saudi Arabian GP as Alonso takes 100th podium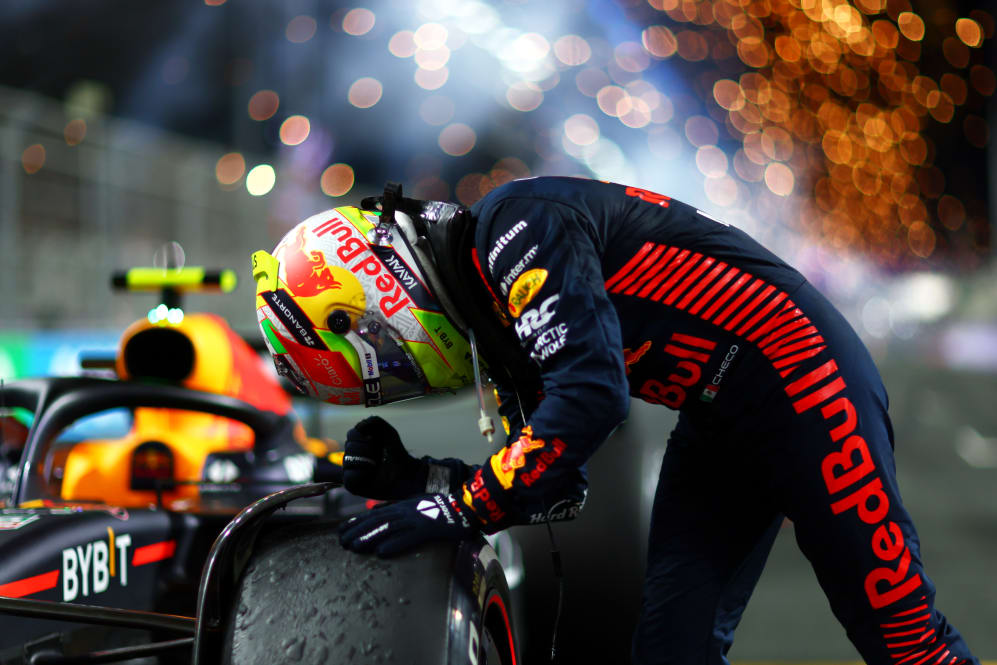 Sergio Perez converted pole position into victory at the Saudi Arabian Grand Prix as team mate Max Verstappen recovered from P15 to make it successive one-two finishes for Red Bull. Fernando Alonso put his Aston Martin on the podium again with a fine drive, before being stripped of P3 and then having it reinstated after a stewards' review.
Perez overcame an attack from Alonso at the start, a nervy Safety Car period and Verstappen's charge from the midfield to make up for the potential win he lost at the Jeddah Corniche Circuit a year ago – kick-starting his 2023 championship hopes in the process.
READ MORE: Perez details 'intense' finale after holding off Verstappen to win at Jeddah
Verstappen progressed to P2 in rapid time though ultimately had to accept defeat to Perez, with the reigning world champion managing additional driveshaft concerns late in the race after the same component failed during qualifying.
Alonso impressively took the lead from Perez into Turn 1 but a subsequent time penalty for lining up outside his grid box, coupled with the relentless pace of the Red Bulls, meant he had to settle for third place.
Alonso's rear jack mechanic was later judged to have touched the car before his penalty had been served, the Spaniard receiving a further 10-second penalty after the race that dropped him to P4. Upon reviewing the decision, however, the stewards ruled that Alonso's P3 would stand, reversing their call and pushing Mercedes's George Russell back to P4 – Alonso becoming just the sixth driver to earn 100 F1 podiums.
FORMULA 1 STC SAUDI ARABIAN GRAND PRIX 2023
Saudi Arabia
2023
Race results
POSITION
TIME
POINTS

1

Sergio

Perez PER

Red Bull Racing

1:21:14.894

25

2

Max

Verstappen VER

Red Bull Racing

+5.355s

19

3

Fernando

Alonso ALO

Aston Martin

+20.728s

15

4

George

Russell RUS

Mercedes

+25.866s

12

5

Lewis

Hamilton HAM

Mercedes

+31.065s

10
Mercedes and Ferrari had no answers for Red Bull's pace as they distantly followed in two-by-two formation, Russell getting the better of team mate Lewis Hamilton, and Carlos Sainz leading Charles Leclerc home.
Leclerc was also tasked with a race day recovery after his pre-race grid penalty, but seventh represented a much smaller reward than Verstappen's second-place finish, and the Monegasque could not contain his frustration over the radio.
Alpine enjoyed a much stronger second round as Esteban Ocon and Pierre Gasly collected points in P8 and P9 respectively, while Haas's Kevin Magnussen and AlphaTauri's Yuki Tsunoda went wheel-to-wheel over the final point – the Dane coming out on top with a late move.
Nico Hulkenberg took 12th in the sister Haas, as the Alfa Romeo of Zhou Guanyu beat rookie drivers Nyck de Vries (AlphaTauri), Oscar Piastri (McLaren) and Logan Sargeant (Williams) to P13.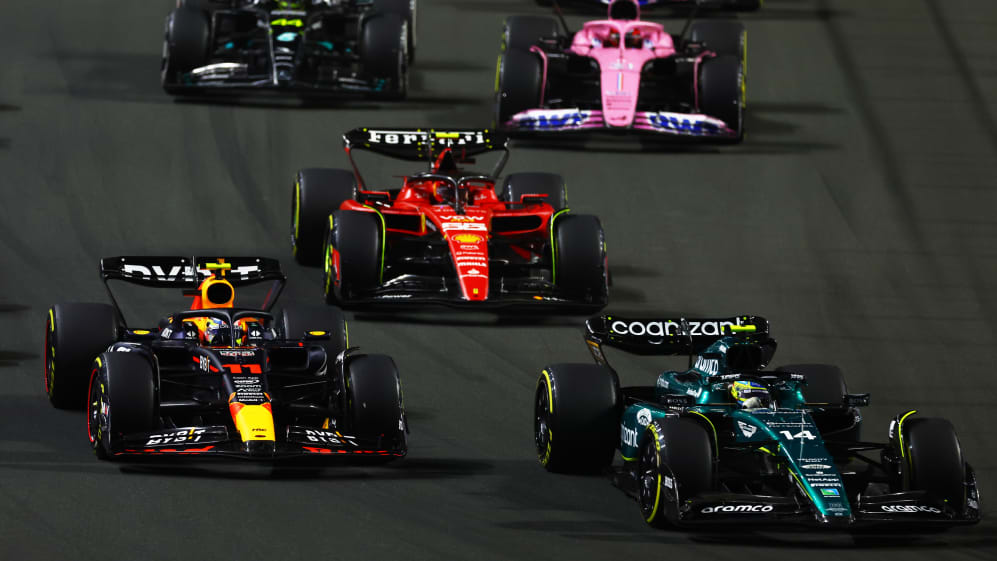 McLaren endured another tough day at the office after early front wing changes for Piastri, who clashed with Gasly at the start, and Lando Norris, who hit the debris, consigned them to evenings towards the back of the pack.
Piastri ultimately crossed the line in P15 after clearing Sargeant on the final lap, something Norris narrowly avoided repeating as he settled for 17th, with Valtteri Bottas the last of the finishers amid apparent technical trouble in his Alfa Romeo.
Alex Albon and Lance Stroll were the two retirements from the race; Albon encountering terminal brake problems aboard his Williams and Stroll being told to stop his Aston Martin in the early stages, taking him out of the front-running battle.
Attention now turns to the third round of the 2023 F1 season in Australia, with Verstappen holding the championship lead over Perez by a point thanks to him clocking the fastest lap of the race in the dying moments.
AS IT HAPPENED
A dramatic qualifying session set up an intriguing grid for Sunday's race under the lights as pole position favourite Verstappen dropped out at the Q2 stage due to a driveshaft failure, meaning the Dutchman would need to charge his way through the field in his repaired RB19.
There was some further drama when he left the pit lane to take up his P15 grid slot, with brake fluid leaking into the cockpit, but mechanics were quick to make adjustments and Verstappen set about trying to emulate his recovery from 14th to victory at Spa-Francorchamps last season.
Another driver out of place was Leclerc, who fell from P2 to P12 on the grid amid further power unit changes at Ferrari, meaning not one but two drivers lining up well out of position and an already tantalising pre-race dynamic being given another exciting layer.
When the grid formed up and the lights went out – with most drivers opting for medium tyres – Alonso sent the crowd wild as he bolted off the line to snatch the lead from Perez into Turn 1, with Russell slotting into P3 ahead of Stroll and Sainz.
However, just moments later, an incident involving Alonso – specifically an "incorrect starting location" – was noted by the stewards and a five-second penalty went the Aston Martin driver's way, as replays showed him stopping to the left of his grid box.
While news of the sanction came through, Alonso had his mirrors full of Perez's Red Bull and, as soon as the DRS overtaking aid was activated, Perez reclaimed the position down the main straight – surviving a lock-up under braking for the first corner.
Behind, there was double drama for McLaren as both their drivers pitted for front wing changes; Piastri having damaged his in contact with Gasly in the squeeze at the exit of the first chicane; and Norris damaging his when he ran over the debris.
As for Leclerc and Verstappen, the pair had climbed to P9 and P11 respectively by Lap 5 of 50, with the Ferrari driver's bold choice of soft starting tyres working particularly well as he picked off a train of slower cars ahead.
Leclerc faced a tougher challenge when he reached the back of Hamilton's Mercedes, but found a way past with DRS shortly after the seven-time world champion was shown a black and white flag for weaving down the straights.
That meant the order on Lap 10 was as follows: Perez from Alonso, who had brushed off his penalty and was doing his best to cling to the back of the lead RB19, followed by Russell, Stroll, Sainz, Ocon, Leclerc, Hamilton, Gasly and Verstappen.
Having jumped the first hurdle of breaking into the points, Verstappen cleared Gasly to make it P9, before giving us brief memories of his titanic scrap with Hamilton here in 2021 to climb to P8 – albeit this time without any drama to report.
Zhou, Hulkenberg and Bottas kicked off the pit stop action on Lap 12, with Stroll the first of the front-runners to box two laps later, but Perez, Alonso, Russell, Sainz and the soft-shod Leclerc all extended their opening stints.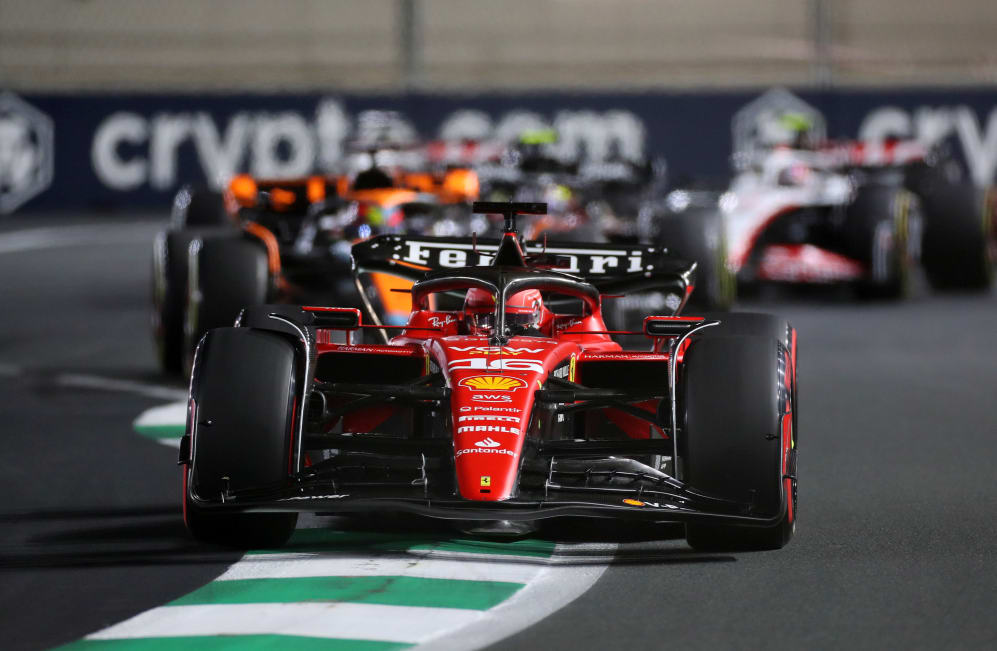 That strategic move initially paid off for Ferrari when Sainz pitted on Lap 16, and Leclerc a lap later, with both drivers getting the jump on Stroll as they rejoined the action – the Canadian's evening then ending dramatically when he was told to stop his car on track.
But after a Virtual Safety Car, the full Safety Car was deployed, bringing the rest of the front-runners into the pit lane, where Red Bull and Mercedes carried out double-stack stops to ensure neither of their respective drivers were compromised – Leclerc and Sainz losing out.
As the cars filtered back out on track, Perez held P1 from Alonso and Russell, avoiding his Safety Car nightmare from last year, while Verstappen emerged in P4 as a big winner, completing a cheap stop after his overtaking-filled first stint.
Ferrari duo Sainz and Leclerc now had the Mercedes of Hamilton between them, as Tsunoda – another to benefit from the timing of the Safety Car – Ocon and Gasly rounded out the points-paying positions.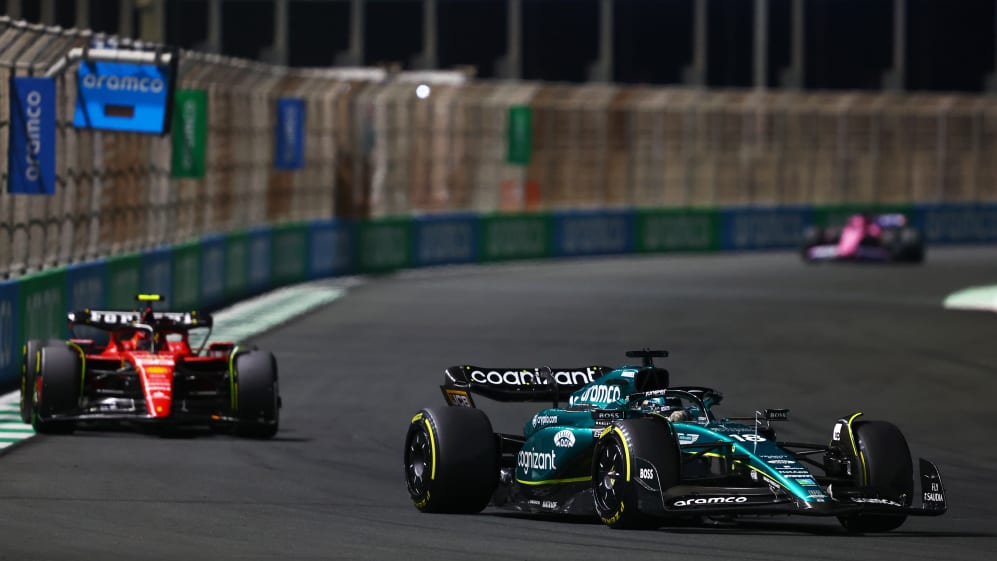 Most of the field switched to hard tyres for a near 30-lap run to the chequered flag, aside from Hamilton, Sargeant (P15), Zhou (P17), Bottas (P18) and Norris (P19), who had all taken on a set of the medium tyres.
When the Safety Car peeled in on Lap 21, Perez mastered the restart to hold P1 and lead the way, with the rest of the top 10 also initially holding position – despite some close racing between Ocon and Gasly through the first chicane.
One lap later, Hamilton made a move on Sainz for P5 by getting in the slipstream down the main straight and capitalising on a compromised exit from Turn 1 for the Spaniard, while the other Mercedes of Russell came under attack from Verstappen.
When DRS kicked in again, Russell had no hope as Verstappen hit the button and breezed past on the run to the final corner, meaning he was now into the podium positions behind Alonso – who had just radioed to say "I like this tyre" – and leader Perez.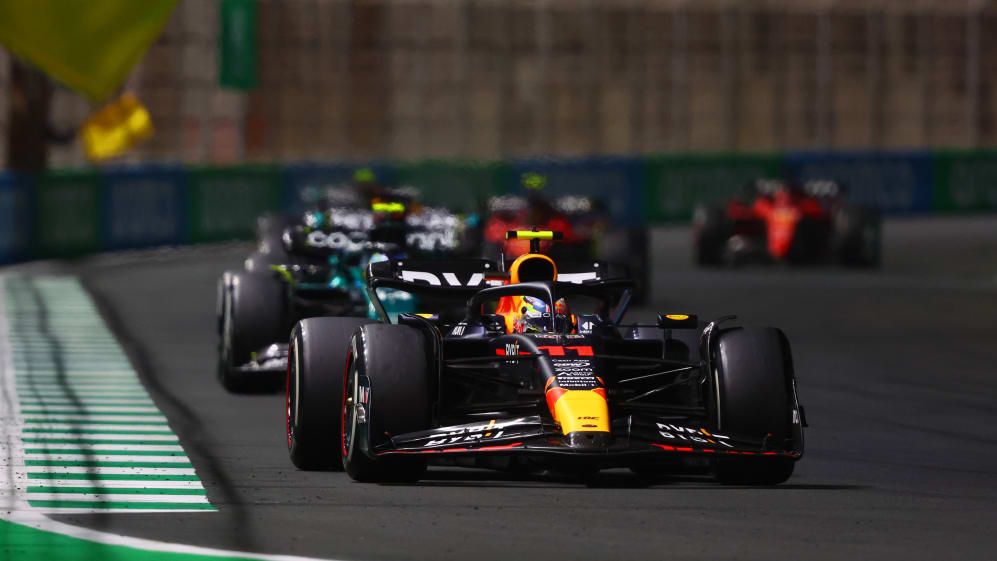 Verstappen almost repeated the trick on Alonso a lap later, but this time waited until the main straight to jump up to P2, with all eyes now on the Red Bull pit wall and how they would manage their two cars converging up front.
In clean air, Verstappen duly pumped in a new fastest lap, some half a second quicker than Perez, slashing the gap between them to 5.4 seconds, as Alonso drifted away in third and waited to pounce on any potential drama.
Further back, Albon issued an alarming radio message as he reported a brake failure, forcing him to dramatically cut his speed and cruise back to the Williams garage, where he would join Stroll on the list of retirements.
Before a potential Red Bull run-in, the Mercedes drivers embarked on their own intra-team battle for P4, with Hamilton and his medium tyres proving quicker than the combination of Russell and his set of hards.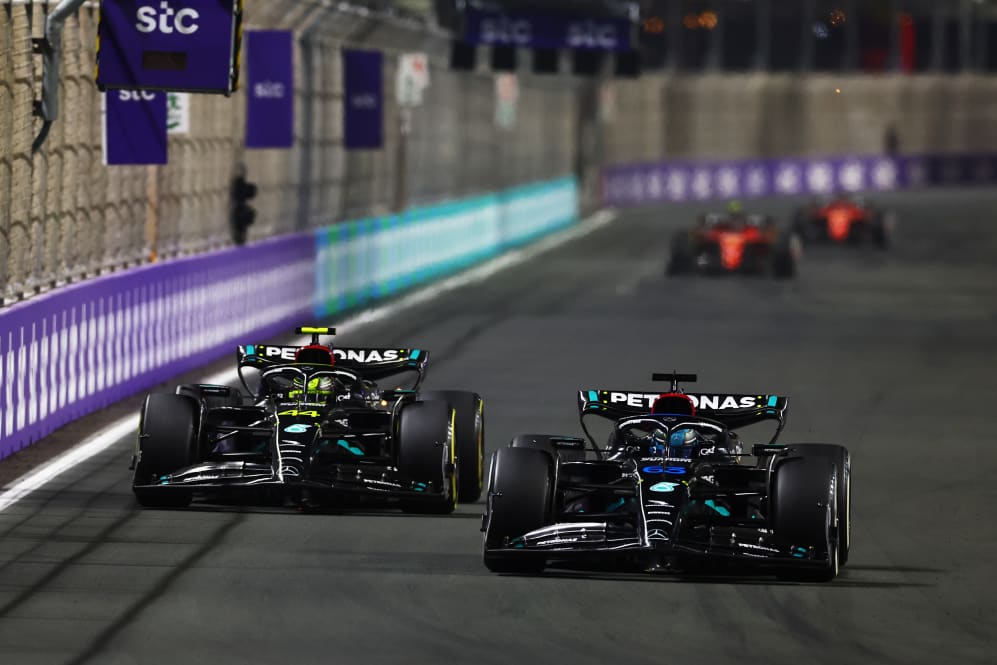 Russell radioed Mercedes to suggest that he and Hamilton should avoid fighting over position, pointing to Alonso's five-second penalty, and when his race engineer informed him that it had already been served, he replied: "Argh, again info I need!"
In the meantime, Perez found another level of pace to respond to Verstappen's charge and stabilise the lead gap at just over five seconds, with a similar margin back to Alonso in third, followed by the Mercedes cars, the Ferraris and the Alpines.
Stuck in seventh and with a podium well out of sight, Leclerc lit up the airwaves to express his frustration at Ferrari's lack of pace, declaring: "Being behind like this is really ****. I don't know what to do."
There were some late worries for Verstappen as he reported an unusual feeling from the driveshaft, then made clear that "something is wrong", while Perez expressed his own concerns about a long brake pedal.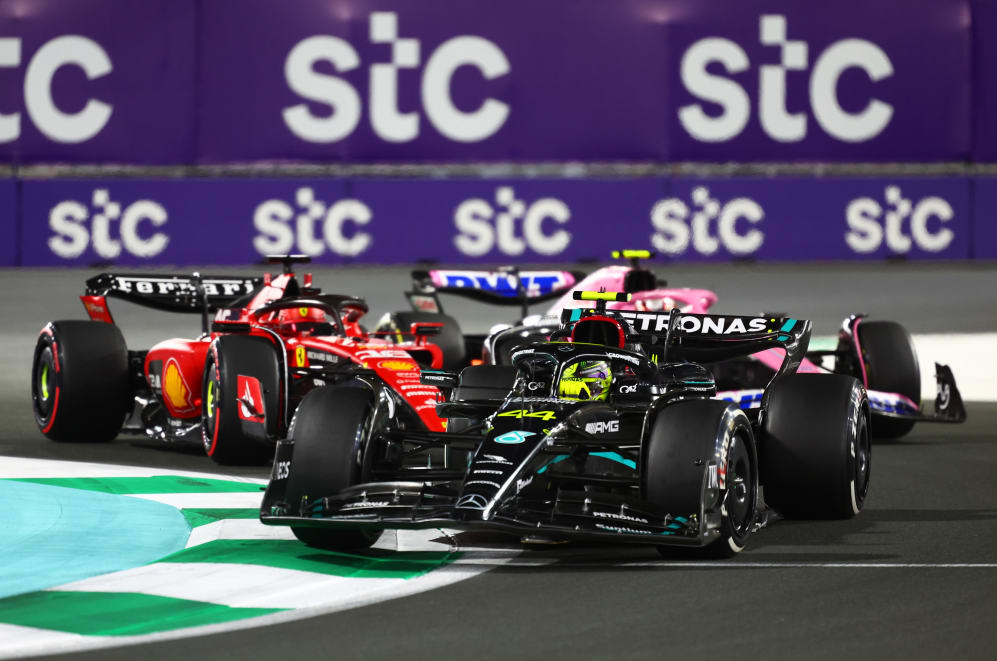 The scares were nothing more than that, however, as Perez and Verstappen – trading fastest lap times amid some confused radio messages from the Mexican about whether they were both still pushing – made it to the flag and backed up their performance at the season opener with another one-two result, as Alonso joined them on the podium again in his Aston Martin.
However, Alonso and Aston Martin were investigated post-race for serving their penalty incorrectly due to the rear jack mechanic starting his work too early, resulting in a 10-second time addition and dropping them from P3 to P4 – briefly promoting Russell to the podium as a result.
But following a Right of Review from Aston Martin, the stewards would reverse their decision, meaning that – after a 10-year wait for a rostrum appearance – Alonso appeared on consecutive podiums. He also became just the sixth driver – behind Hamilton, Michael Schumacher, Sebastian Vettel, Alain Prost and Kimi Raikkonen – to take 100 podiums in F1 history.
READ MORE: Fernando Alonso's Saudi Arabian Grand Prix podium reinstated after review
With Russell back to P4, Hamilton took fifth, ahead of the Ferraris of Sainz and Leclerc, while Ocon, Gasly and Magnussen completed the points-paying positions, the latter grabbing his reward with a DRS-assisted move on Tsunoda on Lap 47.
Hulkenberg, Zhou, De Vries, Piastri, Sargeant and Norris followed in a close midfield group, with Bottas a lapped 18th and the last of the finishers after a late extra stop, as Albon and Stroll watched from the sidelines thanks to their earlier technical issues.
KEY QUOTE
"It turned out to be tougher than expected. That Safety Car… we really did a job in the first stint, but that Safety Car again tried to take the victory from us in Jeddah – but not this time! I was owed a victory last year, so finally I got it," said race winner Perez.
"The team did a fantastic job. The job they've done, they've worked so hard during the week, we've had a lot of mechanical issues and these guys have been on top of that. I'm really happy for them and it's time to celebrate."
WHAT'S NEXT?
Verstappen now leads the drivers' standings on 44 points, one clear of Perez after pipping him to the fastest lap bonus during the final tour in Jeddah, and 14 ahead of Alonso, while Red Bull top the constructors' battle by 49 points from Aston Martin and Mercedes.
The next stop on the 2023 F1 calendar will be Oceania and the Australian Grand Prix, which takes place from March 31 to April 2.