Hamilton handed three-place grid penalty for Austrian GP after Red Bull protest
There's been drama less than an hour before the Austrian Grand Prix kicks off, as stewards handed reigning world champion Lewis Hamilton a three-place grid penalty. Upon review, held at the 11th hour after a Red Bull request, the Mercedes driver was found to have failed to slow for yellow flags during qualifying, dropping him to fifth on the grid and promoting Max Verstappen to P2.
Hamilton was called to the stewards on Saturday when it appeared he did not slow for yellow flags after his team mate Valtteri Bottas went off track in the third part of the session – but after reviewing the footage, the Briton was cleared of any wrongdoing and kept his second place.
But on Sunday, Red Bull – whose driver Max Verstappen qualified third – requested a review of the decision, with Hamilton summoned to the stewards one hour and 25 minutes before the race start.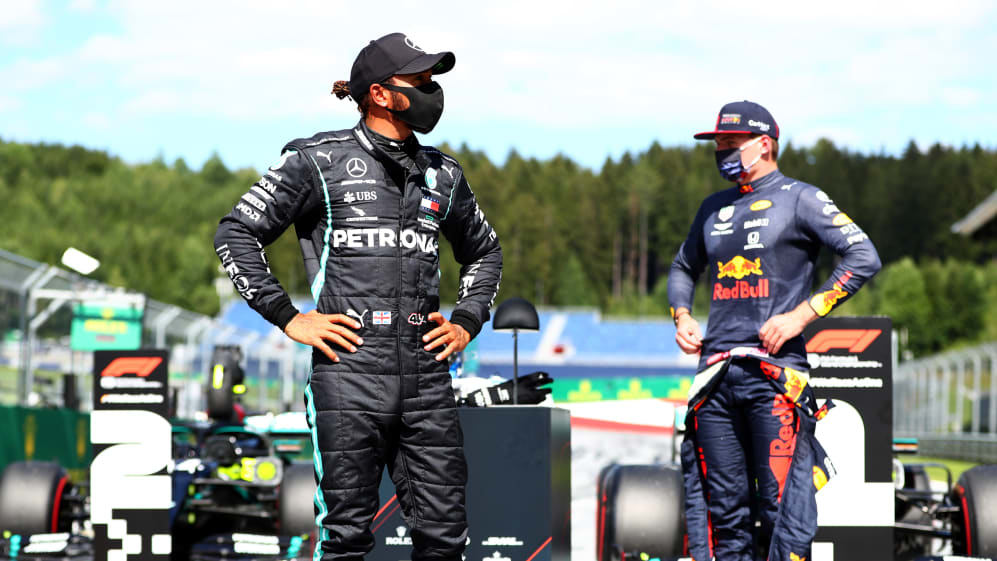 The stewards then revealed that new onboard video evidence had emerged, which shows "clearly" that Hamilton drove by a yellow flag signal and failed to slow.
"Following a petition to review decision 33 taken after Qualifying, the Stewards acknowledged that the on-board footage of car 44 represents a significant new element that had not been available to the Stewards in the hearing on Saturday and therefore reviewed the case," said the stewards.
"The Stewards heard from the driver of Car 44 (Lewis Hamilton) and the team representative and have reviewed the new video evidence and telemetry evidences.
"The new video footage clearly shows that a yellow light panel was flashing on the left side of the track in turn 5. A green light panel was flashing at the end of marshalling sector 9. Taking into account these facts, the Stewards determine that decision 33 will be reversed and the above mentioned penalty is being imposed."
They added: "During the initial hearing, no on-board video footage of car 44 was available to the Stewards. Aston Martin Red Bull submitted 360 degree camera footage from car 44 including the passage of car 44 through the relevant section of the track."
Watch the video above to see the incident in question, and follow our live coverage of the race right here.