'Bromance' with Sainz key to McLaren winning fight for P3 in constructors' standings, says Norris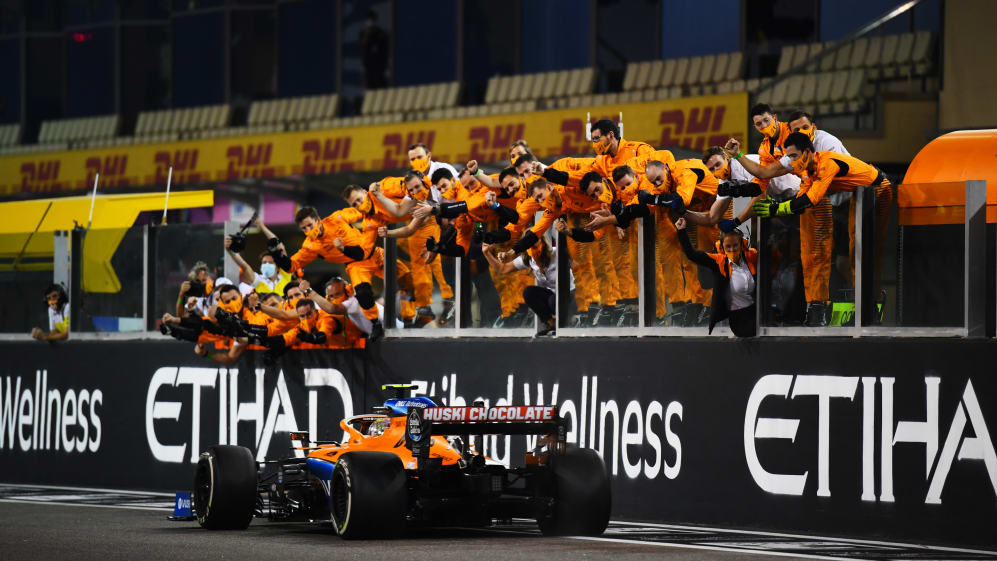 Lando Norris reckons his bromance with team mate Carlos Sainz was one of the most important contributing factors to McLaren achieving their best constructors' championship finish since 2012 as they beat Racing Point to the coveted P3 spot.
Sainz and Norris scored a podium apiece and were separated by just eight points at the end of the campaign, with Norris just edging the qualifying head-to-head 9-8. They also get on incredibly well, hanging out outside of the track, too.
And in an incredibly tight race with both Racing Point and Renault to take that prestigious third place behind Mercedes and Red Bull, Norris reckons it made the difference.
READ MORE: Dominant Verstappen comfortably holds off Mercedes to seal victory in Abu Dhabi season finale
"One of most important things in achieving P3 this year was the combination of good mates and good friendship but also how much we are competitive and how much we want to beat each other," said Norris. "When you put both of them together, it's the perfect combination to get P3.
"There have been a lot of races this year where we have executed things well as a team. Between us, we have scored much better results because of that. That's because I respect Carlos, he respects me and we wanted to do the best job for the team. Today demonstrated that perfectly.
"Of course I'll miss him. We have had a lot of good moments together and fun times and a pleasure to learn from him."
Norris took a brilliant fourth in qualifying, ending up just 0.25s off pole position, before finishing fifth in the race, one place clear of Sainz. With Lance Stroll only 10th and his Racing Point team mate Sergio Perez failing to finish, McLaren took P3 by seven points.
READ MORE: 'I don't think I've ever been so blown' says Covid-hit Hamilton after finishing P3 in season finale
"It was a perfect day for us, everything went to plan," said Norris. "We were maybe a little bit lucky with one of the Racing Points not finishing but in terms of our result with P5 and P6 we did everything we could – we couldn't have done anymore.
"I'm happy, I'm proud of the team. We kept working very hard. I don't know, was a perfect race and gives us a much better opportunity going into the future to do even better, so very happy."
READ MORE: McLaren sell 'significant minority' stake in Formula 1 operation in £185m deal
It came on the day McLaren announced fresh investment in the team, to the tune of £185 million, as they look to strengthen the racing team's long-term future after a challenging year that has required them to take a loan from the National Bank of Bahrain and lay off staff.
"It's been a very difficult season in the public spotlight, some of our challenges," said McLaren Racing CEO Zak Brown. "To bring the investment in this weekend, the job Lando and Carlos have done, the job all the men and women have done.
"This is a third place, a true team effort. It was a bit stressful on pit wall, it might have looked like a boring race for Lando and Carlos, but it was very exciting for the team."