Feature
Can Mercedes' Silverstone upgrades turn the British Grand Prix into a proper three-way fight?
There was hardly a soul around driving in through Silverstone's main gate and over the bridge into the infield very early on Thursday morning. Come the weekend, though, it will be very different, with a record 400,000 fans expected to pack into the place over three days.
In many ways, it was the calm before a potential storm – but one on track, rather than in the sky. Ahead of the season, there was hope Ferrari would join the title fight this year and make it a three-way fight with Red Bull and Mercedes. They held up their end of the bargain only for reigning world champions Mercedes to drop back.
READ MORE: An all-British Mercedes line-up and Leclerc on the attack – 5 storylines we're excited about ahead of the British GP
But following an upgrade in Barcelona, Mercedes have shown the potential to haul themselves back into contention, and with a significant new package for Silverstone – where they traditionally bring an impressive suite of updates – combined with a smooth surface that should sooth their bouncing misery, and a track layout that plays to the Silver Arrows strengths, there is widespread belief this could be a great weekend for the team.
"It's always exciting coming to Silverstone, my home race," said George Russell, who is the only driver to have finished inside the top-five at every race this season, when we chatted on Thursday at Silverstone. "As a team, we have a lot to be intrigued and excited about. We're definitely not getting carried away. On paper, this should be a more competitive weekend than we have seen recently."
His seven-time world champion team mate Lewis Hamilton added: "It's always nice having upgrades. The amount of incredible work that goes on in the background is overwhelming and phenomenal to see. People are delivering and it's always a big push to bring these components under the current circumstances. I'm very proud of everyone, very grateful and I hope it comes out on track."
The favourites, though, are Red Bull – winners of the last six events and carrying the kind of momentum they last showed back in 2013 when the Milton Keynes-based outfit won their fourth double championship on the bounce. The RB18's supreme straight-line speed will make Max Verstappen a potent force once more, especially as it'll feature yet more upgrades, with the Dutchman looking to extend his already handsome 46-point championship lead.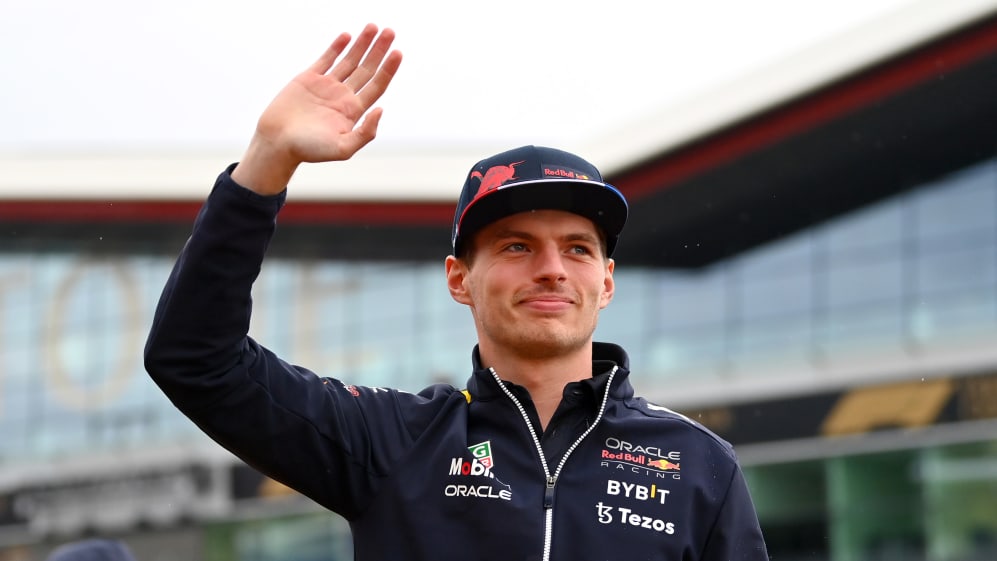 Unsurprisingly, he played everything down – even saying his run of five wins out of six is "nothing to celebrate" because all he really cares about is being at the top at the end of the season. But he spoke in a tone that belied a certain confidence about his chances of continuing his fine of form. "It's a bit too early to say at the moment [about the threat from Mercedes and Ferrari]," he said.
"Every single race weekend has been a bit different in terms of gaps between certain teams. From our side, we'll just try to do the best we can here. We know what we have with the car and [we will] just try to optimise everything. But also this is one track layout – there are so many different layouts you have to be good at."
FORM GUIDE: Is Verstappen's stellar run set to continue in the 2022 British Grand Prix?
Perhaps the dark horses here are Ferrari, whose early season charge has lost its way since F1 returned to Europe from Australia. Fundamentally, the car remains quick and capable of fighting for victory – but a combination of operational, strategic and mechanical issues have blunted their attack on both championships.
Canada was something of a reset for them last time out, though, with Charles Leclerc making good use of a fresh – albeit not updated – power unit and a new rear wing designed to cut the deficit to Red Bull in terms of straight-line speed to fight from the back of the grid to fifth. His team mate Carlos Sainz, meanwhile, delivered his best all round performance of the season, to fight for the win before finishing second.
The Ferrari should be quick around Silverstone, with Sainz getting the new rear wing here, too. Leclerc, meanwhile, has a fine record around the Northamptonshire circuit, having finished third, third and second in the last three runnings of the British Grand Prix, despite having a car that was not a podium contender on pure performance.
"I don't know [why I've been so strong at Silverstone]," he said. "I love it. We just need the first place now! I really like this place. Considering the last three times we came here, it wasn't the best car to fight for this position, so it was a good result. But this year we have a car to fight for the wins, so we will go for the win."
READ MORE: Leclerc 'still believes' 2022 title possible – but says next four races will be crucial as he looks to end win-less run
He added: "It's a fresh engine, hopefully no problems and we can have a clean weekend we are missing since before Barcelona, which is Miami I think. Hopefully we can finally have a good weekend and get the win."
Few are tipping Leclerc to win – and it might be a step too far given Verstappen's recent form. But he's hungry for it, due a turn in fortunes and has a car that can get the final trophy he needs for his Silverstone set. Watching him fight for it – and attempt to fend off a championship-leading Red Bull and a resurgent Mercedes should be fun. Let's get it on.