Challenging Istanbul conditions 'a good opportunity' for Ferrari says Leclerc after top 3 practice pace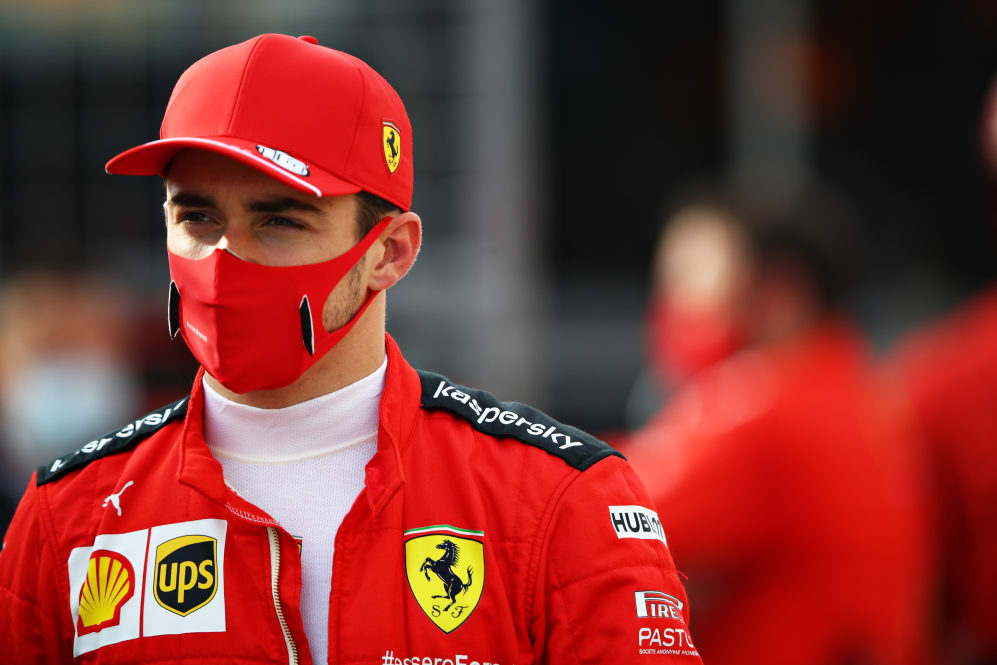 Although Ferrari's pace has been improving in recent races, Charles Leclerc probably didn't expect to spend the whole of Friday's Turkish Grand Prix practice sessions in the top three – with the Monegasque hopeful of continuing that form through to qualifying and the race.
With many drivers struggling for grip across Friday's running, Leclerc had wound up P3 behind the Red Bull pair in Free Practice 1, before ending FP2 as the next fastest driver behind session leader Max Verstappen, 0.401s adrift of the Dutchman. And Leclerc said that while he'd had more useful Fridays, he'd enjoyed getting up to speed with the low-grip Istanbul Park circuit.
READ MORE: 'It was really fun!' - As some drivers struggle, others revel in the challenge of slippery Istanbul track
"At first, I was really not convinced by the grip of the track, and I was like, 'This is going to be a very bad day'," Leclerc admitted, at the end of a Friday that witnessed multiple spins from the F1 field on the recently re-surfaced track. "But after a few laps, I actually really, really enjoyed it.
"It was actually very fun to have so much low grip. We need to understand why, though, to be honest, because it's probably not great to have a Friday like this – we didn't learn much. But in terms of driving, it was very fun, and we have been very competitive too.
"I don't think it will improve much during the weekend, so it's good that we have done quite a lot of mileage today to understand the conditions, and hopefully we can maximise the result tomorrow."
Asked, meanwhile, whether he expected Ferrari to retain their strong pace into Saturday – a day when rain is being forecast by many of the teams – Leclerc replied: "I really hope so.
"I think the weather forecast doesn't look so great for tomorrow. I don't know how it would be in the rain, because already today it felt like the rain! So tomorrow will be a very tricky day, but if we do everything perfect, I think we look quite competitive, so I hope it can be a good opportunity for us."
READ MORE: Vettel promotes message of diversity and inclusion with special Turkish GP helmet design
After ending FP1 in fifth place, meanwhile, before initially showing comparable pace to his team mate in FP2, Sebastian Vettel ultimately ended up P8 in Friday's second practice session, 1.291s off Leclerc's pace.
But the 2011 Turkish Grand Prix winner echoed his team mate's hopes that Ferrari could carry their strong Friday pace through to qualifying, with Vettel having not now appeared in Q3 since the British Grand Prix back in August.
"It was very, very slippery but it did get better towards the end of the day, and I'm guessing it only gets better from here onwards," said Vettel of the track conditions.
"Naturally the field will bunch up tomorrow. We've seen big gaps in FP1, I think because people struggled to get the tyres to work – and maybe we've been on the better side today."