Feature
DATA DEEP DIVE: How much better could Leclerc have fared in Canada if not for a brace of obstacles?
Charles Leclerc's brilliant drive from the back row to P5 in Montreal not only gained him useful points, but the Driver of the Day award too. But could he have finished even higher? We look at the pair of crucial challenges that cost Leclerc in Canada and try to estimate how much better he would have fared without them.
After Leclerc's power unit failure in Azerbaijan, the championship contender was given a host of new power unit elements including control electronics, MGU-H and MGU-K, turbocharger and an exhaust. He essentially sat out Q2 on Saturday, putting him 19th on the grid alongside penalised AlphaTauri driver Yuki Tsunoda.
Starting on hard tyres, the Monegasque racer rose to P13 by Lap 10 courtesy of passes on the likes of Pierre Gasly and Lance Stroll. Leclerc chose to forgo a stop during the Lap 9-10 Virtual Safety Car period, making it up to P6 before pitting on Lap 41 – having hovered behind the Alpine of Esteban Ocon for 20 laps.
TECH TUESDAY: Why Leclerc's slimline Montreal wing wasn't just about helping him make progress from the back
The mid-race scrap with Ocon
Alpine's Ocon proved to be the first obstacle to Leclerc's recovery drive.
Leclerc got close to passing the Frenchman on Lap 25, but despite the tow and DRS he just couldn't pass Ocon.
Our race trace (below) explains why Leclerc couldn't make what would have been a crucial pass; the Ferrari driver ended up losing nearly 10 seconds to the car ahead of Ocon – George Russell's Mercedes – while stuck right behind the Alpine from Lap 25 onwards.
POWER RANKINGS: Who made it into the top 10 after the Canadian Grand Prix?
Focusing solely on the speed of both Leclerc (red line) and Ocon (blue line), it's clear that Leclerc was losing pace through the corners. He suffered understeer throughout the apexes, and then attempted to compensate for that by getting on the throttle earlier.
By getting on the throttle earlier, Leclerc faced oversteer at corner exit – leaving him too far behind Ocon to utilise the Ferrari's top speed advantage on Canada's relatively short straights.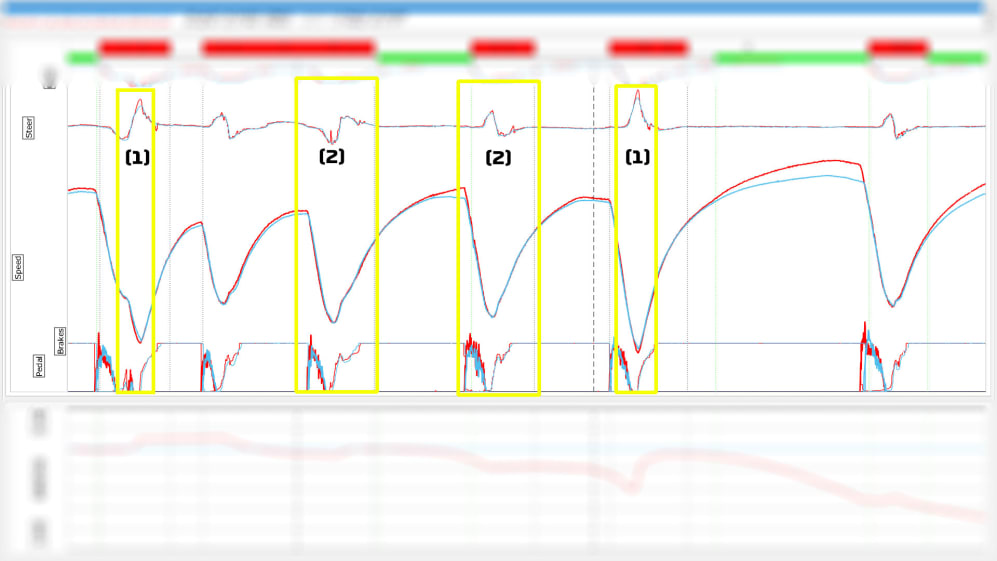 The Lap 41 pit stop
Stuck behind Ocon for over 15 laps, Leclerc decided to pit at the end of his 41st lap, swapping his hard compounds for mediums. That pit stop proved costly.
Entering the pit lane sixth, Leclerc emerged 12th, having spent 5.31 seconds stationary, his car being dropped off the jacks with the rear-left tyre still to be properly fitted. The Ferrari driver then found himself battling behind a train of cars from P8 to P11: Lance Stroll, Zhou Guanyu, Tsunoda and Daniel Ricciardo.
Indeed, had Leclerc had a faster stop, even the same 3.17s stop that team mate Carlos Sainz had enjoyed 20 laps prior, then he would have emerged ahead of the train of cars and had the pace to challenge Valtteri Bottas for P7 well before the Safety Car on Lap 49.
PALMER: How Haas left Canada without points despite Magnussen and Schumacher's qualifying heroics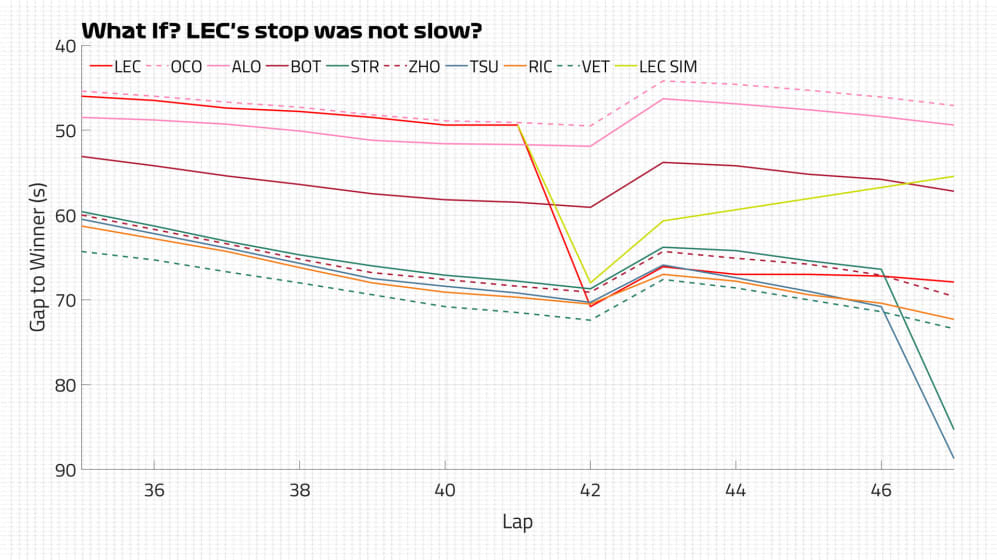 Had Leclerc not been caught behind that train of cars, he would not only have had the pace to pass Bottas, but would have made up time to the Alpines of Ocon and Fernando Alonso ahead. Instead, the Alpines enjoyed a free stop under the Safety Car on Lap 49, putting them both on newer tyres and making them a much sterner challenge for Leclerc.
The Ferrari driver passed Alonso on Lap 58 – four laps after the race had resumed – and took P5 off Ocon on Lap 60. But by then, George Russell was almost four seconds ahead and the Briton ended up fourth by the chequered flag.
TREMAYNE: Why age continues to be nothing but a number for the masterful, mischievous Fernando Alonso
It's reasonable to assume that Leclerc would have been able to challenge the Mercedes driver with a quicker stop on Lap 41 – but challenging Lewis Hamilton's podium spot might have proved a stretch.
However, had Leclerc not lost 10 seconds to Russell in his mid-race battle with Ocon, that chase for the podium would have become much easier – and P3 would have been a realistic target on Sunday.