Feature F1 Unlocked
DESTINATION GUIDE: What fans can eat, see and do when they visit Spa for the Belgian Grand Prix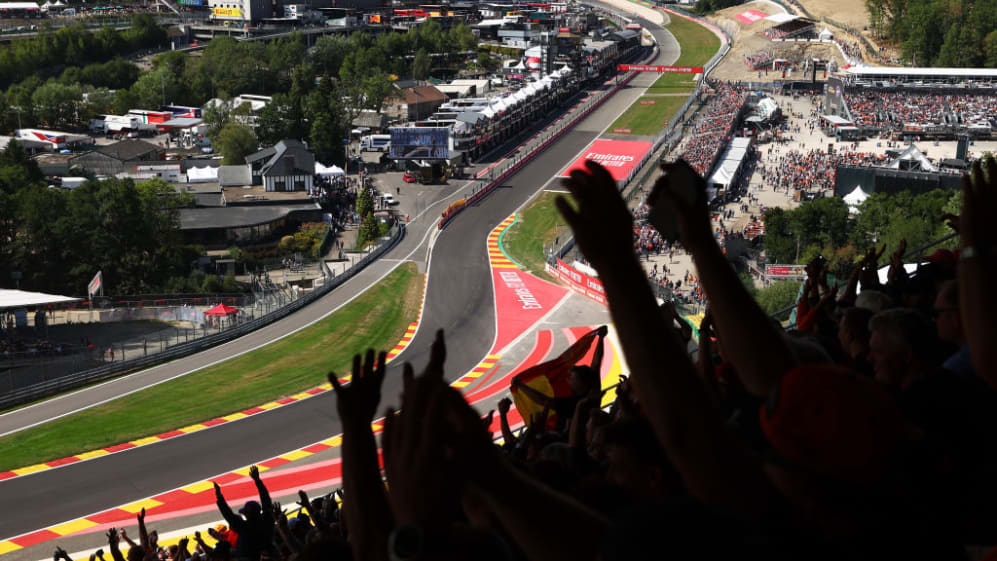 Nestled in the heart of the beautiful Ardennes region and surrounded by coniferous forest is the historic Circuit de Spa-Francorchamps, home of the Belgian Grand Prix. Designed in 1920, the original circuit used public roads to link the towns of Francorchamps, Malmedy and Stavelot and hosted its first non-championship Grand Prix in 1925 before becoming one of only seven circuits that were part of Formula 1's inaugural championship in 1950.
There have been many layout changes since then, but the one thing that has remained consistent is the F1 drivers' love for this challenging circuit which, at 7.004km, is the longest track on the F1 calendar.
Where and what to eat
As befitting a small country bordering several others, Belgian cuisine is somewhat influenced by that of its neighbours – France, Germany, the Netherlands and Luxembourg – but still with its own unique identity. With a population of just over 11 million, Belgium boasts an incredible 138 Michelin starred restaurants, reinforcing the reputation of the high quality of both ingredients and cooking in this densely populated country.
One hotly contested culinary crossover that the Belgians have emphatically claimed as their own, is the French frie or frite. Widely available at restaurants and 'friteries' across the country and doused in customary mayonnaise, this unassuming deep-fried strip of potato is considered a national dish of Belgium but is the subject of much debate as to the nature of its origins, which the French believe lie with them.
IT'S RACE WEEK: 5 storylines we're excited about ahead of the 2023 Belgian Grand Prix
The Belgians are so irked by French fries alleged misattribution – arguing that the fries are only called 'French' because their neighbours had a habit of appropriating Belgian food and culture due to the countries' proximity – that Belgium has applied to UNESCO seeking cultural heritage status for its fries/frites and mayonnaise.
We should all be thankful to whoever invented them, for there is no greater pleasure than a cone of freshly cooked golden potato smothered in cool, creamy sauce eaten with a wooden fork, and Friterie Sebastien in Stavelot – a mere stone's throw from the track – serves some of the tastiest French fries around. Perfect with a local Belgian beer.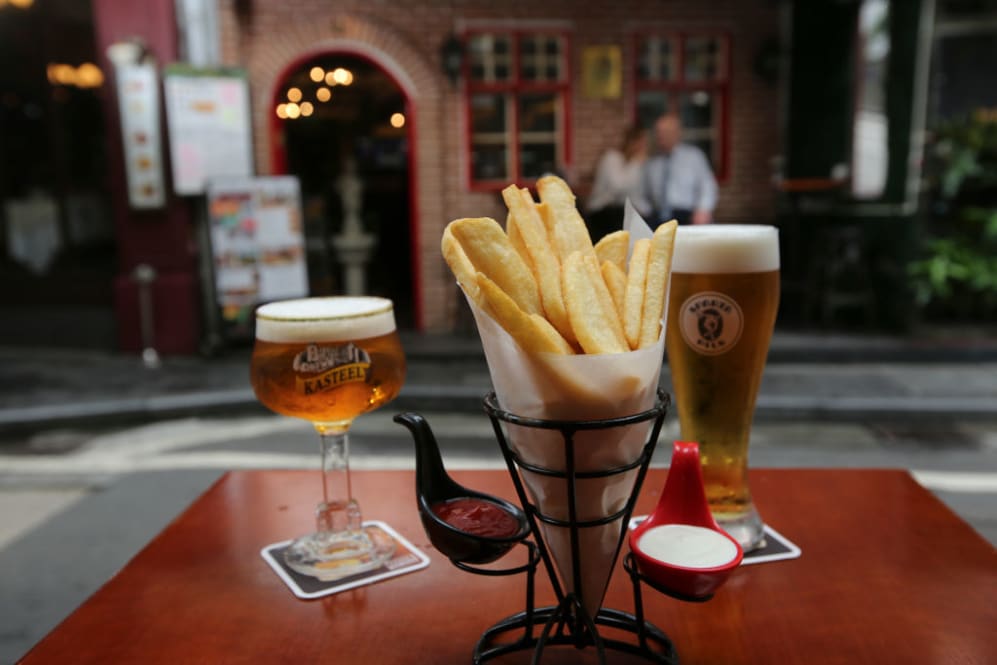 Situated a 40 minute drive from the Spa-Francorchamps circuit, the city of Liege is well known for its industrious past thanks to its steel foundries, glassworks and coal mines, but it is becoming increasingly recognised for its local food movement focussing on sustainable, locally grown produce which campaigners hope will supply all of the region's eateries in the future, with many restaurants in the city already featuring menus showcasing local ingredients.
One such establishment is Moment, which is 90% autonomous in its production of the organic vegetables on the menu which are grown in a garden they own as part of a co-operative in the city.
THIS WEEK IN F1: 10 quiz questions on all the F1 news ahead of the Belgian Grand Prix
With its beautiful interior and featuring an ever-changing short, seasonal menu accompanied by a well curated wine list served by knowledgeable and attentive staff, it's the perfect ambassador for the burgeoning Liege food movement.
For the sweet-toothed and fans of Belgian waffles, the city is also home to arguably the more superior Liege waffle, different to its rectangular sibling the Brussels waffle in every way.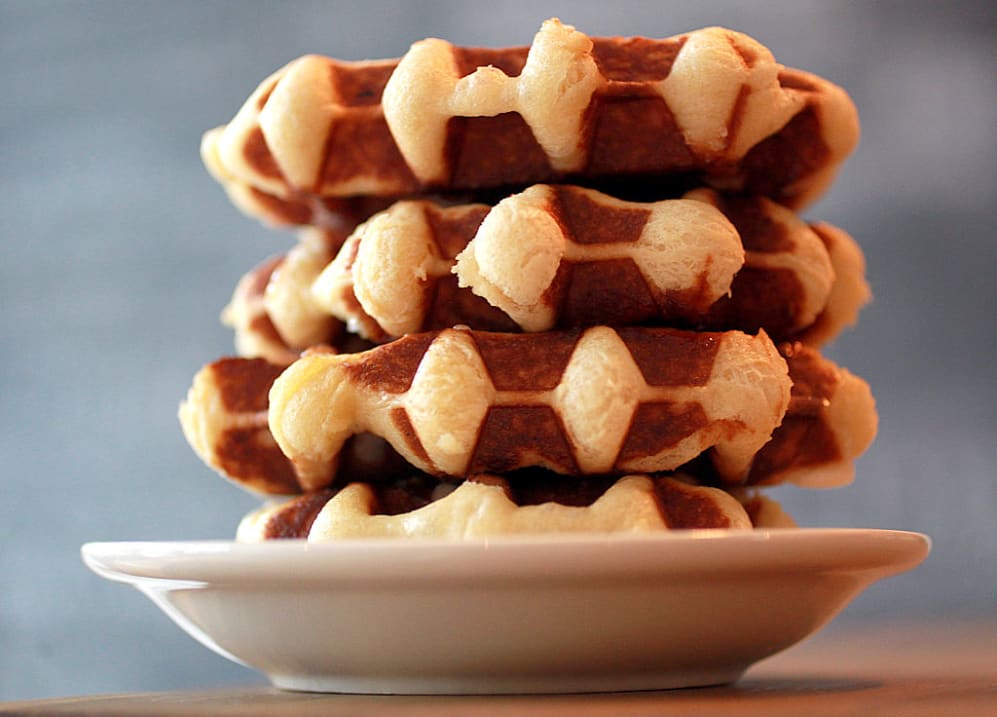 Made from a thicker, richer brioche batter and studded with pearl sugar which caramelise when cooking, giving the rounded edged waffle its distinctive crunchy coating, this delicious, sweet treat is best eaten warm and unadorned to fully appreciate its sweeter flavour from Une Gaufrette, Saperlipolpette, which serves some of the best eponymous waffles in the city.
Combining Belgium's beer brewing heritage with a menu of crowd-pleasing classics, Les Brasserie des Bobelines is a microbrewery located in the historic heart of the town of Spa in the striking Pavillions des Petit Jeux – a 19th century building recognised as a Belgian national heritage site.
F1 NATION PODCAST: Max dominates as Red Bull make it a record 12 wins in a row – it's our Hungarian GP review
It lay empty for three years before being transformed into a beautiful bar/restaurant and events space. It's the perfect place to sit and soak up the history of this fascinating space with a signature Bobeline white beer (flavoured with strawberries) in hand.
Where to stay
Due to its fairly rural location, there is a lack of accommodation close to the circuit once the F1 teams and media have snapped up rooms nearby, but travel a little further afield to the larger hub of Verviers which is easily reached by train from Brussels, and you'll find a wider choice of hotels with the added benefit of regular buses to the track.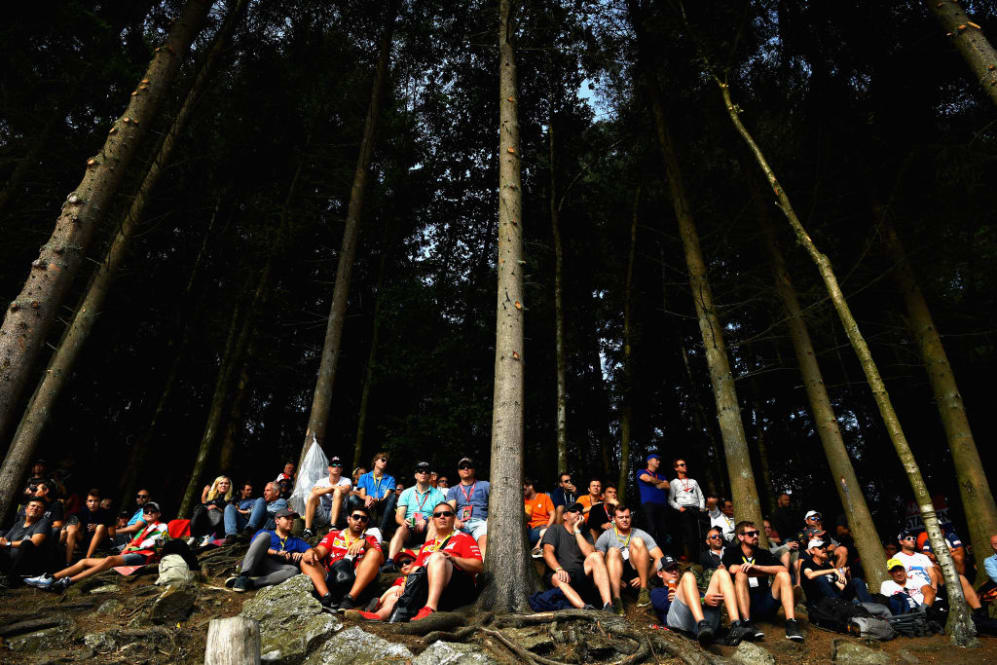 Alternatively try one of the many gites situated in the small towns and villages close to the circuit for a more homely experience.
Of course, if you don't mind taking a chance on the area's unpredictable weather and the very real prospect of waking up to the sound of rain pitter pattering on your tent, then camping at one of the many well equipped campsites surrounding the circuit is one of the best and most popular options for those who want to enjoy a lively, communal experience with like-minded fans close to the track.
READ MORE: HINCH'S HEROES – Hinch picks out his top 5 performers from the Hungarian GP
Where to watch the race
For panoramic views of La Source through to Raidillon, the elevated grandstand overlooking Eau Rouge is the place to be with the optimum vantage point from which to witness the skill and speed deployed by the drivers as they tackle this most iconic of corners. Alternatively, the grandstand located on the Pouhon corner offers some of the best trackside atmosphere.
Non-F1 highlights
Having covered off the Belgian staples of beer, French fries and waffles already, it would be remiss of me not to mention the fourth member of the cultural quartet – chocolate.
Considered to be the finest in the world, Belgian chocolate is made with a minimum of 35% cocoa as dictated by a law dating back to 1884 to prevent the use of low-quality fat sources as a way of bulking out the chocolate's composition, to ensure the integrity of this most important export.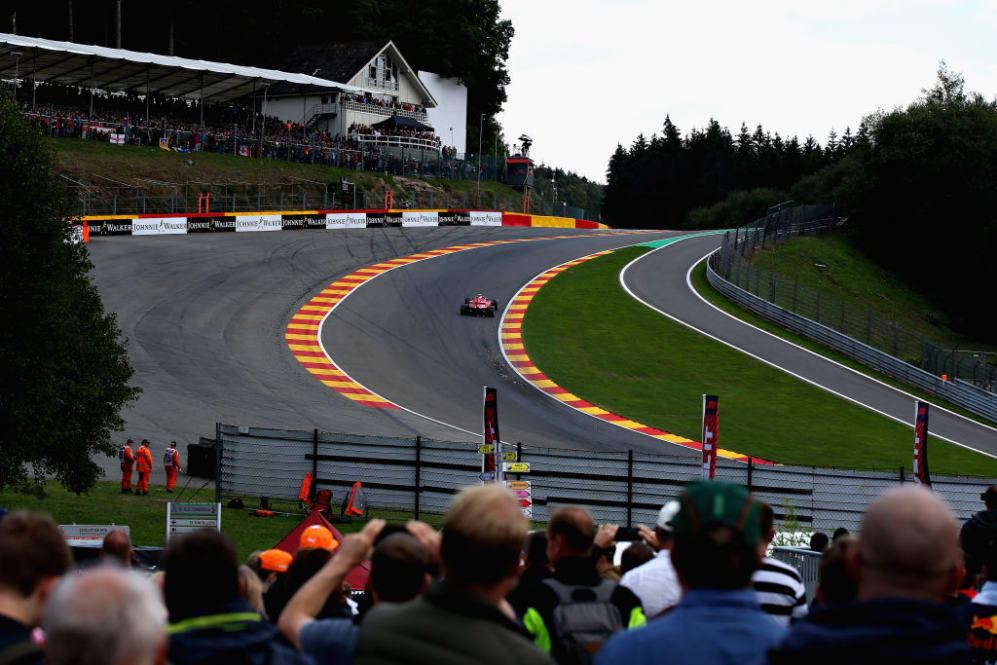 In 1912 a man called Jean Neuhaus who owned a pharmacy in Brussels, found a way to make chocolate even more delicious by inventing the praline (Belgian truffle) – a shell made from chocolate and filled with ganache, buttercream, nut pastes and other sweet fillings, changing the way people consumed chocolate forever.
The Jean Neuhaus store is still in its original location in Brussels and is considered a must visit if you're in the Belgian capital. But if you can't make it there, then La Chocolaterie Darcis in the town of Verviers – a short distance from the circuit – is a museum devoted to all things chocolate. Shop and factory combined, it was opened by Jean-Philippe Darcis when he was just 25 years old.
READ MORE: 5 Winners and 5 Losers from the Hungarian Grand Prix – Who did the business in Budapest?
Now an ambassador for Belgian chocolate and pioneer of the macaron in Belgium, Darcis combines tradition with creativity, resulting in delicious innovative chocolates which are available to buy in the on-site shop.
You can watch the chocolate craftsmen at work, taste some samples and even channel your inner Willy Wonka and sign up for a chocolate making course to learn how to make your very own creations.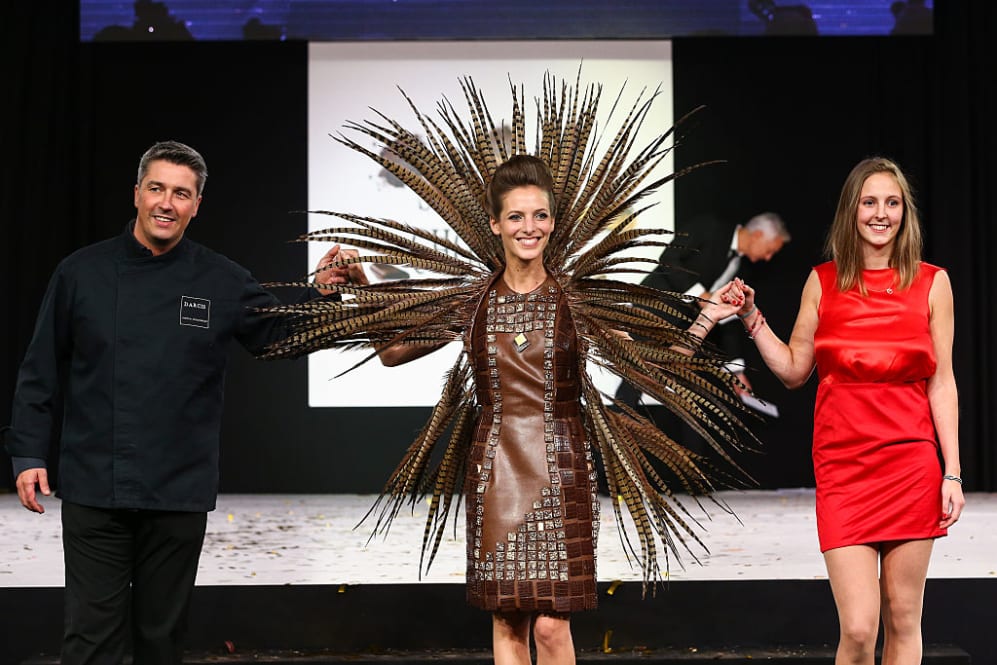 You can also get on on your bike and explore this beautiful region on two wheels. With over 1,400km of picturesque disused railway tracks, scenic byways and canal towpaths, the RAVel path network – Reseau Autonome des Voies Lentes (autonomous network of slow paths) – has special value in the Ardennes as it gives access to a beautiful but otherwise impenetrable area, on flat trails that never have more than a 2% gradient.
Try the Spa-Stavelot route which was once the 44A railway line which connected Spa to Gouvy in Belgian Luxembourg, before shutting down in 1974. The 22km route takes you through upland forest, granting lovely distant views and passing directly above the Circuit de Spa-Francorchamps.
READ MORE – TECH TUESDAY: Analysing Red Bull's significant bodywork upgrade brought to Hungary
Housed in the impressive vaults of the old Abbey in Stavelot is the Musee du Circuit de Spa-Francorchamps, a small but perfectly formed collection of historic cars and motorbikes, alongside changing temporary exhibitions, all retracing the fascinating history of this most famous of racetracks, both past and present.
If all of that racing memorabilia has stirred up the wannabe F1 driver in you, then head back to the F1 circuit and test those skills at the kart track located inside this most iconic of venues.
It's called Spa for a reason, and since Roman times people have visited the town to benefit from its highly mineralised healing water, originally ingested as drinking water as it was thought to have curative powers for all manner of ailments.
The Roman naturalist and philosopher Pliny the Elder is said to have commented on the water's "ferruginous taste" that he believed purged the body and cured fevers, and the Spa brand of water has been bottled and exported worldwide for over 400 years.
POWER RANKINGS: Which drivers cracked the top 10 after a tense 2023 Hungarian Grand Prix?
Today there is a modern thermal spa complex on a hill above the town with panoramic views, and linked to the centre of the charming municipality by a funicular railway. After all that cycling in the Ardennes, bathing in the warm healing waters is surely just the ticket.
Due to its proximity to many transport hubs in nearby neighbouring countries, the Belgian Grand Prix has always been a popular choice for F1 fans in Europe. Surrounded by misty fairytale forests, and pretty historic villages and towns and steeped in an equal measure of triumphant and tragic motorsport history, Spa is surely on the bucket list of most racing enthusiasts. Especially those who don't mind a bit of rain…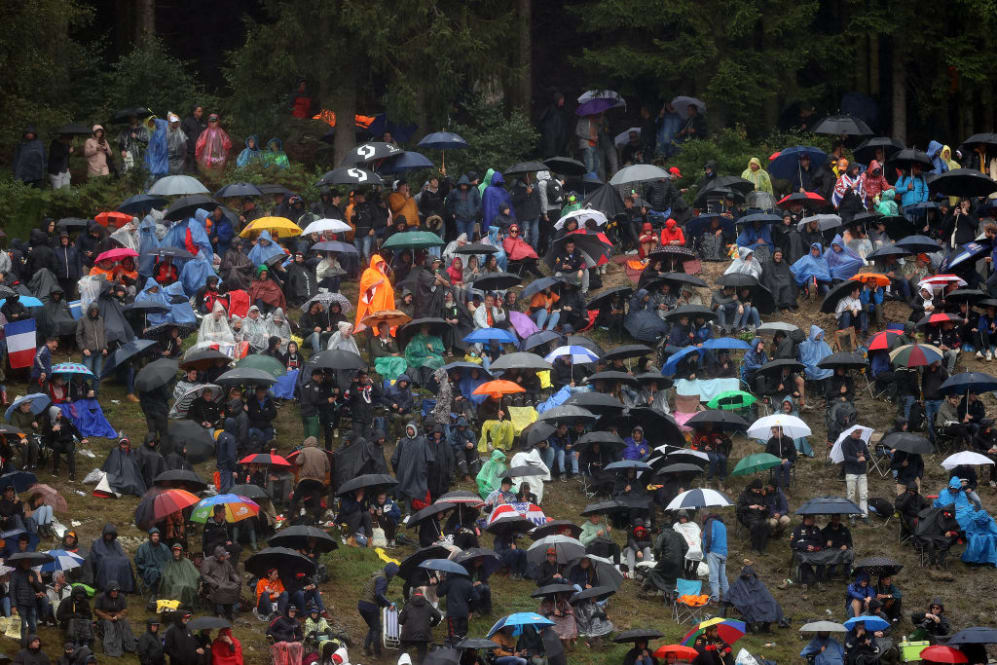 Fun fact
On 19th September 1888, what is widely believed to be the world's first modern beauty pageant took place in the town of Spa. Advertisements placed in the local newspapers announced that "the most beautiful girl on the planet" was to be selected in a Concours de beaute, and girls were invited to submit a photograph of themselves (photography still being a relatively new technology) alongside a short written description.
It was a popular concept with over 350 applications which were whittled down to 21 girls, and the mostly male judging panel eventually declared 18-year-old Marthe Soucaret from Guadeloupe to be the winner of the accolade.
ICYMI: Hollywood trends, ice baths and shattered dreams - it's the best social media from Hungary
Soucaret received 5,000 francs in prize money and the honour of appearing on the cover of the revered French magazine L'illustration. Sadly, almost nothing is known of what happened to the young beauty queen after that, but the Belgian initiative was swiftly adopted by other countries and the modern beauty pageant was born.
Belgium Destination Guide
Language: Flemish/Dutch, French, German
Currency: Euro
Population: Approx. 11 million
F1 race held since: 1950
To read on, sign up to F1 Unlocked for free
You'll unlock this article and get access to:
Live leaderboard data
Epic experiences and rewards
Money-can't-buy competitions