Disappointed Binotto says Ferrari were 'expecting better' from Baku after second straight pole position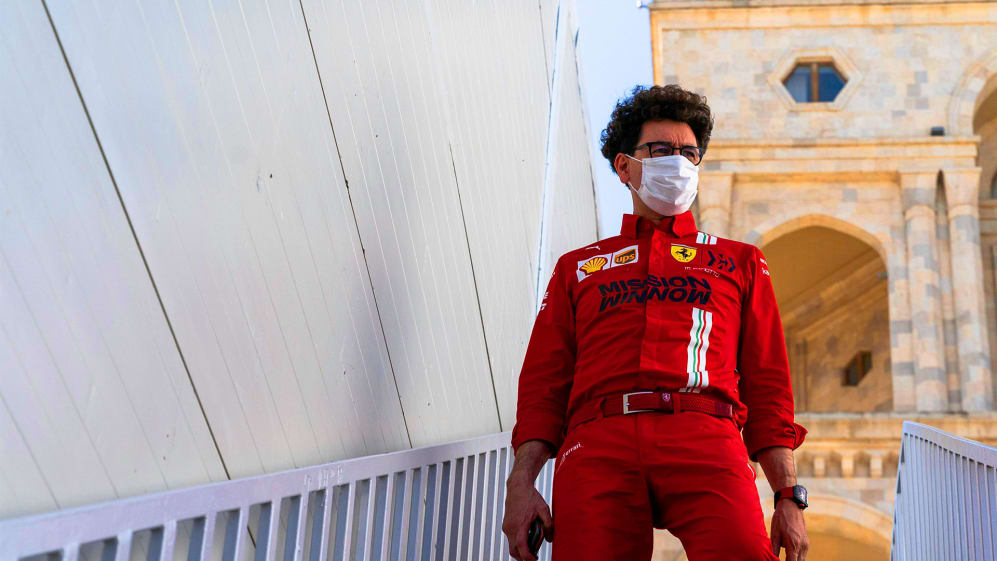 After polesitter Charles Leclerc could only finish fourth in the Azerbaijan Grand Prix – on a day when an Aston Martin and an AlphaTauri made the podium – as Carlos Sainz dropped from P5 on the grid to P8 at the chequered flag, Ferrari Team Principal Mattia Binotto said he couldn't help flying out of Baku a touch disappointed.
Ferrari had heavily played down their chances heading into the Azerbaijan weekend, but appeared to surprise even themselves when Charles Leclerc claimed his second consecutive pole position – earned, as in Monaco, by a Q3 crash that prevented other drivers completing a second flying lap, although this time it was Sainz and Yuki Tsunoda, doing the crashing rather than Leclerc himself.
READ MORE: 'I'm very angry with myself' says Sainz, as he explains Lap 11 error that compromised his race in Baku
But although Leclerc was able to lead off the line, he ultimately didn't have the race pace to keep Lewis Hamilton, Max Verstappen and Sergio Perez at bay in the opening laps – while he would later be passed by cars (first Sebastian Vettel, then Pierre Gasly) at both of the race restarts before ultimately finishing fourth, as an error from Sainz at Turn 8 saw him forced to recover to P8 at the flag.
"It was not the best race today from us," said Binotto on Sunday evening. "I think we were expecting something better after the quali. It has been a difficult race, we have not been perfect in many areas. The result is what it is, as usual it is a lesson learned. There are things we can improve, I'm sure of that.
"I think there are still two cars ahead of us that are stronger, no doubt," added Binotto, referring to Mercedes and Red Bull. "It was great to have pole positions both here and in Monaco, but I don't think that's reflecting our true performance overall.
"But we are progressing. We are progressing because we are learning the car, we are exploiting it better than at the start of the season and we know that there will be some developments coming in the future. Overall I think that's where we are, and today I think we were hoping for a better pace overall having seen the quali."
READ MORE: Leclerc says possible tree branch on track triggered start of fall from pole to P4 in Baku
Binotto may have sounded downbeat post-race. But his team had at least climbed up into the top three in the constructors' standings for the first time since last year's 70th Anniversary Grand Prix, as they moved two points clear of McLaren by dint of outscoring their rivals 16 points to 12 in Baku.
And Binotto attempted to add a more upbeat post-script to Ferrari's Baku experience, telling reporters: "Overall, it's still a good weekend and we should keep our heads up and [be] positive. We had a pole yesterday, which I think was outstanding, second pole in a row, showing the progress of the team and the car.
READ MORE: 6 Winners and 5 Losers from Azerbaijan – Who shone on the streets of Baku?
"And I think that we are third in constructors' championship – it's only by two points but it shows we are progressing. I think there are positives from the weekend but certainly at the end, as I said, things to be learned.
"Now we have three races in a row in the next weeks. Certainly the team will be focused, positive and try to do better in the future."
2021
Constructors' standings after Baku
POSITION
POINTS

1

Red Bull Racing

174

2

Mercedes

148

3

Ferrari

94

4

McLaren

92

5

AlphaTauri

39