Feature
6 Winners and 5 Losers from Azerbaijan – Who shone on the streets of Baku?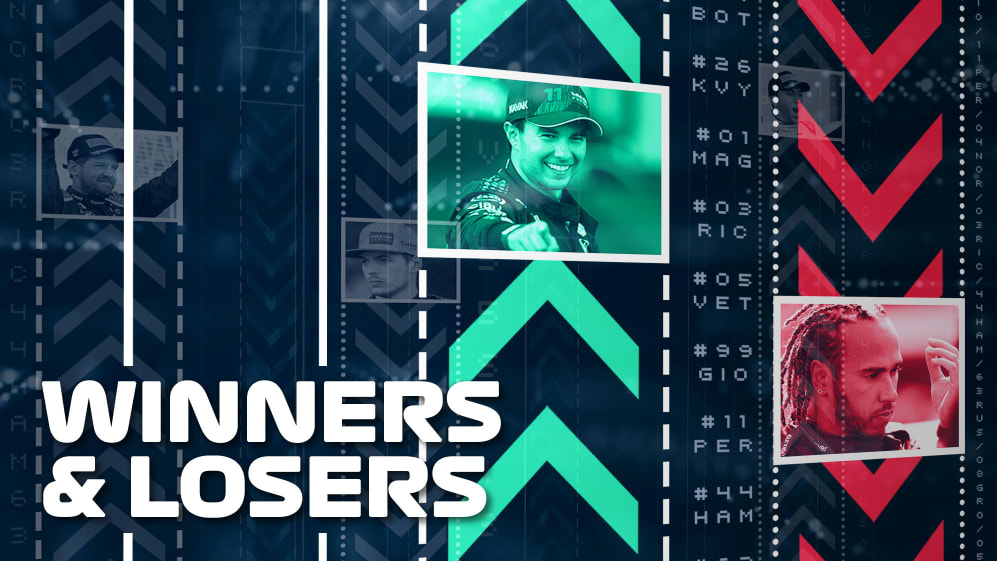 There was frustration for the leading protagonists in the F1 title race in Azerbaijan, as Max Verstappen crashed out after a tyre blow-out and Lewis Hamilton had a switch issue that sent him sliding into the run-off area and out of the points from second. But for others, there was plenty to celebrate. We've picked our six winners and five losers from Sunday's race...
Winner: Sergio Perez
Sergio Perez reckoned it would take five or six races to get comfortable at Red Bull, and he hit that target in impressive fashion, securing his second career victory – and first for Red Bull – with an outstanding drive in Baku.
Sure he benefitted from team mate Verstappen's tyre issue, but he showed tremendous pace throughout the Grand Prix and would have likely been leading anyway had he not had a slow pit stop.
READ MORE: 'Phenomenal' Perez 'ahead of expectations' after Azerbaijan victory, says Horner
Victory in Baku made it his third podium here in five visits and vaulted him into third in the drivers' championship. He also delivered the first non-Verstappen win for Red Bull since Daniel Ricciardo triumphed in Monaco in 2018.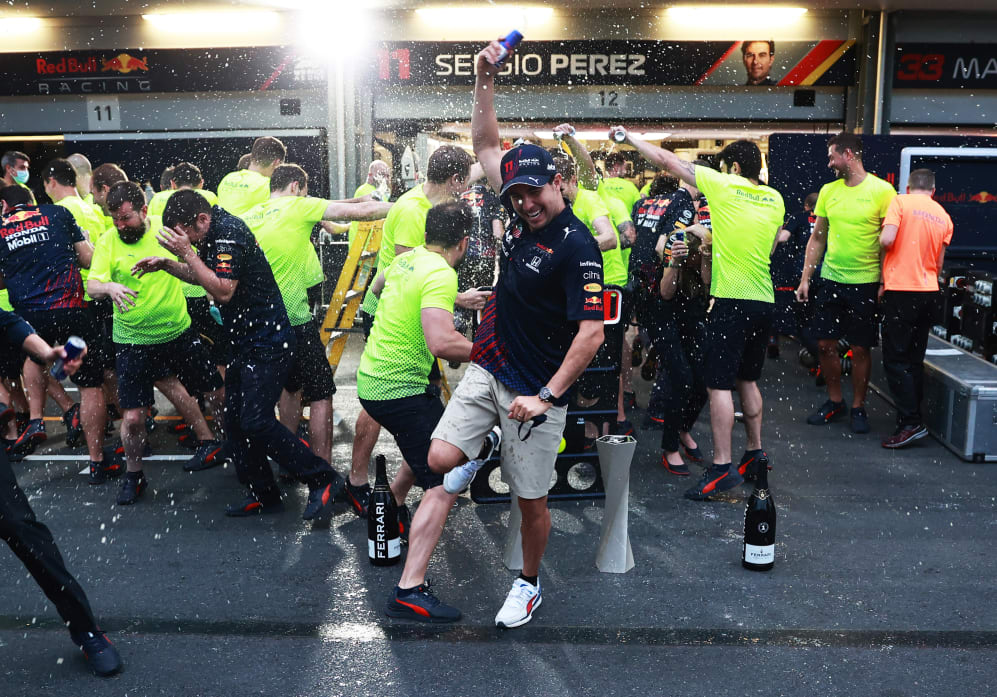 Loser: Max Verstappen
"Sometimes you can hate this sport," said Verstappen when we spoke post-race. The Dutchman was more composed than you might expect after seeing a hard-fought victory slip through his fingers after a tyre blow-out sent him spinning into the barriers.
With title rival Lewis Hamilton having another off weekend, albeit not as frustrating as in Monaco, this was a chance for Verstappen to capitalise and stretch his lead in the drivers' standings.
Initially, it looked like he would lose the championship lead completely with Hamilton running second, before an error at the restart forced the Mercedes driver out of the points. As a result, Verstappen hangs onto his narrow four-point lead in the drivers' championship – but he knows the upcoming more conventional tracks will likely swing the momentum back in Mercedes' favour.
RACE HIGHLIGHTS: See all the action from an extraordinary win for Perez in the Azerbaijan GP
Winners: AlphaTauri
This was one of the best weekends in AlphaTauri's history in terms of pure performance on track, the Italian team within three-tenths of pole through Pierre Gasly before the Frenchman secured his third career podium – and first of the season – with P3.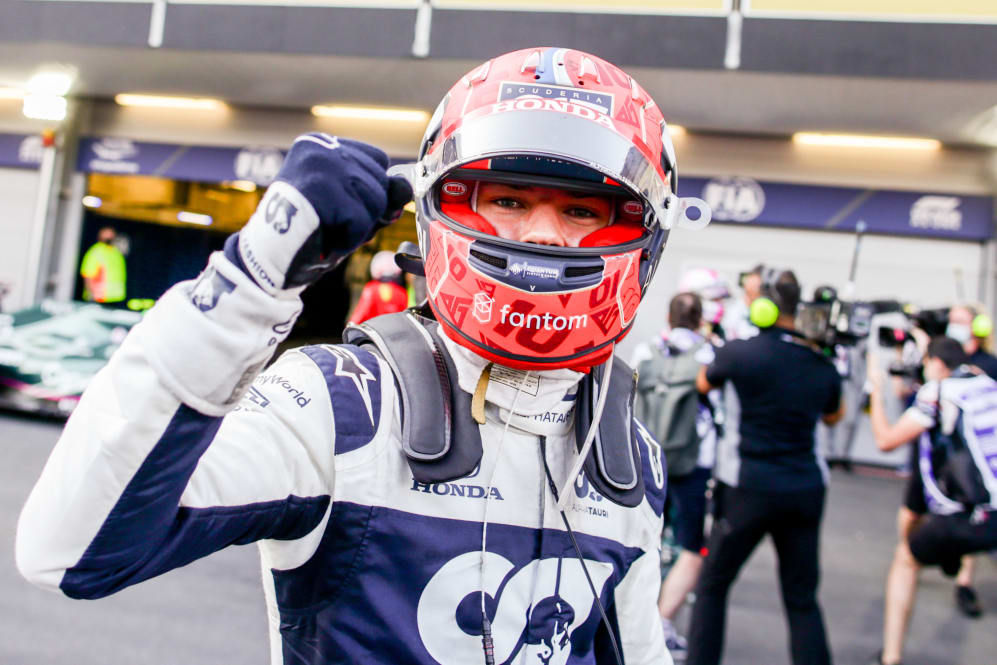 His defence of that podium spot from Charles Leclerc in the final two laps following the restart was impressive, and led to his fifth consecutive points finish in six races this year.
With Yuki Tsunoda scoring a career-best seventh – his second-ever points finish – AlphaTauri had both cars in the top 10 for the first time this season to go fifth in the constructors' championship, a couple of points clear of Aston Martin.
Loser: Lance Stroll
Lance Stroll arrived in Baku with happy memories of the place, having scored the first podium of his career with Williams at the venue in 2017 – but he had little to be happy about this time around.
He was the first of five drivers to crash in qualifying, which sent him to the back of the grid in a car that was capable of scoring good points. The Canadian then suffered a dramatic tyre blow-out on the main straight in the race that pitched him hard into the wall.
READ MORE: Pirelli say debris likely cause of Stroll and Verstappen crashes, as they reveal cut found in Hamilton tyre
Fortunately, he escaped unscathed, but his team mate's podium highlighted what could have been.
Winner: Sebastian Vettel
Vettel was under pressure after a lacklustre opening few races, but turned things around in Monaco with his first points score of the year in fifth, and then carried that momentum into Baku.
The German oozed confidence in Azerbaijan and felt he had the pace to make Q3 for the second successive race, only to be forced to abort his lap when Ricciardo crashed in qualifying. On Sunday, he ran very deep into the Grand Prix, briefly leading as he showed impressive pace on the soft tyres, which he said afterwards could have gone on much longer.
READ MORE: Vettel 'over the moon' with maiden Aston Martin podium after 'very rough' start of the season
He rose to fourth on pure performance, and gained two places following Verstappen's crash and Hamilton's error, securing his best result since the 2019 Mexican Grand Prix and Aston Martin's best ever result as a constructor.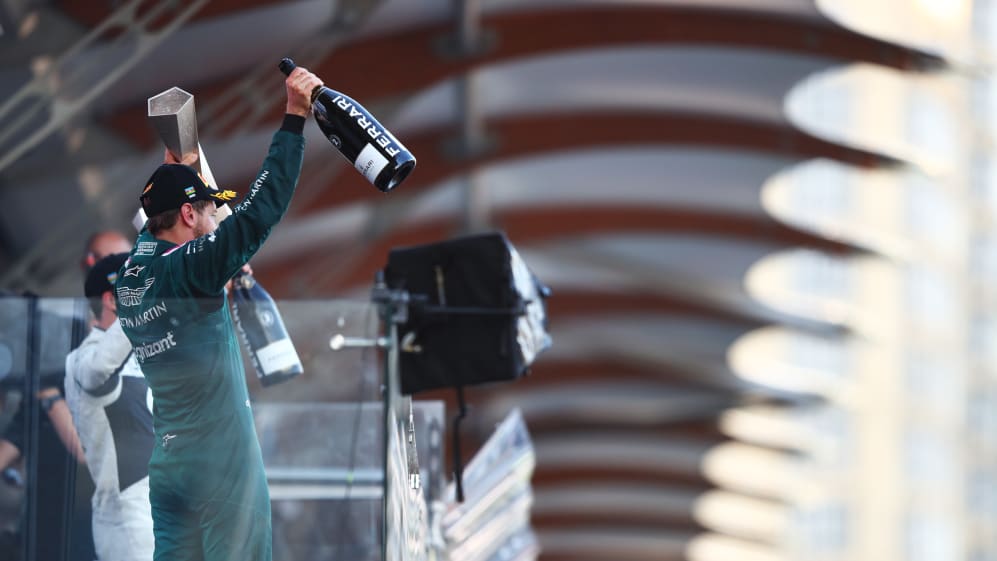 Loser: Esteban Ocon
Esteban Ocon has been in tremendous form, scoring in each of the last four races and out-qualifying his more decorated team mate Fernando Alonso in those four outings as well.
But Baku wasn't his weekend, first being beaten by Alonso in qualifying and failing to make Q3, then suffering a loss of power that ended his Grand Prix after just three laps.
With Alonso scoring his best result of the year in sixth, Ocon dropped behind the Spaniard in the drivers' standings for the first time this season.
Winners: Ferrari
Ferrari headed to Baku saying they were expecting the Grand Prix to be the first of a series of "complicated" races for them, but they surprised themselves with the pace they showed both on one lap and in race trim.
READ MORE: Leclerc says possible tree branch on track triggered start of fall from pole to P4 in Baku
Charles Leclerc utilised a tow from Hamilton beautifully to secure back-to-back pole positions, and while he dropped back in the race having led Ferrari's first lap since 2019, he fought hard to secure his third fourth place in six races.
With Carlos Sainz scoring points for the fifth time this year, it helped the Scuderia to leapfrog McLaren into third in the constructors' championship.
Loser: Lewis Hamilton
This was a rollercoaster weekend for Hamilton, the Briton all at sea on Friday with the team at a loss to explain why they were woefully slow.
But he and the team turned things around ahead of qualifying, Hamilton making a series of changes including switching to a low downforce rear wing that suddenly gave him a car with which he could compete.
READ MORE: Hamilton explains switch issue that led to him dropping from P2 to P15 at crucial Azerbaijan GP restart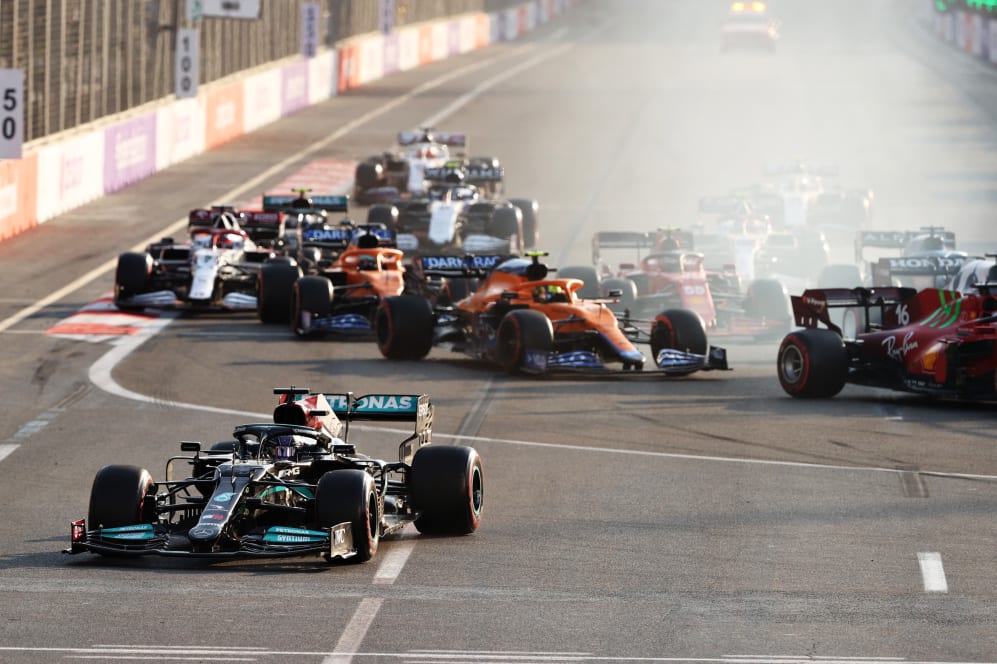 In the race, he briefly led before losing control to title rival Verstappen in the pit stops. And then threw away second, a shot at victory and any points when he shot down the escape road at the restart, having erroneously left a brake switch on.
It meant he failed to score for the first time since the 2018 Austrian Grand Prix, 54 races ago. He trails Verstappen by just four points, but he could have led his rival by double digits without that uncharacteristic error.
Winner: Fernando Alonso
Fernando Alonso's return to Formula 1 has been somewhat unspectacular, but he arrived in Baku full of hope given he had scored points on his last two visits with lower than average machinery.
READ MORE: 'We got lucky to get an opportunity – and we took it' – Alonso delighted with late charge to P6 in Baku
Having qualified a strong eighth, he initially dropped through the field like a stone as he struggled for any pace on the soft tyre. But a gamble to take more softs on lower fuel during the Safety Car period helped move him up to 10th.
He was then super aggressive in the two-lap shoot-out, making up an impressive four places to come home sixth – his best finish since the 2018 Australian Grand Prix, nearly three and a half years ago.
Loser: Valtteri Bottas
If Hamilton was struggling in his Mercedes, that was nothing compared to the pain his team mate Valtteri Bottas was suffering on the other side of the garage.
The Finn was slow in practice, through qualifying and into the race – and he had no explanation as to why. As Hamilton vied for the lead, Bottas loitered outside of the points – and ultimately crossed the line 12th.
READ MORE: Wolff calls Mercedes' Baku performance 'unacceptable' as he says team in toughest ever period
It means he has failed to score in half of the races this year, and with Hamilton finishing behind, Mercedes' 55-race run in the points – which tied for the fourth-longest streak – came to stuttering end as they fell 26 points adrift of Red Bull in the constructors' championship.