Don't write Vettel off yet, says Rosberg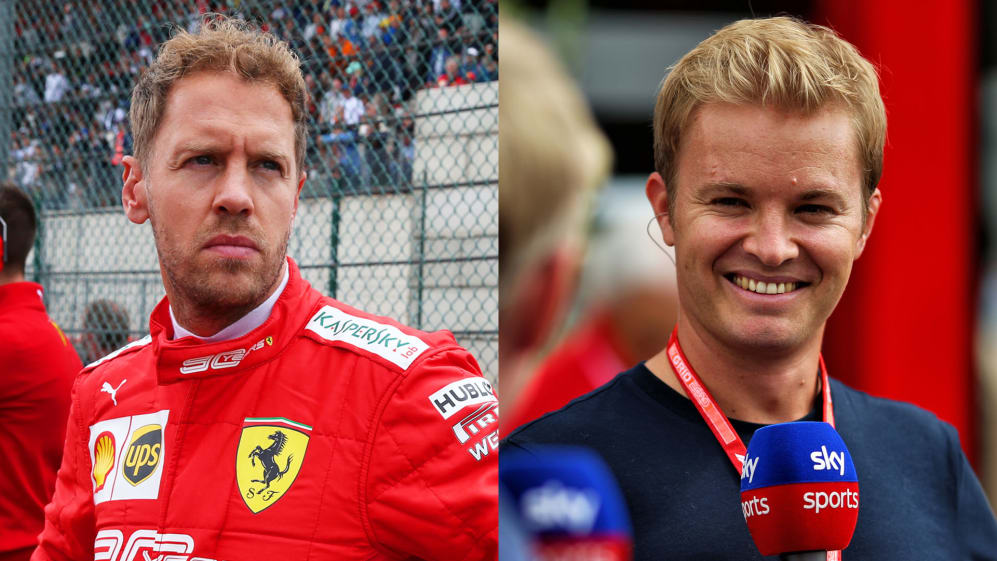 The Italian Grand Prix was another trying race in what's turning into something of a trying season for Sebastian Vettel. But while 2016 world champion Nico Rosberg admitted to being shocked at his compatriot's performance drop-off in recent times, he urged F1 fans not to write off the Ferrari driver.
Vettel was pursuing the third-placed Mercedes of Valtteri Bottas on Lap 6 of the Monza race when he rode over the kerb at the Ascari chicane and lost the back end of his Ferrari SF90, forcing him into a half spin.
READ MORE: Vettel 'can't be happy' with race-ruining Monza spin
He then clattered into Lance Stroll's Racing Point when re-joining the circuit, earning himself a 10-second stop-and-go penalty that would ultimately see him finish a distant 13th. Meanwhile, rubbing salt into the wounds was the fact that team mate Charles Leclerc won his second race in a row, while simultaneously giving Ferrari their first victory at Monza since 2010 – while Vettel has now not won since the 2018 Belgian Grand Prix.
We shouldn't write him off because he can come back very quick – but it's not an easy one
And after the race in Italy, Rosberg admitted that he was struggling to get his head around four-time champion Vettel's performance.
"Vettel is unexplainable for me – I can't explain it," said Rosberg, in Monza as a pundit for Sky Sports F1. "He is a four-time world champion, he is one of the best guys out there and to make a mistake like that, on your own, just spinning the car like that in a corner, is so strange.
"This moment must be so dark for him," Rosberg added. "His team mate just became an absolute Ferrari legend and has taken the number-one status in the team, probably, from him.
"[But] Vettel is one of those guys who has a lot of self-confidence, so that's going to help him a lot through this. And in F1, it's so short-lived that it just takes one race, one really powerful race, and you're back.
"We shouldn't write him off because he can come back very quick – but it's not an easy one."
Having been outscored 50 points to 13 by Leclerc in the previous two races, Vettel has now slipped to fifth in the drivers' standings, 115 points off leader Lewis Hamilton's tally. However, at least Formula 1 now heads to one of the German's favourite tracks, Singapore's Marina Bay Street Circuit, where he's previously been victorious four times.
READ MORE: 'At first Vettel's re-join seemed ludicrous – but now I sympathise' – Jolyon Palmer gives his view on Sebastian Vettel's nightmare weekend in Monza