Feature
FORM GUIDE: Can Bottas stay on top in Austria for the Styrian Grand Prix?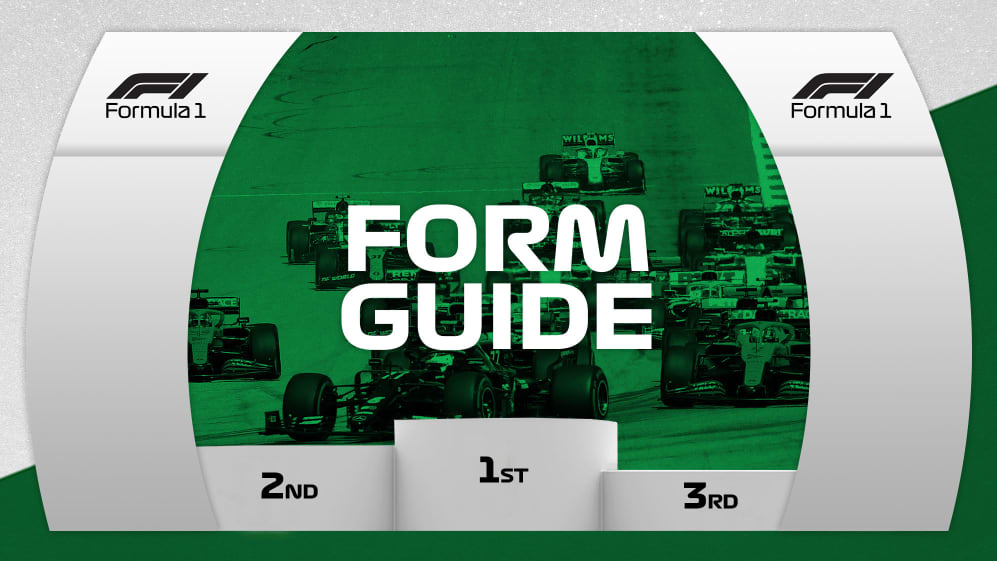 So, one Red Bull Ring race down, one to go. But after Valtteri Bottas aced Formula 1's first weekend of 2020, can he keep the momentum up for the Styrian Grand Prix? And who else is poised for success? Let's weigh up the favourites for pole, victory, podiums and points this weekend.
Vying for pole
If qualifying this Saturday is a dry affair, it looks like a tall order from anyone not driving a Mercedes W11 to take pole. Last weekend, Max Verstappen's best effort for P3 was over half a second shy of what either Valtteri Bottas or Lewis Hamilton could manage – and that at the shortest lap, time-wise, of the season.
READ MORE: Hamilton favourite for victory despite winless start – Odds and betting lines for the Styrian GP
So if it's dry, on current form you'd expect a Mercedes – while with only 0.012s covering Bottas and Hamilton in qualifying last Saturday, it's too close to call for an advantage either way.
Crucially, though, current forecasts suggest Saturday could well be wet, and that could make the fight for pole open season – while there's also the unknown of Ferrari's updated SF1000, with the team bringing forward a significant aero upgrade by a week in order to claw back some performance around the Red Bull Ring.
Can they get they get the upgrade dialled in in time for quali – and will it be enough to get them back to the sharp end after Charles Leclerc and Sebastian Vettel qualified a poor P7 and P11 last week?
Pole positions in last five races:
2020 (Austrian GP) – Valtteri Bottas (Mercedes)
2019 – Charles Leclerc (Ferrari)
2018 – Valtteri Bottas (Mercedes)
2017 – Valtteri Bottas (Mercedes)
2016 – Lewis Hamilton (Mercedes)
FAN VIEW: Lewis Hamilton may have had a difficult start to the season but F1 Play gamers haven't lost faith in the six-time world champion. More than 51% of players so far expect him to get back to winning ways immediately this Sunday – almost twice as many as team mate Valtteri Bottas.
In the mix for victory
Our analysis last week of the race pace data from Friday practice doubled down on the bad news for Mercedes' rivals, with the team shown as having a 0.5s per lap advantage over rivals Red Bull. That pace was seemingly confirmed by Bottas comfortably gapping Verstappen in the early part of last Sunday's race – albeit that Verstappen was on medium tyres – meaning that once again, if the Styrian Grand Prix is dry and incident-free, it looks likely that it will be one of the Mercedes boys on the top step of the podium.
READ MORE: Red Bull need to treat every race 'like a cup final' says Horner
But last weekend witnessed three Safety Cars. It witnessed some very edgy radio calls to the Mercedes duo about gearbox concerns. And it witnessed a high rate of general attrition, including two power unit-related retirements for Mercedes customer teams.
Add some of the wet weather that's also currently forecast for Sunday into that mix, and once again opportunities could be rife for other drivers, with Verstappen the one you'd say would be most likely to upset the Silver Arrowed hegemony, given his pace last weekend, and the fact he won the races at this track in 2018 and 2019.
Wins in last five races:
2020 (Austrian GP) – Valtteri Bottas (Mercedes)
2019 – Max Verstappen (Red Bull)
2018 – Max Verstappen (Red Bull
2017 – Valtteri Bottas (Mercedes)
2016 – Lewis Hamilton (Mercedes)
FAN VIEW: Only 13 cars were classified in Sunday's punishing race at the Red Bull Ring – in stark contrast to all 20 last year. F1 Play gamers expect better reliability this time round with 16 (22%) and 17 (27%) the sweet spot for the selected number of finishers so far.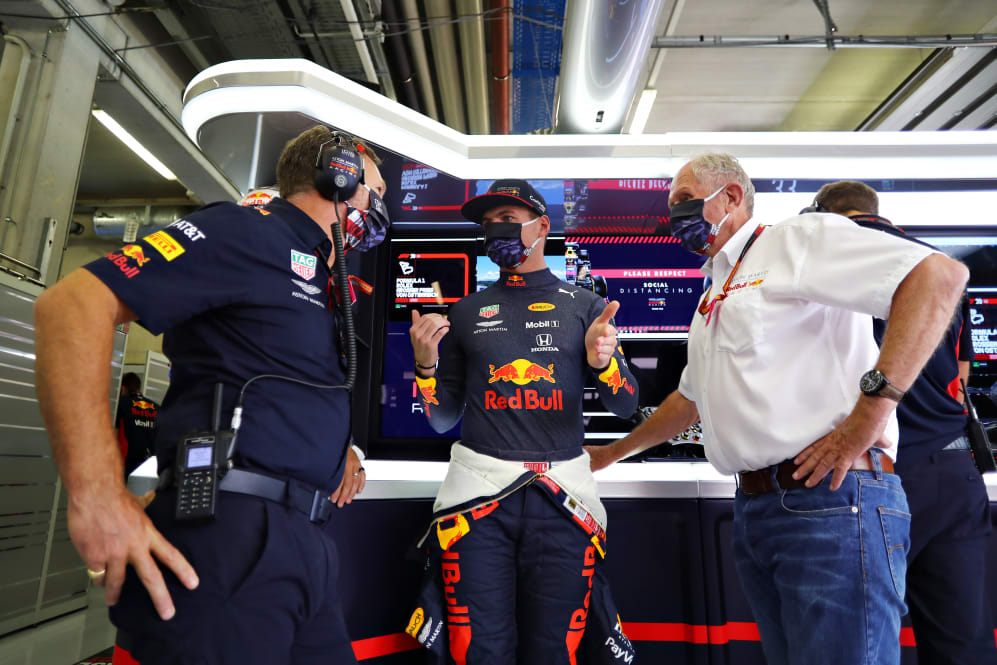 Podium outsiders
Rather gratifyingly, the Austrian Grand Prix asked as many questions as it answered last Sunday, chief among those being whether Ferrari could find some proper pace this season, whether McLaren or Racing Point have the better race package, and how Verstappen's starting-on-mediums strategy might have panned out had his RB16 not conked out?
READ MORE: Honda introduce power unit fix for this weekend's race after Red Bull's double Austria DNF
What is clear though is that while a Ferrari driver and a McLaren driver rounded out the podium behind Bottas last Sunday, it could easily have been a driver from Red Bull, Racing Point or Renault if the cards had fallen differently – while if AlphaTauri had qualified better on Saturday, they could probably have been in the mix too, given the number of Safety Cars.
We see no reason why that shouldn't be the case again this Sunday – especially if the rain rears its head – with the likes of McLaren's Lando Norris, Racing Point's Sergio Perez and Renault's Daniel Ricciardo all having shown great form last weekend.
Podiums in last five races:
Ferrari – 6
Mercedes – 4
Red Bull – 4
McLaren – 1
FAN VIEW: Lando Norris (44%) is favourite with F1 Play gamers to finish top in his driver group again following that sensational podium on Sunday, well ahead of team mate Carlos Sainz and Racing Point ace Sergio Perez. In the other group, Lance Stroll is an even hotter pick with more than 64% of gamers siding with him.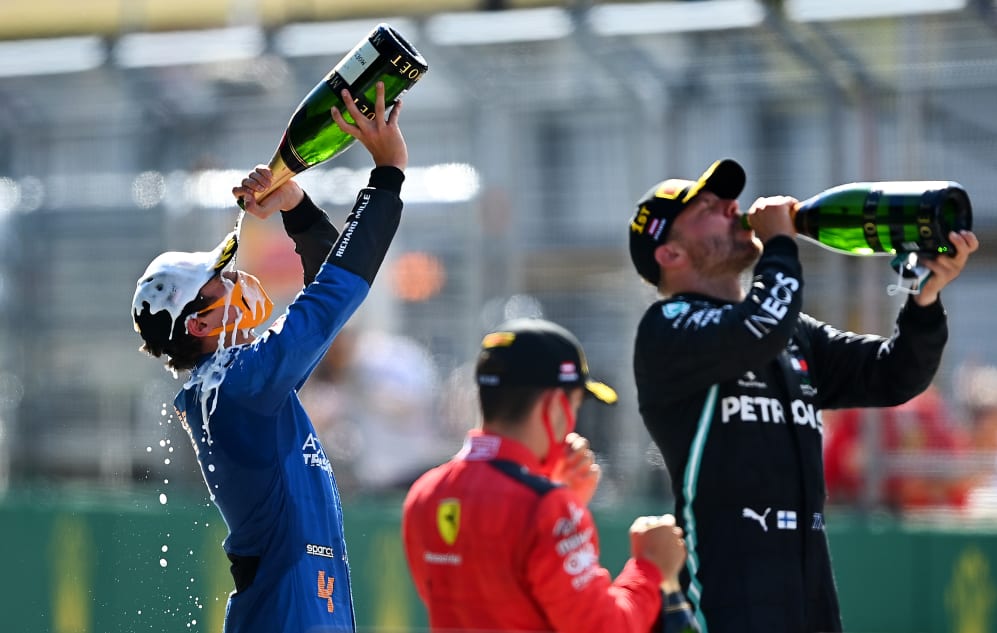 Points potential
While podiums might be a bit of a stretch still, points certainly look like they're in Williams' future this year. George Russell would most likely have had some last weekend without his fuel pressure issue, given that newbie team mate Nicholas Latifi finished in P11.
READ MORE: 'We were so close to points' says frustrated Latifi after Austrian Grand Prix
Points, too, would be a welcome boost for Haas after Romain Grosjean and Kevin Magnussen's brake-related retirements last Sunday, with the forecast for lower temperatures this coming weekend likely to provide a soothing balm to Team Principal Guenther Steiner's presumably frayed nerves at the moment.
And finally, despite Alfa Romeo salvaging two points from the Austrian Grand Prix, it was not a happy weekend for the team, with both Antonio Giovinazzi and Kimi Raikkonen outqualified by Russell's Williams, while the wheel falling off Raikkonen's car rather neatly summed up the current state of affairs for the Swiss squad. They'll be hoping for better this weekend.
Points in last five races:
Mercedes – 136
Ferrari – 125
Red Bull – 100
McLaren – 50
Haas – 36
Racing Point/Force India – 32
AlphaTauri/Toro Rosso – 10
Alfa Romeo/Sauber – 8
Williams – 5
Renault/Lotus – 4
FAN VIEW: Romain Grosjean was only the fifth driver to retire from the Austrian Grand Prix, but he is a very strong choice to be the first DNF this weekend. More than 30% of F1 Play gamers so far have selected him – way ahead of his nearest challenger for this dubious honour.
F1 Play gives you the chance to win the prize of a lifetime – a VIP trip for two to a Grand Prix in 2021.
Register now to predict a number of outcomes, ranging from who will stand on the podium to who will set the fastest lap to the number of finishers. Score 10 out of 10 for any raceto win.