Feature
DATA ANALYSIS: How Norris beat Hamilton to the podium with one amazing lap
Lando Norris's maiden podium finish was undoubtedly the feelgood story of a feelgood weekend in Austria. But how did the McLaren driver get the job done? We've been looking at the numbers…
Heading into lap 71 of 71 in Austria, Lando Norris knew two things: 1) That Lewis Hamilton had a five-second time penalty hanging over him, the Mercedes driver having been deemed to have caused an avoidable collision with Alex Albon; and 2) That he was 5.6s behind Hamilton, and therefore needed to find more than half a second on the world champion in just 4.3km.
READ MORE: More podiums possible for McLaren in 2020, reckons Sainz
Even with Hamilton slowed by technical gremlins, this was going to be no easy task – but Norris was up to it, thanks in part to great team work with his engineer Wil Joseph. Throughout the lap, Joseph was giving his man extra instructions to coax every last drop of performance out of his McLaren. "Single press overtake [button] here and out of Turn 3" he told Norris on the run out of Turn 1, as the Briton was given the best of his engine modes.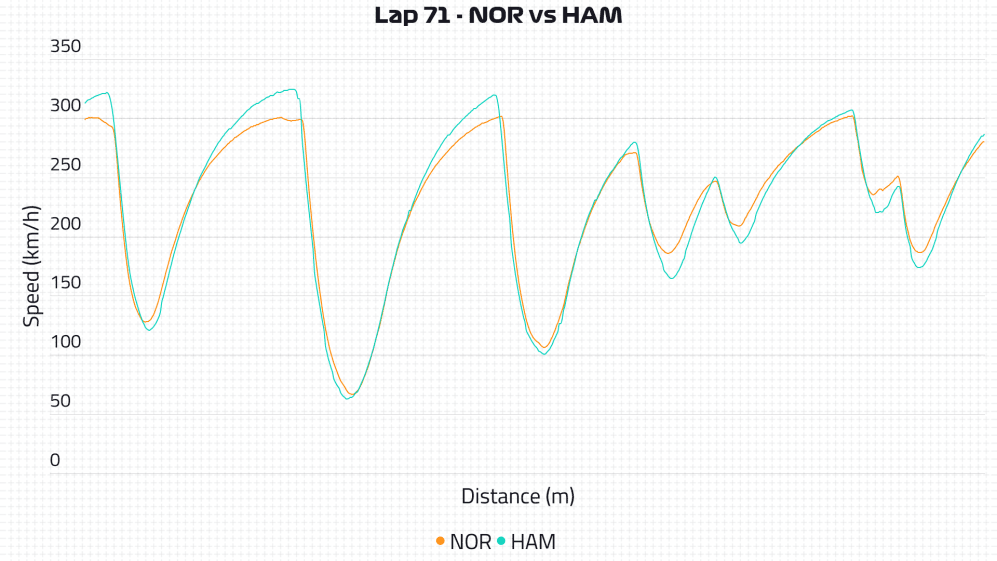 But even with that help, Hamilton – pushing as hard as he could on old tyres while avoiding the kerbs - was still measured some 18km/h faster than the McLaren through the speed trap on the final lap. Indeed, his power advantage helped keep him ahead in the first half of the lap.
WATCH: Norris's emotional radio message after his maiden podium – and McLaren's joyous reaction
But as the speed trace above shows, in the second half of the lap, with more corners, Norris was able to brilliantly find the time he needed, gaining 0.6s in Turns 6 and 7 alone. At the apex of Turn 6 in particular, Norris was 21km/h faster than Hamilton, who was being held up in the dirty air from team mate Bottas.
Then in the final two corners Norris pulled back the final few tenths he needed, crossing the line 4.8s behind Hamilton to become the third-youngest podium finisher in F1 history – and unsurprisingly earn himself the DHL Fastest Lap at the same time.