DRIVER MARKET: Vettel confirms Racing Point talks but says future 'is still open'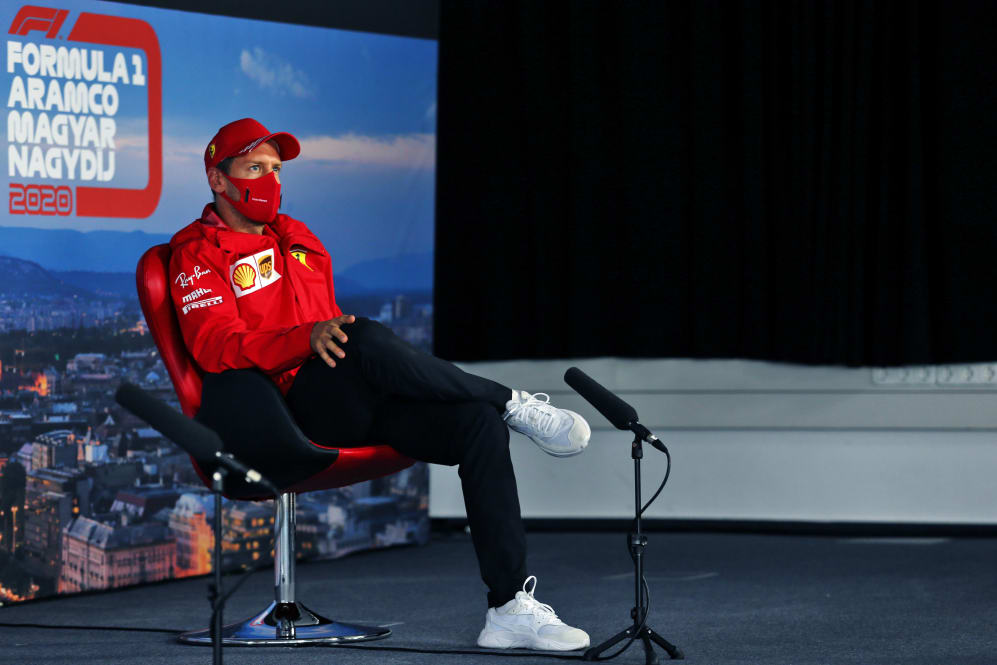 It's been the story that has dominated the headlines in recent days – is Sebastian Vettel on his way to Racing Point in 2021? The German was tight-lipped when questioned on Thursday, but he did admit there have been talks with the pink team while adding that all options for his future remain "open"…
Vettel is out of contract with Ferrari at the end of the year, with Racing Point (who will become Aston Martin Racing next year) emerging as the leading candidate to secure his services, despite having two drivers in Sergio Perez and Lance Stroll signed up for 2021.
READ MORE: Sebastian Vettel to Racing Point - what's rumour and what's reality?
It is believed Racing Point are indeed interested in recruiting Vettel for next season, so Vettel was asked whether it is his understanding that a seat at the team is available should he wish to take it. The German replied: "At this stage, I think it's talks. I said last week I have been in talks with Renault for example, it's also talks. At a later stage with anyone I think it would become a bit more concrete. The truth is that there is nothing to announce and nothing more concrete than loose talks."
Vettel is a seasoned pro when it comes to handling questions from the media, so it was unsurprising that he was coy when asked about speculation linking him to Racing Point, who have shown an improved turn of pace this year following the introduction of a car that looks very similar to last year's winning Mercedes.
"Rumours are called rumours for a reason," he said. "Anyway, now only a couple of day after Austria, there's not much that has changed. The fact is there is no news. If you ask about Racing Point, everyone is talking about Racing Point, the first two races have been impressive, the performance on track.
"When it comes to myself, no news, nothing has changed in a week. I said last time it will probably take some time, most importantly for myself to make the decision, the right decision for myself. Once there is something to say, I think that will be the right time in future to do so.
"Anything at this stage is still open - driving next year, not driving next year and maybe coming back or not driving and doing something different. I'm not pressured to make my decision too quickly."
He added: "I have been around for long time and you never know, things can always change. Irrespective of that, I have to make decision myself, and see if there is something suitable in that direction."
READ MORE: Vettel says he'd take Red Bull seat if offered – but Verstappen sees no reason not to stick with Albon
Vettel also said he wasn't disappointed by Red Bull's senior management ruling out the possibility of the German returning to the team with which he won all four of his titles, after he had said he would take a seat there if offered.
He added: "As far as I can see, they have two drivers there," he said. "So it's not a surprise. All I said was my honest and open opinion. Coming back again [to my future], it would depend what options there are, what I want to do, and find the best solution for myself."