Feature
DT's 10 Hot Takes - On Verstappen's straight-talking & McLaren's continued rise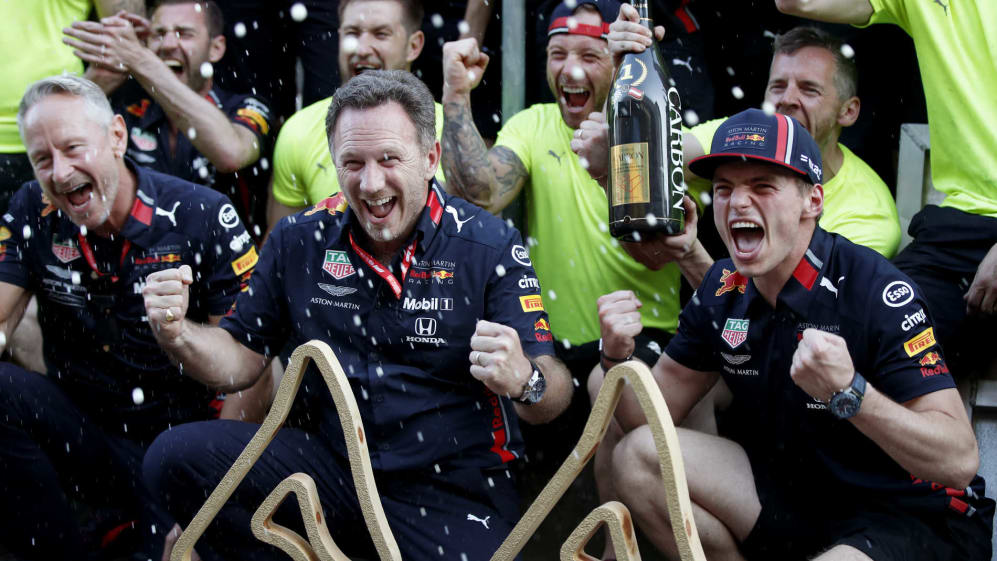 A celebrated Formula 1 journalist with more than 500 (consecutive) Grands Prix' experience, David Tremayne is one of those familiar paddock figures who has seen it all, met them all, and written about it all, over almost five decades of F1 racing. Here, he shares his hot takes after round 8 of the 2019 season in Austria...
1. Stewards' decision hard justice for Leclerc - but correct
A horrible chill descended on the press room when the incident on lap 69 between Max Verstappen and Chares Leclerc was described on the TV screens as 'noted', and later when it was confirmed that it would be investigated by stewards Tom Kristensen, Silvia Bellot, Nish Shetty and Walter Jobst.
Not again! Not another Grand Prix in which the man who won on track would be judged afterwards not to have won! Not after we had all watched a slow-burn race which became red hot in the closing stages. A non-Mercedes victory on the cards, and a furious battle developing between two young lions who had blown off their elders all afternoon.
READ MORE: The Winners and Losers of the Austrian Grand Prix
It was the scenario everyone wanted: the crowd's hero chasing down a man who appeared to be on the cusp of a very deserved maiden win. Red Bull versus Ferrari. And now this…
The deliberations dragged on until 19.45, and the situation was made worse when someone put out a fake FIA release claiming that Max had been given a five-second penalty.
Eventually, there was a huge sigh of relief when it was announced that no further action was necessary, that the stewards had deemed it a racing incident. Because that was what it had been. With the accent on racing.
Once again, for very different reasons to those made in Canada and which were equally correct, F1 dodged another bullet, and justice was generally felt to have been done. For Charles it was hard justice, but F1 is a hard game.
2. Straight-talking Max is just what F1 needs
It's not just that Max Verstappen is young and thus eminently suited to helping F1 to create a younger demographic. Nor that he has a mass of orange-clad fans who travel to his races to bestow upon him their vocal and loyal support. Nor even that he is superfast, a race winner and ready to give anyone a fight.
READ MORE: Horner calls Verstappen the best driver on the grid after Austria win
Where he is really valuable is that he had sufficient self-confidence and chutzpah to say exactly what he thinks, and won't be manipulated by any gatekeeping public relations officers like so many of his rivals.
Amid spurious rumours of a move from Red Bull, he was asked for details of an escape clause in his contract that Helmut Marko had confirmed, and his answer was disarmingly simple.
"What do you think, my friend? Of course not! Why would I? I know, but I don't care."
And on the subject of his current levels of frustration and/or satisfaction, he said, "I'm not too worried about what's going to happen next year or even beyond that. At the moment I just want to focus on this project because I think there is still a lot of potential and we are just getting started. But like I said, of course, I don't want to keep driving around finishing until I'm 35 or 40, y'know?"
Then there was The Incident. "It's hard racing, otherwise we have to stay at home," he said. "It's better than just following each other and having a boring race. If those things are not allowed in racing, then what's the point of being in Formula 1?"
Keep telling it like it is, Max!
3. Honda's victory proof you should never give up
Well, one thing was for sure at the Red Bull Ring: Max Verstappen's Red Bull RB15 definitely wasn't running a "GP2 engine".
READ MORE: Honda admit engine was 'on the edge' during Verstappen's Austria victory
It's been a brutal road back for Honda since they returned to F1 with McLaren in 2015, the second year of the turbo-hybrid formula. They have endured failure and ridicule in equal measure, and one can only imagine what that cost a very proud company.
Things have been considerably better this year in terms not just of performance but also reliability, with the Dutchman finishing every race with decent points, and there was widespread pleasure in the paddock to see Honda winning in F1 for the first time since Jenson Button's popular triumph in the rain at Hungaroring back in 2006.
It was just what F1 needs, proof that you should never give up, and hopefully it may encourage other manufacturers to consider F1 programmes.
おめでとうございます! (or congratulations in Japanese!)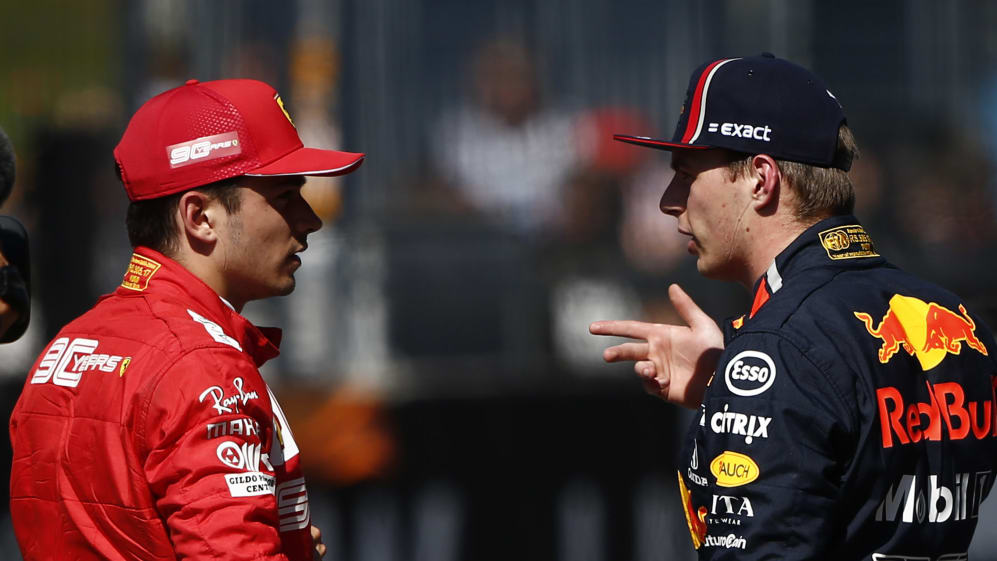 4. Leclerc's dignity in defeat admirable
Bahrain showed us just what we can expect from Charles Leclerc, and now that the fallow spell that followed is over, his performance at the Red Bull Ring underlined it.
Leclerc versus… Verstappen? Hamilton? Vettel? It's going to be more and more the future of F1.
READ MORE: Binotto: Leclerc win will come 'sooner or later'
He took an excellent pole position, proving that his recent work on getting in the right window for Q3 is paying off, he made a great start, and he said he could have gone a lot longer on the soft Pirellis but for Ferraris need to cover Valtteri Bottas' early stop on mediums. If he made a mistake, it might have been pulling so far to the left for Turn 3 on lap 69 that it was inevitable Max would dive for the gap and not leave him the chance to duck back down the inside to retake the lead the ay he had so memorably done on the previous lap. But he himself admitted that such was the disparity by then in grip levels with the Dutchman's tyres being 10 laps fresher, that he would not have been able to hold the Red Bull at bay much longer.
I admired his dignity in the controversial aftermath, and assuredly, his day will come. I hope it's very soon. If Max is the black knight, Charles is a white one, and their contrasting characters and personal philosophies will make their future battles ever more intriguing.
5. Mercedes went over the limit
It's not often that Mercedes get it wrong, but the Red Bull Ring seems to be something of a bogey circuit for them. Remember how last year they had a rare double retirement, fuel pressure for Lewis, hydraulics for Valtteri?
Lewis was saying only recently, after the French GP, that it's a shame you can't run one cooling configuration in qualifying and another for the race, and this time the one they had chosen overall simply didn't get the job done in the 51C track temperature and 34C ambient that pertained on race day.
READ MORE: Wolff says Mercedes need to work on cooling problems after Austria struggles
F1 is all about pushing limits, but this time they went over them, as both Lewis and Valtteri were obliged to do far more lifting and coasting than normal and could not use their optimal engine modes because of it, and thus the Silver Arrows' long run of success was broken and they had their least competitive race of the year. It didn't help that Lewis needed a new front wing, too, after damaging his original on one of the sausage kerbs.
Sometimes you eat the bear, sometime the bear eats you; Mercedes were a tasty ursine snack this weekend.
READ MORE: TECH TUESDAY: How cooling demands neutralised Mercedes' threat in Austria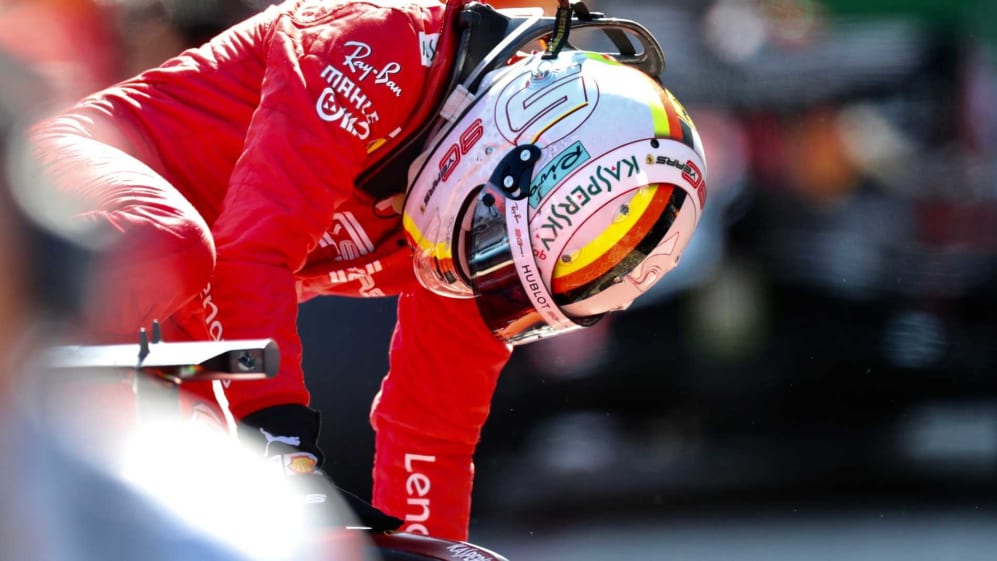 6. Still no sunshine for Seb
The TV screens rather amusingly declared each day: chance of rain in this session 0%. But the sun still failed the shine on Sebastian Vettel from Q2 onwards.
It was wretched luck that the pneumatic system on his Ferrari suffered a failure at the end of Q2, in which he had been second, three tenths off team-mate Charles Leclerc, and could not thus fight for pole in Q3. I suspect that, without that, we'd have seen an all-Ferrari front row.
Ferrari have tended to be the team that get strategic calls wrong at times, where Mercedes more often than not get them right, but the plan to run the sort Pirellis in Q2 was a bit of genius. That means, of course, that you have to run them at the start of the race, and they stood up to the very high track temperature much better than everyone thought they would.
Which made it even more ironic that, after his second stop on lap 50 for a set of new ones, Seb should lose out narrowly on fastest lap to Max on his well-used mediums. Further proof that this just wasn't Seb's weekend, despite Ferrari's apparent lift in performance.
7. McLaren look respectable again
So what's with Lando Norris right now? He's been on fire since Canada (literally, there), as if he's taken a key step forward.
When was the last time that a McLaren so hassled a Mercedes, the way he did Lewis, whom he passed briefly for third place on the outside of Turn 1 on the opening lap? I'd say Mexico, 2017, when the guy giving Lewis a hard time was Fernando Alonso…
Lando was no pushover when Lewis finally got it done at Turn 3, nor when Kimi and Seb attacked him, and subsequently repassed the Finn on his way to a superb sixth place. Like Charles, he gave us a glimpse of what the future holds when he gets a fully competitive car.
And team-mate Carlos Sainz was equally impressive. Starting from the back he did a 41-lap stint on new mediums before pitting from sixth place then running the final 30 laps on new hards. He fell to 14th, then climbed back to eighth after passing Lance Stroll, Nico Hulkenberg, Sergio Perez, Antonio Giovinazzi and Kimi Raikkonen. Oh, and he also set fastest lap for a while, on the 43rd lap.
More proof that McLaren are looking respectable now that all the hot air of the past few seasons has evaporated and they are delivering strongly again.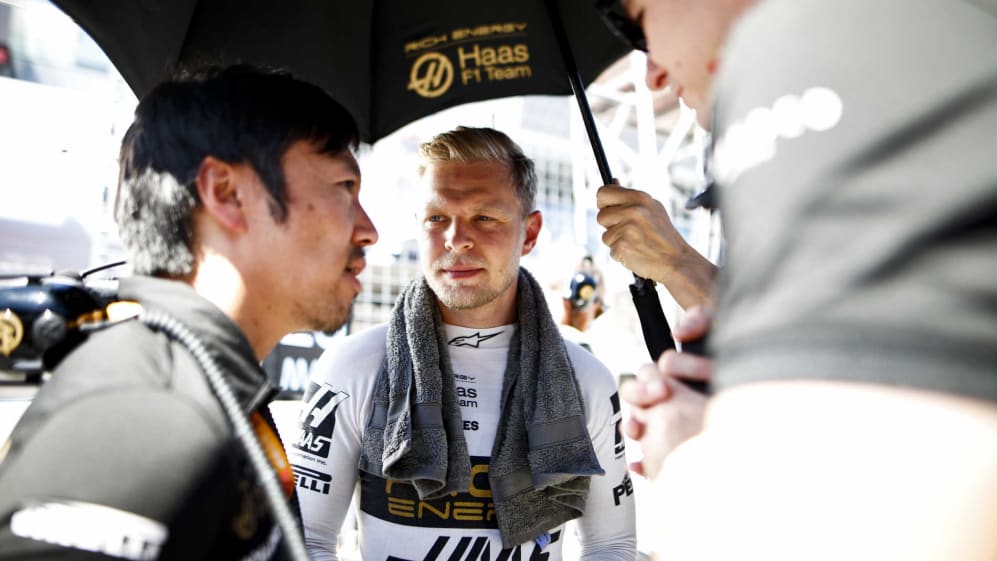 8. Magnussen's qualifying lap proof of depth of talent on grid
Kevin Magnussen's qualifying lap - he was fifth fastest until a gearbox penalty dropped him back to 10th – was a reminder of just what a bruising year he's having. It began promisingly, but has since been characterised with lack of consistency in car performance, and huge moments of pure frustration (which saw him speak his mind a little too much for team boss Guenther Steiner in Canada, after which he apologised).
But that lap… It was awesome. Even allowing for the compression of lap times given the short nature of the track, 1m 04.072s in a Haas stacks up pretty well when the similarly-engined Ferrari on pole position was lapped in 1m 03.003s, and was considerably closer to the Mercedes and the Red Bull that separated the two.
It was a good reminder that a number of the guys in the midfield cars could do a fine job speed-wise in a topline car, and that these days what really separates the stars up front is not so much their lap times, but the sheer consistency thereof in races.
But jumping the start was also proof that things can go wrong just when it seems they are going super-right, and the resultant drive-through that left him a lowly 19th must have been soul-destroying. I was surprised that we didn't hear a lot more of his cockpit commentaries, because I can't believe after Canada that he could keep it zipped under such massively disappointing circumstances here.
9. O'Ward well worth keeping an eye on
Keep an eye on Patricio O'Ward, Helmut Marko's new protégé within the hard-line Red Bull driver scheme. He has replaced the curiously out-of-favour Dan Ticktum, who only months ago was being mentioned as Marko's latest pick for F1 stardom, and is currently in the middle of a wall-to-wall programme to get enough superlicence points, which means racing on the non-ovals in Indycars, taking the place of banned Mahaveer Raghunathan in MP Motorsport's F2 campaign here at the Red Bull Ring this weekend P20 and P14, then heading to Japan to take Ticktum's place in Super Formula alongside Tomoki Nojiri at Team Mugen for the remaining four races, starting with Fuji Speedway on July 13/14.
The talents of the 20 year-old Mexican were first drawn to our attention by our pal, the late Fred Opert, during a shuttle bus ride in Montreal a few years back when he was successfully battling current Indycar sensation Colton Herta for Indy Lights honours. Fred knew a thing or two about drivers, having run the likes of Keke Rosberg and Tom Pryce in his F2 team back in the Seventies.
10. Red Bull Ring a credit to Mateschitz
I once spoke with a group of Red Bull employees in America, who were amazed that I had met Deitrich Mateschitz.
"You've actually spoken to the guy? Man, we thought he was like the yeti. He's a mystical figure within the company, over here."
Didi, as he is known, was the co-founder of the hyper-successful energy drinks company and likes to keep a super-low profile. But, as the Red Bull Ring bears testimony, he knows how to do things properly. It might be one of the shortest tracks on the calendar, with the fewest corners - 10 - but since it evolved from the A1-Ring (which itself was a truncated version of the grand Osterreichring) it has (together with Silverstone) set a template for success as far as European races are concerned.
Set in a natural ampitheatre in beautiful countryside, it is hugely popular with Austrians and Germans and, of course, with the legion of Dutch fans who travel the world watching Red Bull team leader Max Verstappen at work. When it's not running races, the track is kept busy running all sorts of driving experiences. It has a great café, and the catering staff look after us well. Everything works efficiently.
And, touchingly, this year a whole wall of the tunnel leading to the paddock was decorated with photographs of Niki Lauda.
You don't see much of Didi himself, but his beneficial influence over F1 is to be seen everywhere. As they say in France, chapeau!