Everyone worried by Racing Point's impressive pace, says Red Bull boss Horner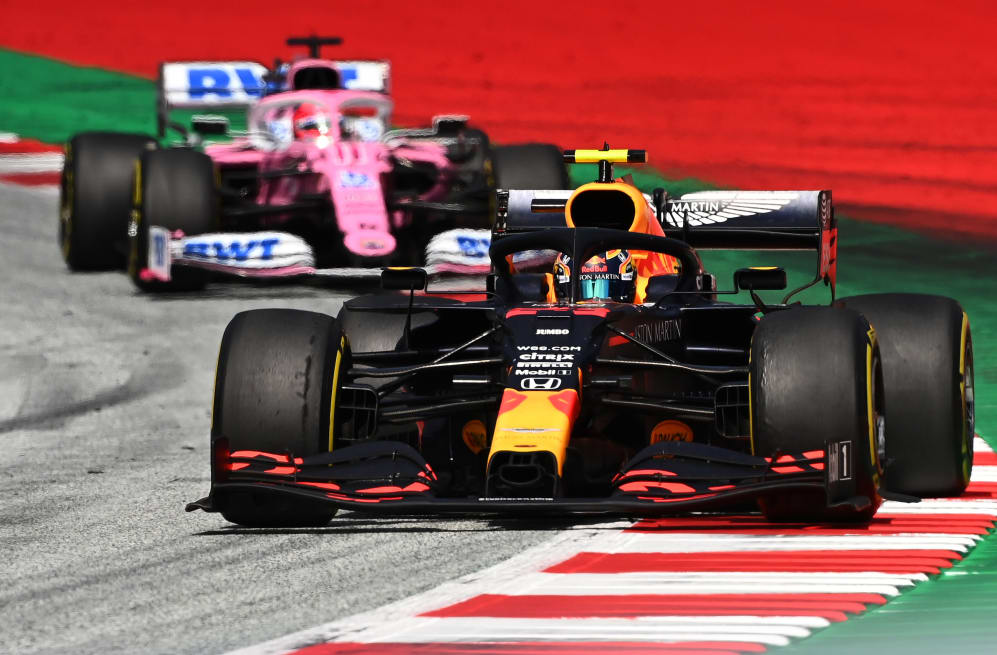 The way in which Sergio Perez was able to carve his way through the field from 17th on the grid in the Styrian Grand Prix to challenge for fourth – before crossing the line sixth – got everyone talking and has left Red Bull Team Principal Christian Horner admitting everyone should be "worried" by Racing Point's pace.
The RP20 – dubbed by some as the pink Mercedes at pre-season testing, so similar does it look to last year's championship-winning Silver Arrows – failed to sparkle in the wet conditions for qualifying. But when the sun burst out on Sunday for the race, the true pace of the Racing Point was clear for all to see.
READ MORE: The Winners and Losers of the 2020 Styrian Grand Prix
At some points during the Grand Prix, Perez was faster than race winner Lewis Hamilton, with the Racing Point a real match for Red Bull as the Mexican heaped the pressure on Alexander Albon in the closing stages. The pair touched, at the same point Albon and Hamilton did, breaking Perez's front wing and forcing him to back off, allowing Lando Norris to sneak by just before the line.
But up until that point, the Racing Point was ominously quick, so it's unsurprising that Horner took notice.
"I think everybody would be worried by the Racing Point," he said. "Perez was quicker than the Mercedes at that point in the race. Bearing in mind that [Valtteri] Bottas was on tyres that were within one lap of age to the Racing Point, Perez was three or four tenths quicker."
READ MORE: How one key Red Bull-Honda deficit blunted Verstappen's challenge to Mercedes
"So it was very impressive pace that they showed and I think Alex drove incredibly well to keep them behind. But also if you look at Alex's pace on that tyre versus Bottas, again there was encouragement that we can take from that in a car that wasn't carrying any damage."
Perez crossed the line sixth, a fraction ahead of team mate Lance Stroll, but their points are in doubt following Renault's protest against the legality of the car. The stewards ruled the protest admissable and an investigation is under way.
READ MORE: Renault's protest 'misconceived and poorly informed' insist Racing Point
The Hungaroring is plays host to race three this weekend and is a venue which should suit the Honda-powered RB16, given its tight and twisty nature. Horner is hopeful about their prospects.
"I hope that we'll be more competitive in Hungary, it's a different type of venue," he said. "Mercedes are very strong and just the distance that the three guys [Hamilton, Bottas and Max Verstappen] were ahead of the rest was enormous today. Max did well to keep up as well as he did."
Horner added that he feels that while Austria's Red Bull Ring has proved the team are matching Mercedes in terms of cornering performance, they have a deficit to Mercedes when it comes to engine power.
"Their straight line speed is impressive," he said. "There is not much there is cornering speed, there are some corners we are better, some not we are quite as good, but certainly on this track their straight line speed has been very impressive so they've made a good step over the winter."