Renault's protest 'misconceived and poorly informed' insist Racing Point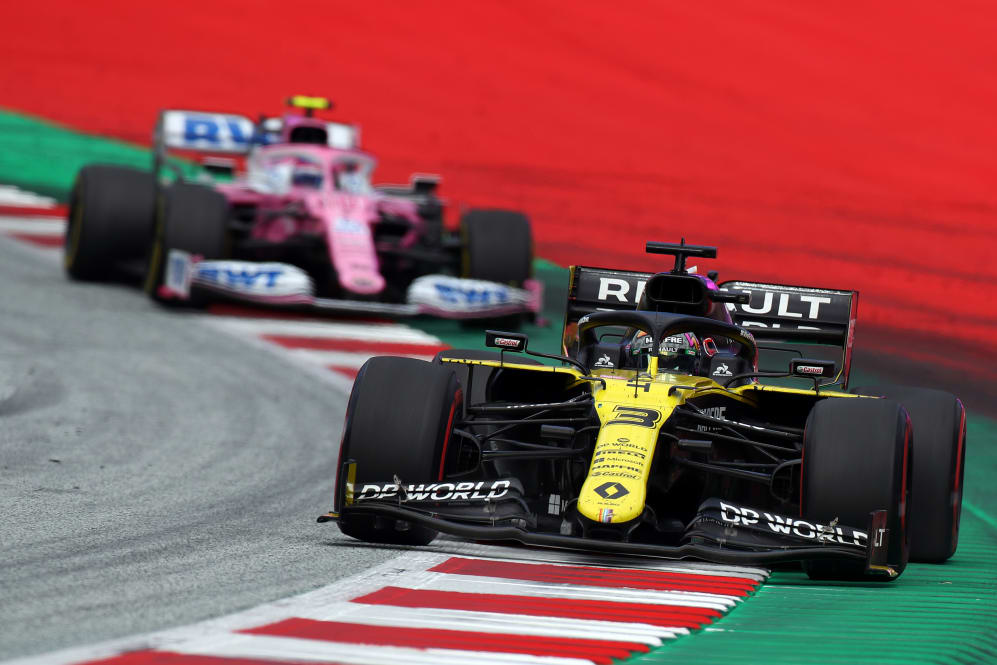 Racing Point say Renault's protest against their cars after the Styrian Grand Prix is "misconceived and poorly informed" – and the team insist they are confident it will be dismissed.
There was drama late on Sunday in Austria, as Renault lodged a formal protest with the Styrian race officials concerning the legality of Racing Point's RP20, which during testing was dubbed 'the pink Mercedes', so similar was it to last year's all-conquering Silver Arrows car.
READ MORE: Renault launch protest regarding legality of Racing Point after Styrian GP
Their protest, which was lodged after Sergio Perez and Lance Stroll finished sixth and seventh in the race ahead of Daniel Ricciardo in eighth, concerned four articles in the Sporting Regulation, most critically Appendix 6, which concerns listed parts.
Paragraph 1, article 2 (a) says: "A competitor shall, in respect of the Listed Parts to be used in its cars in Formula One, only use Listed Parts which are designed by it." Article 2 (c) adds: "In the case of the Outsourcing of design, such third party shall not be a competitor or a party that directly or indirectly designs Listed Parts for any competitor."
Oops! Error retrieving Twitter post
This translates to Renault suggesting Racing Point are using a design which features elements that have not been designed themselves, as per the regulations.
A decision from the stewards on Sunday night deemed Renault's protest admissible, with an analysis on the legality of the Racing Point car appearing to focus on the front and rear brake ducts of the RP20. The stewards impounded those parts from Stroll and Perez's cars in preparation for analysis, with Mercedes ordered to provide the same parts from the 2019 W10 for comparison.
But on Monday morning Racing Point insisted there had been no wrongdoing and that they had not contravened the regulations in any way.
A statement from the team said: "BWT Racing Point F1 Team is extremely disappointed to see its results in the Styrian Grand Prix questioned by what it considers to be a misconceived and poorly informed protest.
"Any and all suggestion of wrongdoing is firmly rejected and the team will take all steps necessary to ensure the correct application of the regulations to the facts.
"Prior to the start of the season, the team co-operated fully with the FIA and satisfactorily addressed all questions regarding the origins of the design of the RP20.
"The team is confident that the protest will be dismissed once it has presented its response."
The matter will be settled once the FIA Technical Department has conducted its investigation into the protest.