Feature
EXPLAINED: The 71-year-old record Verstappen broke in the Sao Paulo Grand Prix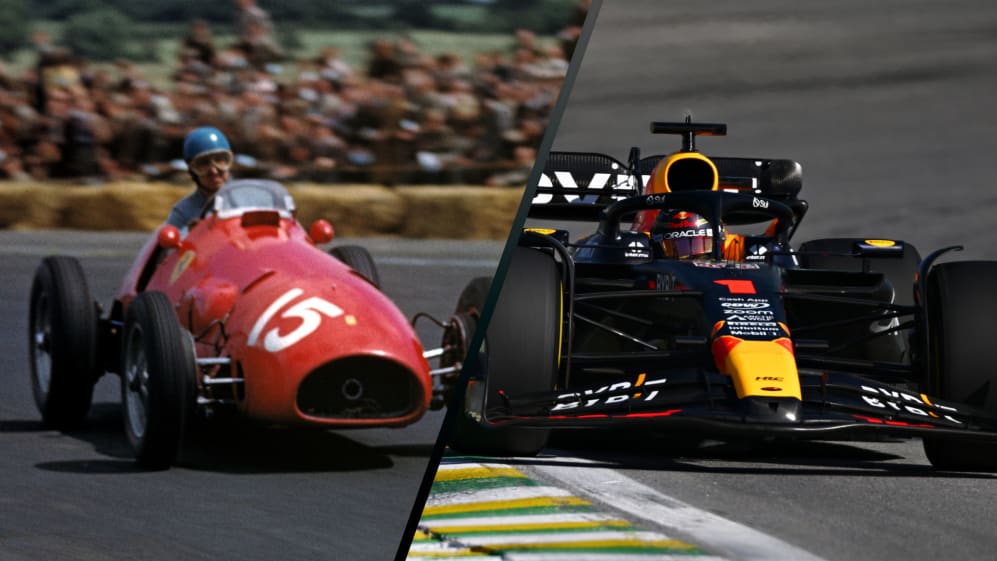 Max Verstappen may have claimed the 2023 championship at the Qatar Grand Prix during the Saturday Sprint but the Dutch driver hasn't let up since then. He has claimed victory in every Grand Prix and Sprint ever since – ensuring he broke a very special 71-year-old record in the process.
What record has Verstappen claimed?
By claiming win 17 out of 20 at the 2023 Sao Paulo Grand Prix, Verstappen took his current win ratio to 85%. Crucially though, having won 17 out of the 22 races slated for this season, Verstappen ensured that he will have won a minimum of 77.2% of the Grands Prix this year – breaking the previous record of 75% set in 1952.
FACTS AND STATS: Verstappen passes Prost on wins, Alonso matches Prost on podiums
Who held the original record?
It was Ferrari driver Alberto Ascari, by winning six out of eight races in 1952, who claimed the original record of a 75% percentage win.
With his main competitor, 1951 world champion Juan Manuel Fangio, sidelined for the 1952 season, Ascari mopped up every race win from round three in Belgium to round eight in Italy, giving him the incredible stat of a 75% win record.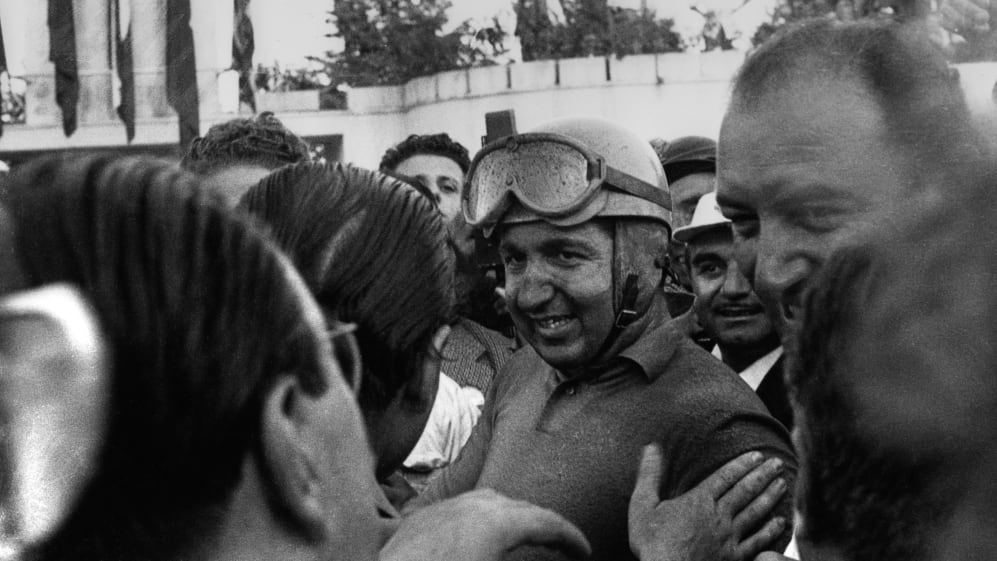 Has anyone come close to breaking Ascari's record before?
It's not as though we haven't witnessed periods of dominance in F1 in the 71 years between Ascari and Verstappen's records. But even dominant seasons from the likes of Michael Schumacher, Lewis Hamilton, Jim Clark and Sebastian Vettel have failed to topple the great Ascari.
READ MORE: 'He gave it a good run' – Verstappen praises Norris after Sao Paulo GP as he aims to extend winning streak
Schumacher got closest with his barnstorming 2004 season, in which he claimed 13 out of the 18 race victories – with Jim Clark the next best in 1963, claiming seven victories out of 10.
Hamilton's best was his 2020 season, in which he won 11 out of the 17 races. The seven-time champion also holds the distinction of having the highest win percentage in a season in which he didn't claim the title – his 47.6% in 2016, where he won 10 out of 21 races but conceded the championship to Mercedes team mate Nico Rosberg.
| Year | Driver | Race Wins | Win percentage |
| --- | --- | --- | --- |
| 2023 | Max Verstappen | 17/20 | 85.00% * |
| 1952 | Alberto Ascari | 6/8 | 75.00% |
| 2004 | Michael Schumacher | 13/18 | 72.22% |
| 1963 | Jim Clark | 7/10 | 70.00% |
| 2013 | Sebastian Vettel | 13/19 | 68.42% |
| 2022 | Max Verstappen | 15/22 | 68.18% |
| 1954 | Juan Manuel Fangio | 6/9 | 66.67% |
| 2020 | Lewis Hamilton | 11/17 | 64.71% |
| 2002 | Michael Schumacher | 11/17 | 64.71% |
| 1965 | Jim Clark | 6/10 | 60.00% |
*As of the Sao Paulo Grand Prix
Why is Verstappen's new record so impressive?
Key to Ascari's record was that the dominance he displayed was married to a season that was so short by today's standards, at just eight races. Verstappen's relentless performance in 2023 will be across 22 Grands Prix.
Sao Paulo already represented Verstappen's 17th triumph, extending his own record for most wins in a single season – which in turn beat the record of 15 Verstappen claimed in 2022.
But for a brace of wins for Sergio Perez early in the year, plus a wonky race for Red Bull in Singapore that allowed Ferrari's Carlos Sainz to become the only non-Red Bull driver to claim a victory, Verstappen would have swept the lot in 2023.
READ MORE: Verstappen seals record 17th win of the season from Norris and Alonso in Sao Paulo Grand Prix
What did Verstappen have to say?
Asked how much beating Ascari's record meant to him at the conclusion of the Sao Paulo Grand Prix, Verstappen replied: "It's not about that. I mean, it's not something that when I joined Formula 1, I need to have a 75% win record over a season, you know?
"These kinds of things come along when everything just works really well. You know, I feel good in the car, the car is very competitive, and the team barely makes mistakes as well.
"So then you can get a season like we are having. So for me it's more about just enjoying the moment and trying to maximise every single opportunity."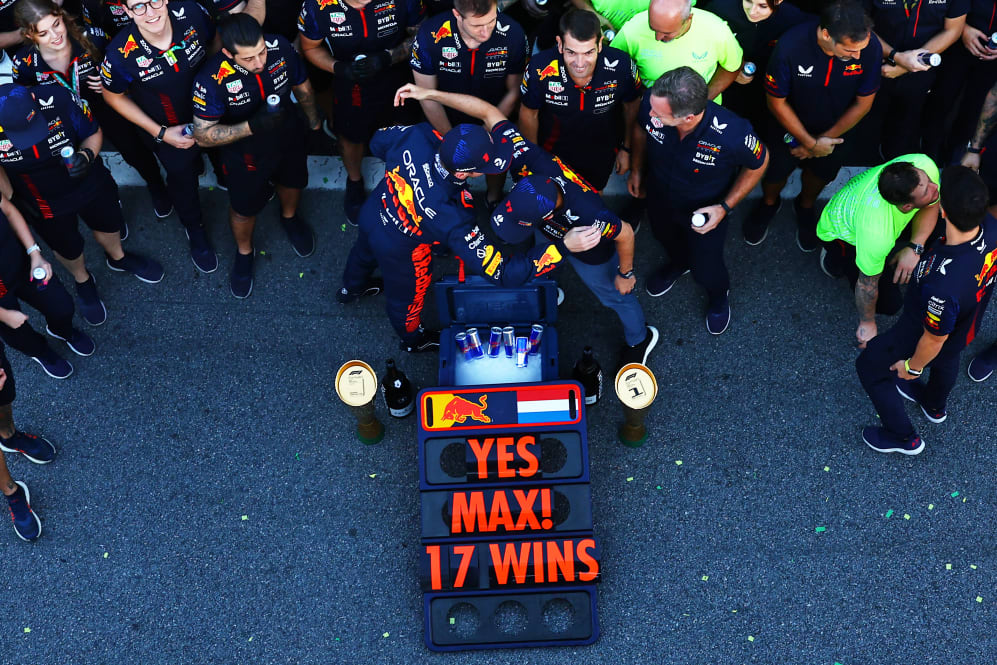 Could Verstappen's numbers get even better this year?
They sure could. With the new record of at least 77.2% assured for Verstappen even if he fails to win in either Las Vegas or Abu Dhabi, a win in just one of those races will give him a victory percentage of 81.8% come season's end.
Victory in both, and the tally will end up at a dizzying 86.4%.
READ MORE: Discover more about Alberto Ascari in our Hall of Fame
And what constructors' record did Red Bull tie in Sao Paulo?
It's not just in driver record terms that Verstappen's efforts are reaping rewards. Red Bull's 19th victory of 2023 in Sao Paulo also saw them tie Mercedes' record for most victories in a single season – their staggering 19 in 2016 – with Perez also playing his part with his wins in Saudi Arabia and Baku.
The outright record will be claimed if Verstappen or Perez win in either Las Vegas or Abu Dhabi.