Feature
F1 pre-season testing: What the data tells us from Day 3 in Barcelona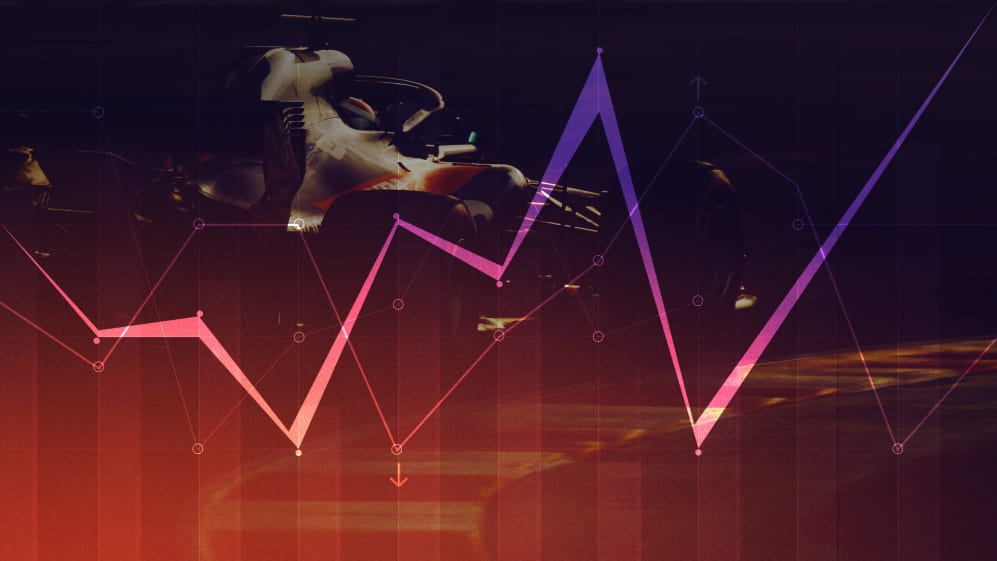 There was a silver lining for Mercedes on the third and final day of pre-season testing as they ended a hugely productive test top of the pile with the fastest lap of the week as well as the most number of laps of all the teams. But what can we make of it?
Red Bull – the busiest bees
There has been a lot of chatter about the great start to 2020 Mercedes have enjoyed, sliding through the opening pre-season test with relative ease. But a little under the radar, Red Bull have been quietly going about their business and on Friday, had the most productive day of anyone with an impressive 167 laps on the board.
READ MORE: Mercedes cap off first week of testing with a 1-2 thanks to Bottas flyer on Day 3
Tellingly, both Max Verstappen and Alex Albon were very positive about the new car, the duo noticing a big step forward compared to last year. Verstappen may have had a couple of spins, but that only showed he was trying to push the limits of the car. Albon, meanwhile, kept his nose clean, meaning Red Bull have plenty of data to delve into.
Renault were the other success story of Friday in terms of laps completed. It's been a disjointed start to pre-season for the French manufacturer, but despite a brief stoppage for Daniel Ricciardo, they got through their programme on day three, ending up with a very good balance.
No need to hit the panic button at Maranello yet
It was a less successful day for Williams and Haas, with the duo managing just 70 and 51 laps respectively. Haas lost three hours of running when a wheel rim broke, causing a puncture and pitching Kevin Magnussen into the barriers.
Williams had a power unit issue, which stopped Nicholas Latifi out on track and required some extensive work back in the garage, but they at least managed to get out and about again, focusing on pit stop practice towards the end of the day as they look to get the rookie up to speed ahead of his racing debut.
READ MORE: Our rivals are faster than us, admits Ferrari boss Binotto
Ferrari hit the century mark on the nose. Their headline times were disappointing – Sebastian Vettel 2.7s off the pace. However, it is clear from the data they were running their power unit at much lower levels all week and carrying out a different programme than usual – so no need to hit the panic button at Maranello yet.
Piling up the data
A variety of tyre compounds were on show at the Circuit de Barcelona-Catalunya on Friday as teams accelerated their programmes and started to edge towards some performance running.
Both Valtteri Bottas and Lewis Hamilton tried the softest tyre in the range, the C5, with the former clocking the best time of the week during a series of shorter runs in the morning.
READ MORE: Mega Bottas lap puts him top of Day 3 morning
Whereas Mercedes focused on getting race runs done with both their drivers on Day 2, on Friday their attention turned to set-up work, and as the performance stint graph shows, they had a productive and reliable day.
Elsewhere, Renault completed a race simulation with Ricciardo in the afternoon, before doing a series of shorter runs that resulted in the Australian clocking his best time of the day inside the final half an hour.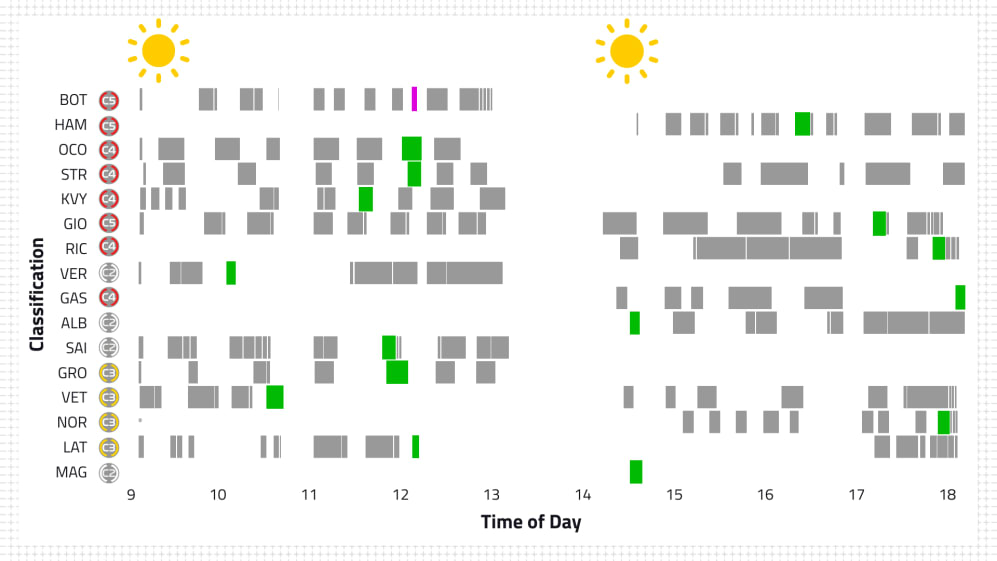 Alexander Albon did a race distance, too: three medium-sized stints with a quick stop in between. His team mate Max Verstappen appeared to do one, too, though his was disrupted because of a red flag.
There were four red flags in total, meaning it was trickier than it has been all week for teams to get into a rhythm. But it was still impressive that eight out of the 10 teams managed to complete more than 100 laps.
READ MORE: Rob Smedley on correlation, aero rakes and flow-vis paint
It's also clear from the graph that almost all the teams spent some solid time doing pit stop practice, particularly towards the end of the day when the conditions were cooler and less representative.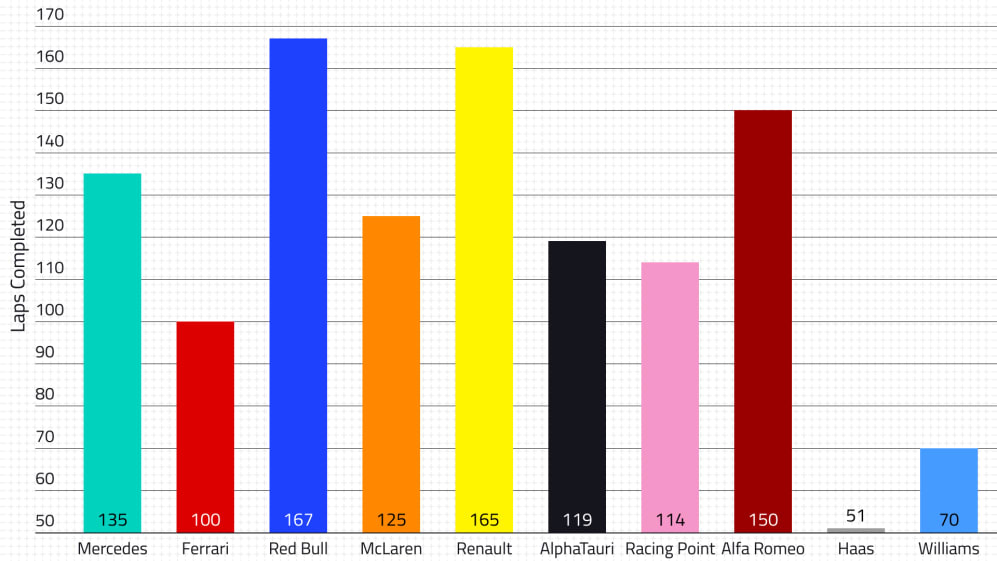 READ MORE: Mercedes' trick DAS steering system won't be legal under 2021 F1 rules
The team now have four days until the second test to analyse all the data they have spent the last three days collecting. Many will stay in Barcelona, with teams like Racing Point and Williams completing a filming day on Saturday, while others will head back to their respective bases to carry out their homework.
All being well, and with only three days to go, expect the teams to get down to performance runs early doors when Test 2 gets under way on Wednesday. So it shouldn't be long until we see a potential pecking order emerging.