F1 returnee Magnussen 'super excited' by strong Haas pace in Bahrain
It's getting tough to hide the confidence at Haas, as a strong Friday in Bahrain suggests a much more competitive year for the team this season – with returnee Kevin Magnussen particularly excited.
Haas wrote-off 2021 in order to focus on their car development for this year's regulations, resigning them to a scoreless season at the back of the grid. But after quick times in pre-season testing, both cars were in the top 10 in FP2. And Magnussen wasn't going to try and talk down his optimism as he returns to F1.
READ MORE: F1 return 'a dream come true' says Magnussen ahead of Bahrain GP
"The car's been feeling good all day, again, like last week," Magnussen said. "We got to FP1, we were focusing a little more on race set-up and race feeling, we weren't trying to set a lap time. FP2 we did a quali sim, still not fully going for it, but more like a quali sim, and that looked better on the times. I think long runs were what I was really curious by. The car felt so consistent, lap times were really strong, so yeah, still super excited!
"At this point I don't know where people are," he added. "Especially when you look at long run pace, it is very up and down, even between team mates. Let's see. So far I'm feeling good, we're happy to be here and with a good car. Excited for tomorrow."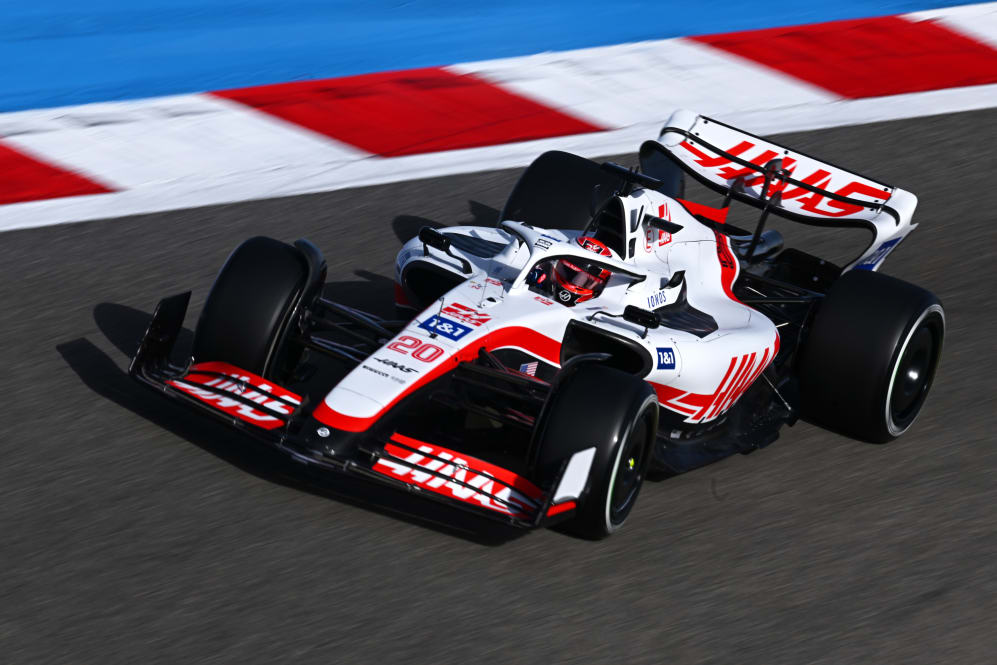 Magnussen admitted he was surprised by how much momentum Haas had after his call-up to the team last week, having appeared close to Mercedes on long-run pace at times, adding: "I can't even believe what's going on. It's like so cool man, it's surreal. I feel very lucky."
READ MORE: 5 things we learned from Friday practice at the Bahrain Grand Prix
The race pace appears to be giving Magnussen particular confidence, and he says he has been helped by Haas not overly changing the car since testing.
"From a driving perspective it's pretty much the same car as last week, which was nice just to pick up where you left and continue doing laps and get more at one with the car. We were really happy in long runs, that's where the car really feels strong. It's not that it felt bad in quali runs but it really felt good in long runs. Excited to see where we are come Sunday – so far a good start."
While the more experienced Magnussen is revelling in his return to F1, team mate Mick Schumacher is trying not to get carried away with the early signs after a tough rookie season in an uncompetitive car.
"It's Free Practice 2!" Schumacher demurred when asked about his strong day. "But it does feel good to be in the top-10 in free practice today, yes.
"Everybody's really happy, obviously, and I think everybody senses that we have a better car than last year. Hopefully we are in a better position and right now we just have to play with what we have and hopefully it can be a good season.
READ MORE: Verstappen leads Ferraris in second Bahrain GP practice session
"Our hopes were just to be better than last year and I think we achieved that for now. I don't want to raise expectations of yours but also of mine, so I'll take it as it comes I guess.
"All I can say is that I feel comfortable in the car and that's something that I didn't have all the time last year – so I do think it is a big improvement."