Feature
5 things we learned from Friday practice at the Bahrain Grand Prix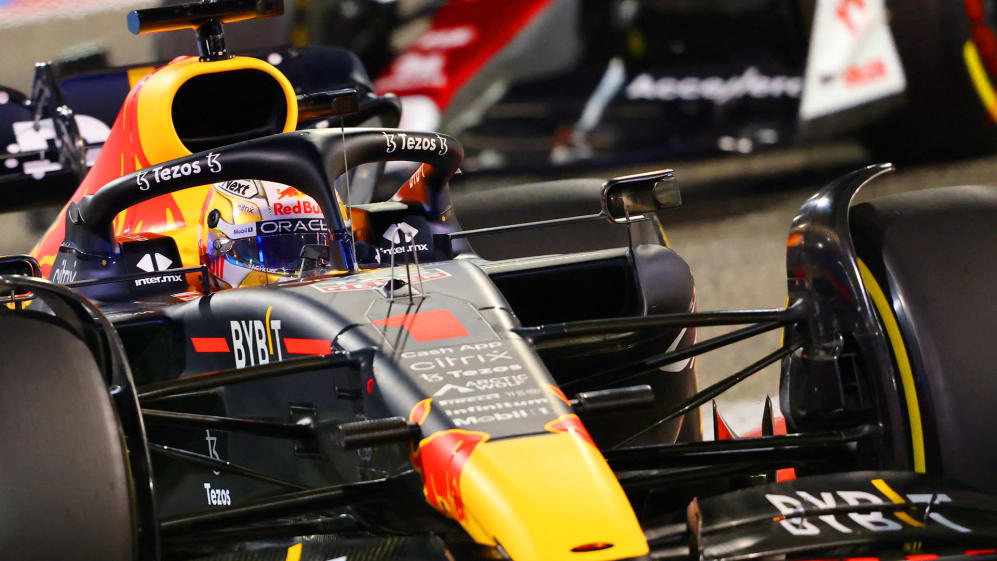 Max Verstappen set an impressive pace as the teams got down to business with the first Friday practice of the season in Bahrain. While some were happy with their efforts, others were frustrated. Here are five things we learned at Sakhir.
1. Red Bull carry end of test form into first race
Red Bull were the season favourites after testing – and that belief was only enhanced after their performance in Friday practice in Bahrain, with defending champion Verstappen sporting a smile and a spring in his step when we chatted after the opening sessions.
Verstappen said the car "felt good" and described himself as "really happy". Rarely on a Friday is Verstappen so chipper. He acknowledged that Ferrari are "pushing hard" and "very close" but our data suggests that Red Bull have plenty in hand on the red cars in both qualifying trim and race pace.
READ MORE: Verstappen 'very pleased' with Red Bull's start in Bahrain, as he predicts tense Ferrari battle
The updates they are bringing to track are working as expected, meaning there's good correlation between the wind tunnel and CFD – or computational fluid dynamics simulations – and the track, and both drivers are happy with how the car was straight out of the box.
However, it's not all been plain sailing. Sergio Perez says they still have a bit of work to do, particularly on the brakes on the long runs – and there will have been a variation of fuel loads on show. That said, it's clear Red Bull are the ones to beat both on Saturday and Sunday.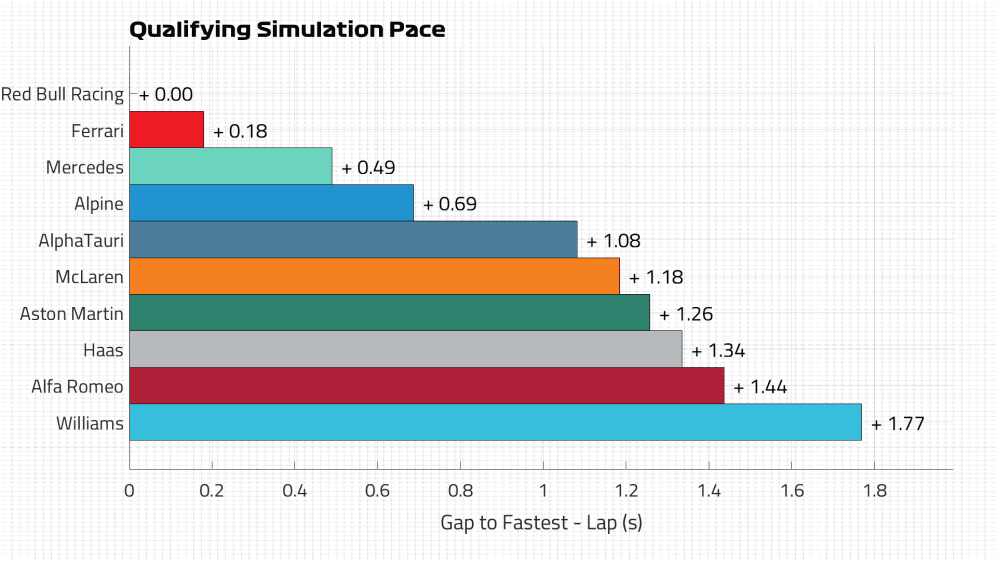 2. Ferrari offering threat in both short and long run pace
Ferrari had a super smooth pre-season but were refusing to get carried away by their strong form in terms of reliability and performance.
And while that continued into Friday, when they got both cars into the top three in both FP1 and FP2, Charles Leclerc afforded himself a little smile. The very fact he said he was hoping to fight for pole shows how far they come, and how good they feel right now.
READ MORE: Leclerc aiming to be in fight for pole after ending Friday in Bahrain within a tenth of Verstappen
The F1-75 is a quick car. Over one lap, it's just over 0.18s adrift of Red Bull. And that only stretches to a quarter of a second in race trim. In both metrics, they are a clear second, ahead of next best Mercedes.
With both Leclerc and Carlos Sainz looking quick, and Perez a little off his Red Bull team mate Verstappen, there's a very real possibility Ferrari could get two cars on the podium this weekend.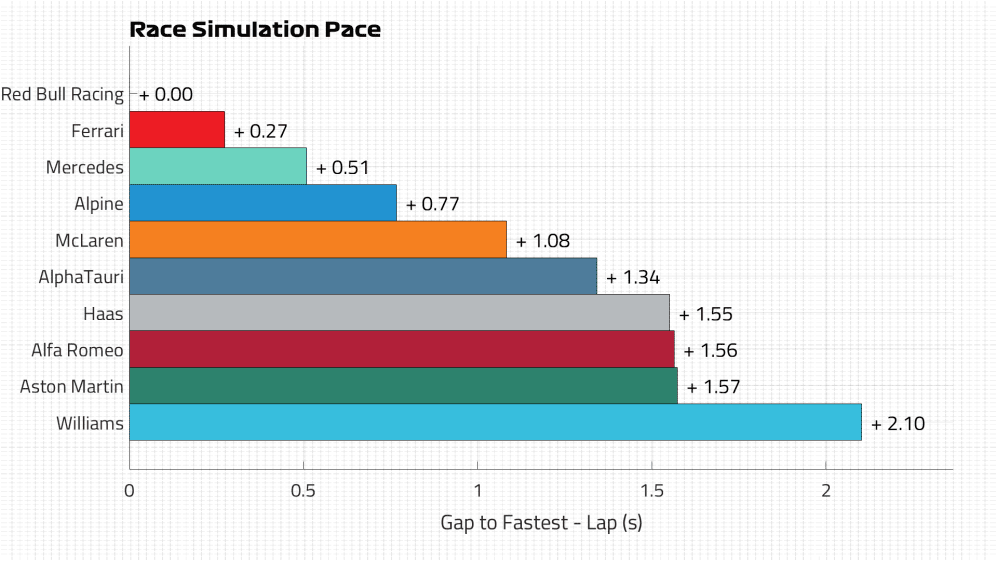 3. Mercedes' struggles appear to be real
Lewis Hamilton cut a disheartened figure after the first Friday of the year, onboard footage in both practice sessions showing the seven-time world champion fighting the car and on several occasions struggling to get the W13 turned in.
His team mate George Russell was similarly disappointed with the ultimate performance, with the silver duo admitting Mercedes are not in contention for victory this weekend. Our data puts them third in both the short and long runs, comfortably behind Red Bull and Ferrari.
READ MORE: Russell says Mercedes 'a long way off' as Hamilton warns 'longer term fix' needed after early Bahrain running
"We had small problems in the past, relatively, compared to this year," said Hamilton. "We had smaller problems. We are faced with much, much bigger problems this year and everything we do to try and fix it doesn't really change that. It appears there's probably going to be a more longer term fix, so nothing in the short term.
"We're a long way off, we're not bluffing like people assume we were. It is what it is. We'll work as hard as we can through it and do what we can. I'm just realistic. We're not going to be in the race for the win here.
"Red Bull are a long, long way ahead. It's in the region of eight to ninth-tenths ahead of us and Ferrari is probably something like half a second, six-tenths ahead of us. So we're fighting and scrapping with whoever is behind them."
4. Alpine punching at the top of the midfield
After a difficult pre-season run in Barcelona, Alpine have come back fighting. They looked strong in Bahrain and crucially found a way to turn off porpoising – and that form has carried into the race weekend itself.
A loose updated sidepod that detached itself from Esteban Ocon's car early in FP1 aside, this was a very encouraging day for the pink and blue machines, with both drivers encouraged by how the A522 felt on track.
READ MORE: Norris and Ricciardo happy with McLaren brake fix – but hungry for more pace after opening day in Bahrain
As ever, there are tweaks to be made regarding set-up, and they want to work on improving traction and some low-speed balance – but generally the vibe is positive and our data suggests they have the fourth-best car in both short and long run pace. And that means Q3 and scoring points with both cars should be the minimum aim.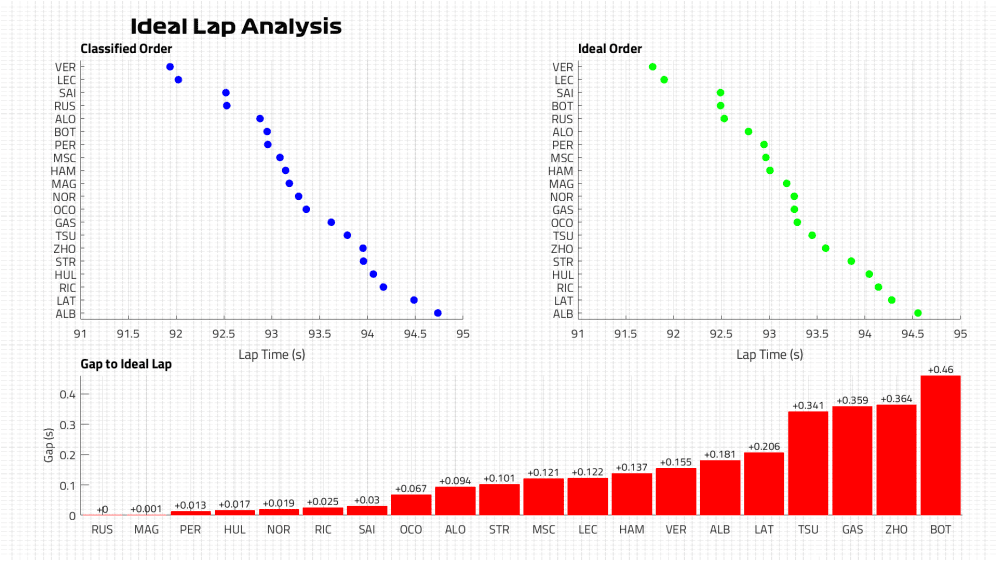 5. Alfa Romeo could spring a surprise
Alfa Romeo had their best on-track day of 2022 on Friday. The Swiss team rebounded from an issue in FP1 with Valtteri Bottas to complete their programme and deliver a set of data that puts them right in the heart of the midfield.
It must have felt like groundhog day for Bottas when he was limited to just two installation laps in FP1, but fortunately it occurred in the least representative session and it was fixed in time for him to get through the programme in FP2. There's plenty more to come from the Finn, too, with our ideal lap data suggesting he left the most on the table today. Had he hooked up all his best mini-sectors (see above), he could have been nearly half a second faster, putting him fourth overall.
READ MORE: Rejuvenated Alfa Romeo can be in fight for Q3 in Bahrain, vows Bottas
The car – which is one of the most refined on the grid – looked genuinely quick in both short and long runs, our data putting them fifth in both ranking, with Bottas happy with the balance, particularly when the car was loaded with fuel.
His team mate Zhou Guanyu cruised through his programme too, gaining important mileage with few issues, and that puts him in a good position for qualifying on Saturday. Based on what we've seen today, and the data generated, both cars should get out of Q1 at a minimum providing they hook up their laps. And that is a huge step forward considering how challenging pre-season was for them.