Feature
F1 SPRINT: What the teams and drivers had to say as the Sprint returned for Sao Paulo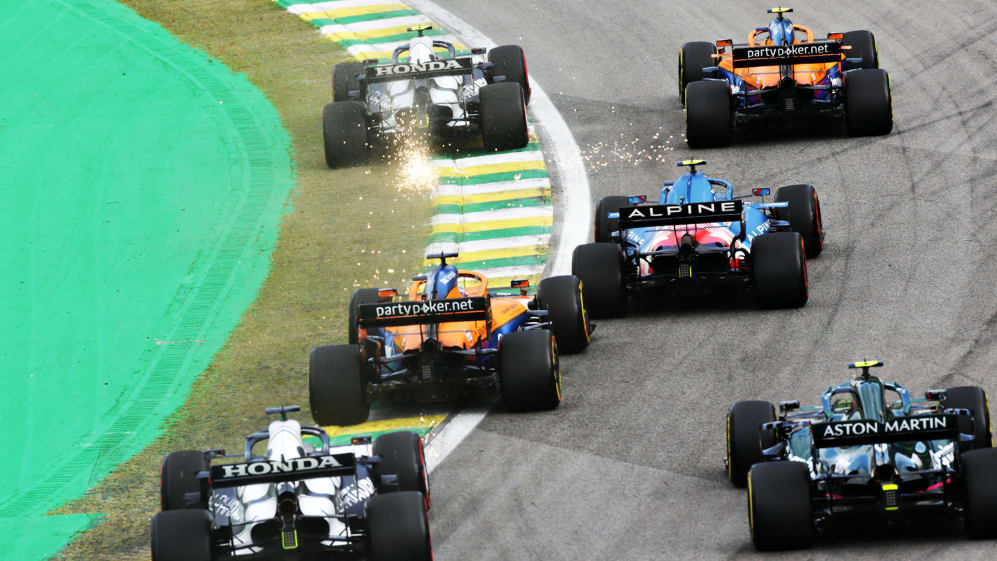 Mercedes
Hamilton found out before the Sprint that he was being relegated to the back of the grid from P1 for a technical infringement in qualifying. As galling as that must have felt, he soon set about recovering those places, scything his way expertly through the field in the first few laps. Progress stalled when he reached the fringes of the top 10 but unperturbed, he patiently waited to make his moves at the optimum moment and wound up an impressive fifth – which becomes P10 tomorrow thanks to his grid penalty. As for Bottas, he gambled on the soft tyre and it paid dividends as he whizzed past Verstappen at the start and did a brilliant job to keep the Dutchman behind and make that compound last the distance to score pole at Interlagos.
READ MORE: 'It's not over yet' vows fired-up Hamilton after storming drive from last to P5 in Brazil Sprint
Lewis Hamilton, started 20th, finished 5th
"Honestly, I had no idea what was possible today - I didn't set a limit or a maximum. When I was at the back of the grid at the start before we pulled away for the formation lap, I think I might have been able to see like, 10 and I was like 'okay, that's my goal, I've got to try and get up as far as possible' but then all of a sudden I was chipping away at it much faster and I really used a lot of different things for motivation today. I just never give up, you can't ever give up. It has been tough today: while the team was working away, talking with the stewards, I was just trying focus on my work with my engineers and keeping the morale with my mechanics high and just focusing on the job at hand. Not thinking about it. Of course, it was devastating when I heard about the verdict but you can't let that hold you back. You've got to keep your head down and keep going. I quickly reset, got my mind focussed on doing what I could do and just giving it my everything."
Valtteri Bottas, started 2nd, finished 1st
"Today the start was the key thing for me and I got a good one! We gambled a little bit with the soft tyre. We knew that it would be a benefit for the start and it worked and it was all about trying to survive until the end. It was quite tricky in the final laps but Max still struggled to follow in the corners, so I'm glad it worked out perfectly. The support here from the fans has been amazing here, so thank you as well to everybody who came out today!"
Toto Wolff, Head of Mercedes-Benz Motorsport
"Sometimes after the greatest frustrations with this sport, you can forget the politics for a moment and watch great racing. Valtteri was totally in control today - a great car, the right tyres, good straight-line speed - and he was just brilliant, not letting the other guy close. As for Lewis, he made 15 overtakes to finish P5 and it was a fantastic drive.
"Looking at the penalty: the car was tested yesterday and then two hours before today's race, we got the information that we had been disqualified. That was disappointing because there is a modus operandi in the sport, and we had a car that we do not consider was in breach of the technical regulations. In the past, we have seen teams given permission to repair this kind of failure, and at the last two race weekends, we have seen permission granted to make repairs to damaged wings during the qualifying session, which equally operates under parc fermé. We believe our wing was damaged on track but instead we were reported to the Stewards.
"After that, the Stewards did the job they were asked to and their argument needs to be respected; therefore, we decided not to appeal, also because it would have put the entire weekend's results at risk, and we must take it on the chin and understand that this goes both ways. Looking to the Grand Prix, I believe we have a good car, and it was encouraging to see we can overtake, although it will be a different game tomorrow in hotter conditions. Lewis will start P10 with his engine penalty and Valtteri will be on pole and gunning for the win. It's certainly a much more encouraging picture than it looked to be before the sprint race."
Andrew Shovlin, Trackside Engineering Director
"It's been long, busy and difficult day but we finished on a high. A fantastic drive from Valtteri to secure pole for tomorrow. It was a calculated risk starting on the soft tyre but it worked well for us in the morning and the grip off the line helped us take the lead. Valtteri then had his work cut out to hold Max at bay with a tyre that ultimately has more degradation but he managed it brilliantly.
"Lewis had an equally impressive race; finding out that you have been moved from P1 to P20 shortly before the race starts is not an easy outcome to deal with but he attacked every inch of the way and has put himself back in contention for a strong result tomorrow. It was also encouraging to see the car working so well again, the conditions were quite cool and that may have helped us to follow closely but it certainly seems that we have good pace around this track. Winning these championships will be one of the toughest challenges we have ever faced but today reminds us why we must never give up."
Red Bull
With their main championship rival down the back and another two versus one scenario, today was playing into the hands of Red Bull. But Bottas' gamble on the softs caught them off guard and Verstappen couldn't defend off the line to lose his P1 slot. Perez also lost out to the soft-shod Sainz, and those two were destined to chase their respective quarries down in ultimately fruitless pursuit. But second and fourth are not bad starting slots for tomorrow as they will both get a tow, although much will depend on starting tyres with everyone having free choice again.
READ MORE: Verstappen explains why he lost out to Bottas at the start of the Sprint – and gives his take on €50,000 fine
Max Verstappen, started 1st, finished 2nd
"We started on the harder compound and as soon as I saw Valtteri was on the softs I knew it would be quite tricky to keep position, especially in these colder track temperatures. After the first lap we had good pace but it's hard to overtake here and the tyres overheat a lot so there's not much you can do so I ended up sitting behind. At the end of the day I always try to do the best I can and it was good to score a few points today. Tomorrow is the important day and it will be different when we have more options with pit strategies. Let's see what happens tomorrow, it's going to be quite a bit warmer so hopefully that will be better for us but it's difficult to say at the moment."
Sergio Perez, started 3rd, finished 4th
"It was difficult to get past Carlos Sainz today, I thought I was going to get him quite easily, but I couldn't get the exit right in the final corner and that effected my ability to pass him. We were expecting to hold them back at the start but that wasn't the case in the end. The main issue I was having today was that Sainz was always getting a good exit out of the final corner while my tyres were overheating. The straight-line speed of the Ferrari was quite strong too. Tomorrow is the race that matters, there is still a lot to play for and we can take more risks than today. I could have made up that position today but it would have involved taking too many risks, more than I would like. I would like to move forwards in the race tomorrow, we will be pushing from the start and try to make the progress we want. It's important to have a good starting position tomorrow and then work from there, I hope I can get through the Ferrari quickly and have good pace from lap one. We will learn from what we have done today and be stronger tomorrow."
Christian Horner, Team Principal
"We got two points today and they will be vital in the championship battle, so that's a positive. Mercedes' speed today is no great surprise, it has been coming for a few races now. In Turkey it started to appear and in Mexico their straight-line speed was about 14km quicker than us at the end of the straight. We saw it again yesterday, and in a straight-line nobody can live with them. But tomorrow is a different race. It looks like track conditions will be hotter and strategy will be key, we need to get a good start into turn one. We were on the medium tyres today and so we still have the softs to come, and as always in Brazil, anything can happen come race day. We've got to get our heads down and concentrate on what we do. We need to have both cars up there challenging for points. We are on the front row with Max and Checo is right behind him, so we are going to go for it and see what we can come away with."
Ferrari
Sainz rolled the dice, fitting the soft compound and he soon found himself in the mix with the Red Bulls. He made it past both before losing out to Verstappen, but ran a very astute Sprint to keep the rapid Perez at bay for a brilliant third on the grid and a much needed world championship point. Leclerc wasn't quite so fortunate, losing out to Norris and Hamilton, although he will gain a place back when the Mercedes man's penalty is applied.
Charles Leclerc, started 6th, finished 7th
"We still have some work to do ahead of the race to understand why we could not reproduce the good pace that we had on the mediums this morning. The softs may have been a small advantage at the start, but we expected the Mediums to be better later on. Unfortunately, the temperatures dropped at one point and we started struggling, especially with the fronts. The race is tomorrow though, so our full focus is on that and we will work out where we can improve to fight our way up the order."
Carlos Sainz, started 5th, finished 3rd
"That was a very good Sprint for me after one of my best starts of the season. I feel starts are one of my strengths, and I have been working a lot this year to nail them with this car. Going for the soft tyre was a 50/50 choice. We knew they would be good for the first two or three laps but from then on tyre management and defense would be critical. I managed to find the right balance between pushing at the start and maintaining a stable pace after that. The slightest mistake and the Red Bull could have overtaken us easily as they had a much faster pace. It was very difficult to keep Checo behind, but I'm happy I managed it, because it gives us an extra point and a good opportunity tomorrow. The race will be tough, but I'll try to keep up this pace and let's see if we can hold on and bring home a good result."
Laurent Mekies, Racing Director
"All in all, the Sprint went reasonably well for us, with one championship point to extend our third place advantage. Carlos drove a great race, starting with an incisive attack on the opening lap and then defending in fantastic fashion in his long duel with Perez, which went on for almost 20 laps. Thanks to a great job from the driver and the progress made with the car, especially since the introduction of the new hybrid system, he was able to stay ahead of a Red Bull that had the advantage of DRS and a tyre compound that in theory should have been better over distance.
"We decided to start Charles on the medium and he also got off the line very well, but then he was not completely happy with the car and dropped one place down from his grid position. He will regain that for tomorrow's start because another driver has a grid penalty. Now it's down to us to improve the car so he can get the very best out of it. We can expect a very demanding race tomorrow but we are starting from a solid base in terms of our grid positions and the overall performance of the team and drivers. We have a clear goal for this final part of the season and we will do our utmost to achieve it."
McLaren
Mixed fortunes for the McLaren drivers, with Ricciardo getting bogged down at the start and dropping a couple of places. He soon had a rapid Hamilton on his tail and once the Mercedes had flown past, couldn't stick closely enough to follow him through. As for Norris, he got stuck in and made a very decent move on Ferrari rival Leclerc stick which was a decent birthday present, especially given the youngster had been highly critical of his own driving during the earlier practice session.
Daniel Ricciardo, started 8th, finished 11th
"The start itself was alright but the inside line into Turn One got a bit bottled-up and the positioning wasn't so good. I'll have a look at that and make sure I get on top of it for tomorrow. We want to try to move forward, so we'll see what we can do. I'll learn from today and come back fighting in the race."
Lando Norris, started 7th, finished 6th
"A good day for us with two positions gained. One on a very important competitor, which is the Ferrari, and one on the AlphaTauri, so we've given ourselves the best opportunity to score some big points tomorrow. There were some positives and negatives from today in terms of how the car was and how confident I was pushing the car. We'll try to make improvements overnight and see if we can come out even stronger tomorrow. We did everything we could. Even though we didn't quite have the pace of the Ferraris, we still managed to get ahead of one of them. We'll try even harder tomorrow."
Andreas Seidl, Team Principal
"Mixed results today in the Sprint. Lando had a good Sprint, moving forwards, which was the objective, overtaking Gasly and Leclerc. Daniel unfortunately got boxed-in at Turn One and lost momentum and positions because of that, before being stuck in a DRS train for pretty much the entire race.
"Execution from the team was good today, and the positive is that, in terms of pace, we were in a position to fight with the cars around us. Points are on offer tomorrow, and we're fully focused now on race preparation. We're looking forward to an exciting São Paulo Grand Prix."
AlphaTauri
The Sprint hasn't been kind to Gasly of late. At least he didn't DNF like at Monza, but losing four places was far from ideal. He struggled off the line despite being on the red-marked rubber, as the soft-shod Sainz surged ahead and had to watch as the other Ferrari squirted by too. He then got picked off by Norris, and the recovering Hamilton on a less than stellar afternoon. Tsunoda was another to drop backwards rather than make gains, as it appeared the team's race pace was much less eye-catching than their qualifying pace.
Pierre Gasly, started 4th, finished 8th
"We had a terrible start today, I lost three positions into Turn 1 and just didn't have the pace to come back at the Ferraris and McLaren. It clearly wasn't the start of the race we expected, so we'll look at what we can do better for tomorrow. That wasn't the easiest day for us, especially as the last few laps on the soft tyre were really difficult. As you know, it's never over until the chequered flag, so we'll look at the strategy tonight and do everything we can to come back stronger tomorrow."
Yuki Tsunoda, started 12th, finished 15th
"I'm not happy with today. I lost too many positions on the first lap and after that I couldn't maximise the performance from the soft tyre. Due to the format this weekend, I haven't completed that many laps here, but I learnt a lot from today that I can take away and look at tonight ahead of the race tomorrow."
Guillaume Dezoteux, Head of Vehicle Performance
"We completed a good programme this morning during FP2, managing to compare the medium and soft tyres on both cars. We also carried out our pit stop training, which is very useful for the drivers and mechanics, in preparation for the race tomorrow.
"The tyre choice for the Sprint was a complicated one and generated some heated discussions between us. For Yuki, it was pretty clear a soft tyre would help us to attack at the start of the sprint however the situation was less straightforward for Pierre. Starting from P4, we had to weigh up the risk between a strong start on the softs or a more consistent race on the mediums, with more performance available from the tyres in the last laps.
"Unfortunately, it didn't go well for us. Both cars lost positions in the first lap, despite being on the softest tyre and once the situation settled, we were not seeing the pace we had expected. Pierre finished eighth, still in front of both Alpines, which is important for the race tomorrow, and Yuki finished 15th after losing a position to Stroll in the last laps. We will analyse the data in detail tonight to understand why we were struggling more this afternoon and what our approach for tomorrow should be. The race will be more difficult, as we are starting further back, but we still have a chance to score useful points."
Alpine
Alpine have tended to go well in the two Sprint editions so far, but in Brazil it was only Ocon who could progress. Helped by not making Q3, he had fresh soft tyres at his disposal and gambled with a start on that compound which paid dividends as he made up one position on track, which will become two when Hamilton moves backwards. As for Alonso, he got a slow getaway and lost out today.
Esteban Ocon, started 10th, finished 9th
"Today was good and I think we had a strong Sprint. I was happy with how the whole Sprint unfolded and we've put ourselves in a solid position on the grid for tomorrow. After a mega launch off the line we gained a few places through Turns 1 and 2 and then we were putting pressure on the AlphaTauri ahead for most of the race. It was very positive today and it's promising signs ahead of tomorrow. The car felt competitive so the aim will be to carry that forward for the main race. Our race pace looks strong, we have another free choice on starting tyre for tomorrow so we'll assess our options and see what we can do in the race."
Fernando Alonso, started 9th, finished 12th
"We started with the medium tyres and maybe it wasn't the best for the race start, but we decided as a team to split the strategy. We lost a few positions into turn one and then found ourselves stuck in traffic for the rest of the Sprint. It's difficult to overtake here and you need quite a big advantage to make progress. I think when you put the cars in performance order it'll finish how you expect. And seeing Hamilton charge through the field it was perhaps more exciting for the fans to watch and shows what potentially could be done with the format. The points are on offer tomorrow so we can't be too disheartened with the result today. What is clear is we need to make sure our start is good as that can make a big impact on the race."
Alan Permane, Sporting Director
"On the whole, it was a good Sprint for us. While converting ninth and 10th on the grid to ninth and 12th at the flag doesn't look particularly good, for our championship fight it's very promising as the pace of the car looked much improved and competitive. Both drivers felt their cars were quick and they were happy with their set-ups. We thought we would lose a place to Lewis [Hamilton] starting from the back, but he came through a lot quicker than we thought he would. Esteban had a flying start and from there he was tucked behind Pierre [Gasly] for the whole Sprint and with another two or three laps he felt he could have overtaken him. That bodes well for tomorrow because it's a longer race and there will be more opportunities to get past him. Today gives us a clue for tomorrow. Recently, the AlphaTauri has been too quick for us and while they beat us today, we were right there with them. It's important tomorrow to outscore them – that's our objective - and we'll be doing everything we can to do that."
Aston Martin
It was an OK Sprint for the Aston Martin cars as both made up one place despite starting on used medium tyres. Vettel's gains will increase when Hamilton serves his grid penalty, although the German might no be able to hold a charging Mercedes at bay for long tomorrow. He should be confident of points though, while Stroll might need some chaos ahead if he wants to get close to the top 10.
Sebastian Vettel, started 11th, finished 10th
"I made a good start and gained a couple of places, but we had to fight hard to stay there with fast cars, such as the McLaren [of Daniel Ricciardo], behind us. I was in the train of cars, benefiting from the DRS, which certainly helped. The race pace was decent but starting on the medium meant that we were faster towards the end [compared with those on softs]. I think it will be similar tomorrow. It is a long race, and we will need to fight hard to score points because there are some quicker cars, including Lewis [Hamilton], behind us."
Lance Stroll, started 15th, finished 14th
"We have moved up a place for tomorrow's race, which is a positive. There was not a lot of action around us at the start, so we were still P15 after the first lap. Then, at the end, [Yuki] Tsunoda started to suffer on the softs in front of us, while we had managed our mediums pretty well. He lost DRS from the car in front of him and we got him on the last lap, so I think it was probably the right thing to do [starting on the Mediums]. It was tough to overtake today, but it is a long race and anything can happen at this circuit, so maybe there will be a few opportunities for us tomorrow. We will see what we can do from P14 and aim to make up a few places."
Otmar Szafnauer, Team Principal & CEO
"Sebastian made a great start to be ninth on Lap 1, while Lance consolidated his P15 grid slot. Meanwhile, Lewis [Hamilton] was on an impressive charge from the back of the field, passing Lance early on and Seb on lap 15, which pushed Seb down to P10. There he remained until the end of the sprint, which result leaves him well placed to drive for good points in tomorrow's feature race [P9 on tomorrow's grid as a result of a five-place penalty for Hamilton]. Lance harried [Yuki] Tsunoda throughout all 24 laps, despite reporting issues with understeer and less than optimal traction, but Yuki defended well. Even so, Lance was able to force his way past on the final lap, so he will start tomorrow's feature race from P14. Like Seb, he will be aiming to score points for us tomorrow."
Alfa Romeo
The only incident of the Sprint came in the form of a spin for Raikkonen, unfortunately after contact with his own team mate. They both attempted a move on Alonso at the same time, sandwiching the Alpine who sensibly backed out of it. But as they rounded the corner, Giovinazzi just tagged Raikkonen who spun, which sent him down the order. At least the Italian kept his nose clean to come home in touching distance of the top 10.
Kimi Raikkonen, started 13th, finished 18th
"I had a good start and I thought I could make some more progress when I had the contact with Antonio. I went outside Alonso, he went on the inside and by the time we were at turn one, I couldn't really see what was happening on the inside. We had the smallest of touches but that was enough to spin me around, that's about it. Of course, this doesn't help for tomorrow's race. It won't be easy starting from 18th but we'll try our best to make up some ground."
Antonio Giovinazzi, started 14th, finished 13th
"The sprint result wasn't too bad, P13 is not the greatest but we can put up a good fight from there. I am happy about how the race went and I am looking forward to seeing what we can do tomorrow. As for the incident with Kimi, it's a shame we made contact: I don't really know what happened – we were three-wide on the straight, I took the inside and then suddenly I saw Kimi on the outside. We touched tyres, I tried to avoid that but there wasn't really anything I could do: I was on the inside and braked as normal. Unfortunately, I also picked some front wing damage, which gave me a lot of understeer in the last corner. Now let's focus on the race: we'll give our best, the race here in Brazil is always an exciting one so it's hard to know what to expect."
Frédéric Vasseur, Team Principal
"We did a good job at the start and things were looking promising until the contact between Antonio and Kimi. They had both made a good move on Alonso and it's a pity they made contact in turn one, as that put Kimi right at the back of the pack. The rest of the race was pretty straightforward, as positions remained quite static until the end, so we could have had the chance to gain one place with both cars ahead of tomorrow's race. The result leaves us with mixed feelings – we are happy with Antonio's race, but disappointed Kimi was caught up in that contact and lost places."
Williams
The drivers blamed the breezy conditions yesterday for some of their woes, but on a calmer day today they still couldn't extract much pace from the FW43B. Latifi did back up out-qualifying his team mate by finishing ahead of him for the second Sprint in a row, to well and truly break his qualifying duck against Russell.
HIGHLIGHTS: Miss the F1 Sprint? Catch up on all the action from the 24-lap dash at Interlagos
George Russell, started 17th, finished 17th
"I had a bit of a battle out there but unfortunately it was a pretty processional Sprint session for us today. In these short stints, it's hard to gain a big tyre difference that gives you a chance to overtake. I think there will be some different strategies tomorrow which will offer opportunities, but we're struggling for pace overall this weekend so we will have to see."
Nicholas Latifi, started 16th, finished 16th
"We were lacking pace today in the Sprint so I couldn't really challenge anyone ahead. If there had been one more lap, I could've possibly caught Yuki Tsunoda ahead but, having said that, we were struggling slightly with our tyres too. It will be a long race tomorrow but a lot can happen here in Brazil, so we'll have to see if any opportunities present themselves and be ready to take advantage of them."
Dave Robson, Head of Vehicle Performance
"It was a relatively straightforward day for us. We gained a place to Räikkönen through the Sprint session and we did no damage to the cars. There was a good mix of tyre choices, with those starting on the qualifying compound struggling by the end. We opted to start both cars on the Option, which was still going strong at the end of the race. Unfortunately, we needed another lap or two to catch Tsunoda and Giovinazzi. The race tomorrow will be held in quite different conditions to today's session and the high track temperature will require more tyre management. We still anticipate a range of viable strategies tomorrow, which could make the race interesting."
Haas
The Haas boys both saw Hamilton sail past at the start despite opting to start on the softs, and from there had an intra-team battle for the rest of the Sprint. In the end Schumacher came home in front and will therefore start just ahead of his team mate tomorrow, as Haas once again struggled to keep in touch with the other teams ahead once the Sprint got going.
Mick Schumacher, started 18th, finished 19th
"Maybe in hindsight there was a faster strategy but we wanted to make sure we had a good start and a good first lap, which we still had, but we didn't get by anybody. It didn't pay off this time, but we have another go. Overall, it was a lesson in learning how the soft tyres handled, and we know what we need. Nothing's lost, the race is tomorrow."
Nikita Mazepin, started 19th, finished 20th
"We went with the C4 tire, which was a bit of a gamble. I think the first few laps were quite good. I had the opportunity to come very close to Mick, we were battling for four corners side-by-side, I really felt that was the right time to react but unfortunately the rear tyres were struggling by that point onwards. I tried to use my chance, it didn't really work, but in the grand scheme of things it's quite difficult for us at this track to battle with the likes of the Williams and the Alfas."
Guenther Steiner, Team Principal
"An exciting start for us – we almost got past at least one Williams, but then it was just not enough. Starting on the soft tyres was a good choice, we tried to get by, couldn't do it and then we fell back, but the distance to the people close to us was smaller than normal, so that was encouraging and neither driver made any mistakes, nothing. They tried always to get on the limit with the tyres and obviously we needed to manage the rears a lot because they overheated, but both came back with clean cars and ready for tomorrow."
Pirelli
Mario Isola, Head of F1 and Car Racing
"The high level of track evolution together with the average track temperatures brought back the soft as an option for the Sprint. The extra speed of the soft tyre might have helped at the beginning, with the Mercedes of Bottas as well as the Ferrari of Sainz making excellent starts to move into the top two positions. It then became a question of managing the soft tyre in the later stages of the race, which Bottas achieved brilliantly to win the Sprint and start tomorrow's grand prix from pole. For tomorrow, due to forecasted warmer track temperatures, we're expecting what should in theory be a two-stop race with all compounds able to play a role. With both soft and medium compounds used extensively during the Sprint and many teams splitting their strategies, there will be plenty of data to analyse tonight."
READ MORE: Sao Paulo GP Sprint Facts & Stats - Hamilton has form for making it to the podium from P10