Feature
F1's Best Drives #4 – Senna beats the pain for emotional home glory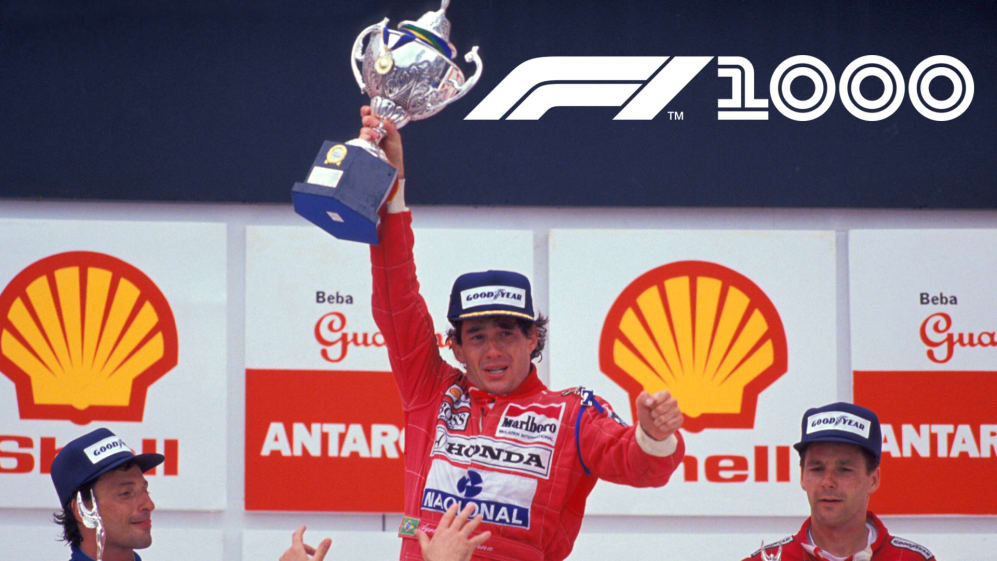 The upcoming Chinese Grand Prix will be the 1,000th race in the world championship's glorious history, and in celebration we're counting down the 10 best performances of all-time, from virtuoso drives to brilliant comebacks. And who better to curate our list than Hall of Fame journalist David Tremayne, who has been on the ground at more than half of all of the F1 races run to date. Here, he looks back at Ayrton Senna's heroic home win for McLaren at the 1991 Brazilian round.
Who:
Ayrton Senna
Where:
Interlagos, Brazil
When:
1991
Race number:
502
Undoubtedly one could nominate several of Ayrton Senna's 41 victories – among them Portugal 1985, Suzuka 1988, Donington 1993 and Monaco 1993 – but for me his first triumph on his home ground in 1991 was very special. Not just for the manner in which he set the pace despite very strong pressure, but for the way in which he coped with problems and excruciating pain in the late stages.
The previous season he had been on target at his beloved Interlagos until he tangled with Satoru Nakajima's Tyrrell while lapping it. Now, in the latest McLaren MP4/6 he had the car to do the job. He put it on pole, but faced stern opposition from Nigel Mansell in the new gizmo-laden Williams FW14, which was a much more technically advanced car. The Englishman chased hard but lost time with a problem with the car's semi-automatic gear selection during his pit stop. Soon he was back on the McLaren's tail, but Senna was adamant that he had him handled until his own fourth gear began jumping out of engagement.
READ MORE: F1's Best Drives #7 – Lauda's barely believable Monza comeback
Mansell kept pushing and closing the gap until he picked up a puncture; with new tyres he once again started slashing the advantage that Senna had been able to build, until he spun off when his gearbox selected first gear at an inopportune moment on the 61st of the 71 laps.
Now Senna should have had things his own way, but he experienced further transmission bothers of his own as the McLaren lost third and fifth gears too, obliging him to hold it in sixth gear. At times he was almost stalling in the slower corners, especially those running uphill at the end of the lap. Soon he came under fire from Riccardo Patrese in the second Williams as his lap times increased initially by six seconds.
(Shoulder cramps) left him in such physical pain that he could be heard over the radio wailing during the final laps
By clever manipulation of his lines he reduced that to three, but still the Italian kept coming, allowing him no respite.
Things really should have been settled when Patrese's gearbox began to malfunction, while further back any threat from Senna's team mate Gerhard Berger was minimised when the Austrian's throttle began sticking.
READ MORE: F1's Best Drives #8 – Hamilton's wet-weather masterclass at Silverstone
But then it began to rain, just as Senna began to suffer crippling shoulder cramps after holding the car in gear for so long. They left him in such physical pain that he could be heard over the radio wailing during the final laps as he nursed his car and himself to the finish line to score an historic and hugely emotional victory by just 2.9s. His cries were a mixture of wounded animal and perhaps religious zealot as he struggled to keep going and to stay ahead of Patrese, and then allowed himself to celebrate.
He was so exhausted he had to be helped from the cockpit and driven in the medical car to the podium, and such was his discomfort he could not even bear to be embraced by his father Milton. But, finally, he had done the job in front of his countrymen, and their adoration knew no bounds.