Feature
F1's Best Drives #7 – Lauda's barely believable Monza comeback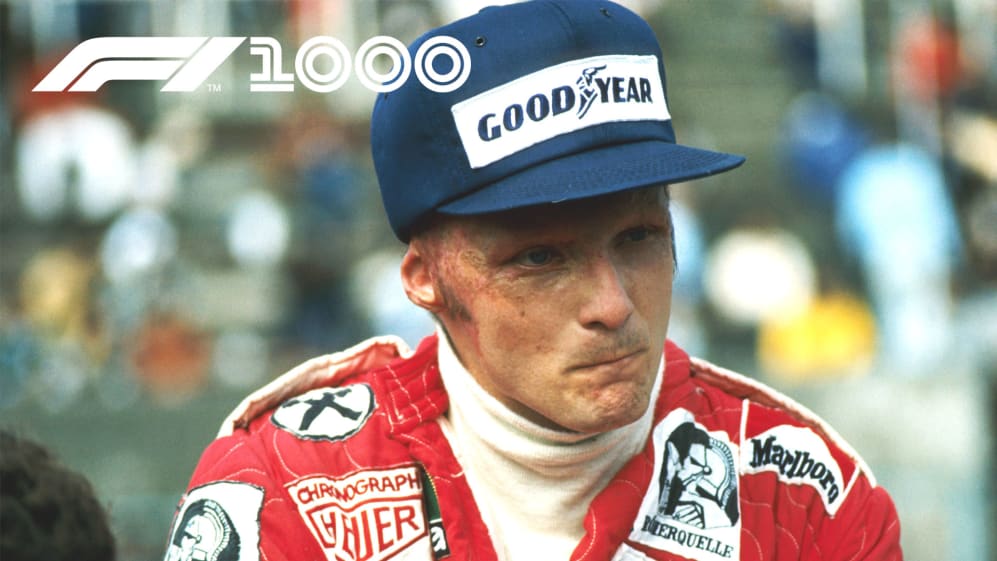 The upcoming Chinese Grand Prix will be the 1,000th race in the world championship's glorious history, and in celebration we're counting down the 10 best performances of all-time, from virtuoso drives to brilliant comebacks. And who better to curate our list than Hall of Fame journalist David Tremayne, who has been on the ground at more than half of all of the F1 races run to date. Here, he looks back at Niki Lauda's courageous return to the cockpit at Monza just six weeks after his fiery crash at the Nurburgring in 1976.
Who:
Niki Lauda
Where:
Monza, Italy
When:
1976
Race number:
277
Niki Lauda should never really have been at the Autodromo di Monza in September 1976.
Forty two days earlier, he had crashed heavily at the Nurburgring and been dragged from his burning Ferrari in a heroic rescue effected by Arturo Merzario, Guy Edwards, Harald Ertl and Brett Lunger.
Such were his injuries, which included facial burns and flame inhalation, that he was given the last rites. At one stage he was not expected to survive. But by his own admission, he began an incredible fight back to life when he heard the priest administering those rites.
READ MORE: F1's Best Drives #8 – Hamilton's wet-weather masterclass at Silverstone
His problems at Monza were manifold. Enzo Ferrari, never the most sentimental of team owners, was one of those who did not expect his 1975 world champion to return to racing. Ever the pragmatist, he had lost no time employing Carlos Reutemann as Clay Regazzoni's new partner. But there was Lauda, calm but firm. He had a contract and he would be back racing at Monza. He had a world title to defend. Far from admiring his driver, Ferrari was unamused.
And it seemed that his reservations about his driver's mental state were justified on the first day of practice. It was wet and Lauda, his facial burns still raw and aggravated every time he donned or removed his helmet, felt just as tender psychologically. He was angered when he had to take a second medical, considering that even being there was testament to his fitness, and when he felt the Ferrari sliding beneath him, he admitted that he – Lauda, the computer, the man who always drove with his head rather than with his heart - was scared.
"It was like a pilot reacting to every air pocket," he said. "Not the way you should feel."
After examining every aspect of his psyche, Lauda regrouped. The computer had processed everything, and a different man sat in his Ferrari's cockpit the next day
That evening, he struggled in his hotel room, but after examining every aspect of his psyche, he regrouped. The computer had processed everything, and a different man sat in his Ferrari's cockpit the next day. Lauda was back.
Jacques Laffite qualified his Ligier-Matra fastest from Jody Scheckter's six-wheel Tyrrell, Carlos Pace's Brabham-Alfa Romeo and Patrick Depailler's Tyrrell, but Lauda was fifth, with Reutemann seventh and Regazzoni ninth. Point proven.
READ MORE: F1's Best Drives #10 – Schumacher walks on water in Spain
He made a gentle start and took things easy to begin with, content to let both Reutemann and Regazzoni pass. But as Ronnie Peterson triumphed for March, ahead of Regazzoni and Laffite, Lauda overtook Reutemann and the two Tyrrells to take fourth, 19.4s down – but 38.1s ahead of the Argentine, for whom he felt nothing but antipathy. Point proven again, and with incredible courage.
Later that year, his burned eyelids still sore, Lauda withdrew from the wet Japanese GP, thus enabling rival and friend James Hunt to beat him to the title by a point. In South Africa the following year, Lauda destroyed Reutemann to win, before going on to claim a second title, after the most remarkable recovery in F1 history. Then he promptly turned his back on Ferrari to join Bernie Ecclestone's Brabham team.
As ever, the remarkable Austrian who came back from the dead was always his own man.