Feature
F1's next team mate bromance? Here's Norris and Ricciardo – the story so far…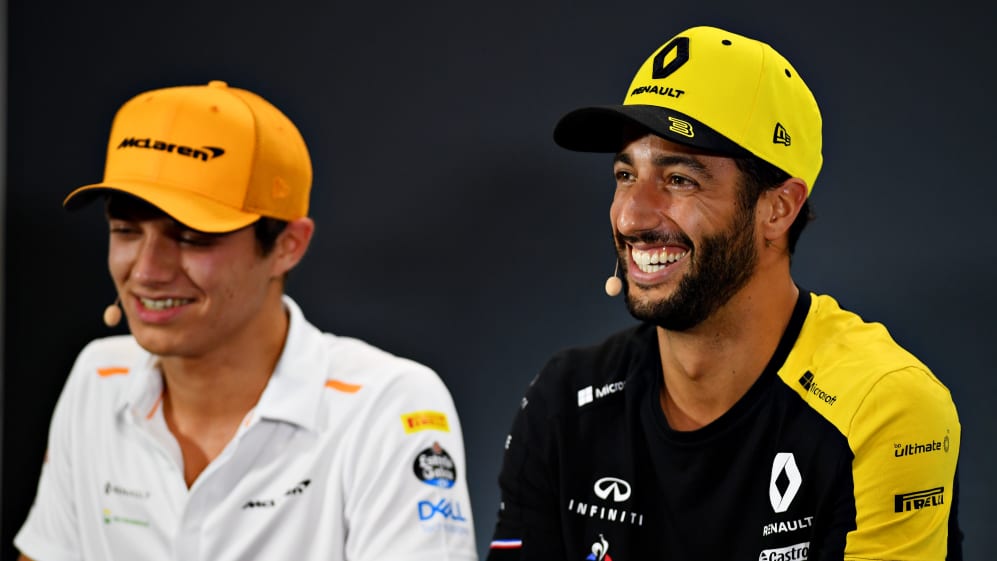 This was just Norris's second ever Grand Prix after graduating to F1 with McLaren, and Ricciardo, in his second race for Renault, was there to welcome him to the top tier of racing with this little wheel-on-wheel tap at the start of the 2019 Bahrain Grand Prix, in the midst of a serious traffic jam.
No matter for Norris, as he ended up sixth – but Ricciardo retired later on due to an unrelated issue.
And there was clearly no animosity between the two resulting from this incident – see the Silverstone press conference below – but they did provide some more scintillating scraps in coming races…
READ MORE: Why Ricciardo has gambled his future on McLaren – rather than staying at Renault
Hard-charging Ricciardo goes over the line in France
Ricciardo lit up the 2019 French Grand Prix with a typically gung-ho approach that put him up to a sterling P7 – but the stewards were none too impressed. The Australian was running in eighth just before the end of the race when he spotted Norris, slow due to a hydraulics issue, and pushed for seventh.
At the Mistral Chicane, Ricciardo tried to pass the McLaren round the outside, but ran off track and rejoined in Norris's path.
The stewards handed him a five-second penalty for forcing another driver off track, but Ricciardo responded: "It's better to have a fight and see what happens than to just sit behind and be a loser."
READ MORE: 'Unity and commitment are critical' say Renault as Ricciardo split announced
McLaren ask Norris to (sort of) hold up Ricciardo
"Lando, if you can, just hold Ricciardo in your DRS [range]. Hold him to allow him to have DRS, as long as he can't pass you."
That was the counter-intuitive radio message received by Norris on lap 42 of the 2019 Austrian Grand Prix, when he was told to keep Daniel Ricciardo around a second away, therefore giving the Renault driver use of DRS.
Norris was bemused and replied: "You mean like, forever?!" with a Marty McFly-esque inflection.
But there was method in McLaren's apparent madness – it was all part of a strategy to hold up Pierre Gasly (who was at that point behind Ricciardo), and it all went to plan as Norris finished a stellar sixth, ahead of the Red Bull driver.
READ MORE: Ricciardo's McLaren move a 'win-win situation' for Norris, says Williams' George Russell
Norris is reduced to hysterics in that press conference
This is surely the funniest moment of the budding Ricciardo-Norris 'bromance' so far. At a press conference ahead of last year's British Grand Prix, and with Lewis Hamilton sat between the two talking about his moustache to a reporter, Norris and Ricciardo started whispering to each other.
The exchange was apparently so hilarious that Norris ended up literally crying with laughter – so much so, he had to make his excuses and leave the room as Hamilton and the other drivers (and gathered press) watched on bemused.
So what was so funny? Well, Ricciardo had asked Norris if he could grow hair… down there. Enough said, for all our sakes.
READ MORE: McLaren boss reveals Ricciardo was courted for 'years' ahead of 2021 deal
Racing hard in the USA
A terrific race-long battle at the 2019 US Grand Prix between Norris and Ricciardo saw the McLaren driver finish just 0.398s off his rival in another awesome Austin race.
After an epic opening lap in which Norris passed Ricciardo and Ferrari's Charles Leclerc in one fell swoop, Ricciardo responded with a Turn 12, Lap 8 pass on Norris that was as clean as a whistle.
READ MORE: Alonso to Renault in 2021 is a 'no-brainer' says McLaren boss
The Australian was on a one-stop strategy, however, and Norris stopped twice. So, on fresher tyres, the McLaren man began to reel his rival in… and they finished less than a car-length apart.
If this is what a Norris-Ricciardo partnership will bring in terms of competition, we say: bring it on.
Oh – and then there was this paddock collision in Russia last year, which you can see was clearly caused by Norris. Next time Ricciardo will be on to the stewards...