Ferrari drivers targeting Q3, despite labelling SF1000 'a handful' around Monza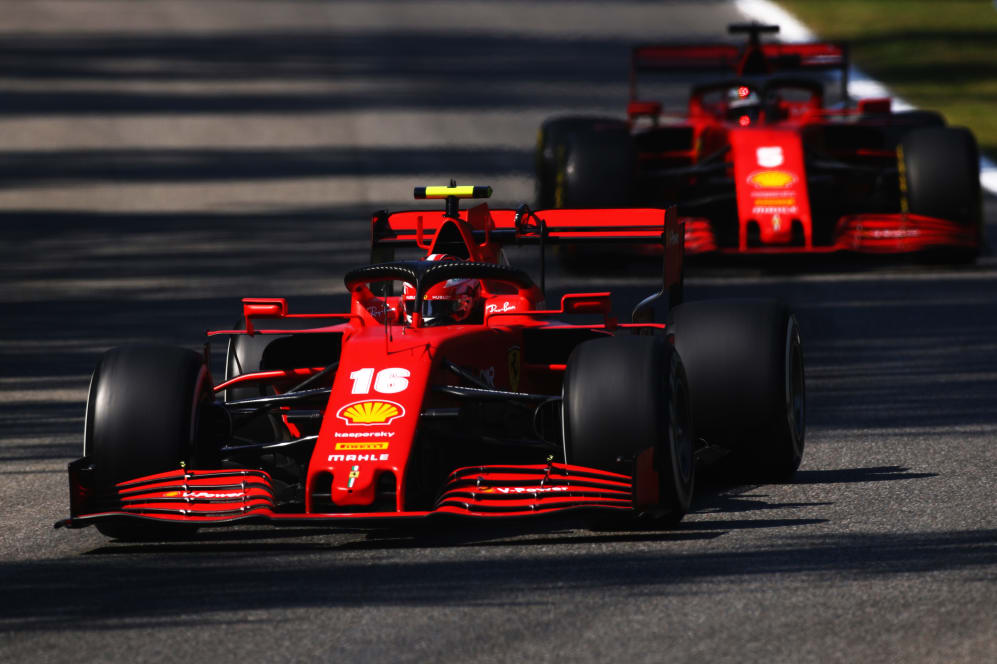 It seems strange that Ferrari's Charles Leclerc could be happy with P8 in FP2 for the Italian Grand Prix, at a track where he was on pole last year. But the Monegasque said he'd been encouraged by Ferrari's one-lap pace on Friday at Monza, even if both he and team mate Sebastian Vettel admitted that their cars had been hard to handle at the famous Temple of Speed.
Leclerc wound up 1.3s off the pace of the leading Mercedes of Lewis Hamilton in FP2, with Vettel a further two-tenths back in P12. But after both drivers appeared to struggle with their low-downforce set-ups on Friday – each having off-track excursions at the exit of Lesmo 1, leading Leclerc to tell the team over his radio that "the car is so hard to drive" – Leclerc opened up on the Ferrari SF1000's issues.
READ MORE: Binotto hoping Spa was low point in Ferrari season as he reveals engine mode approach for Monza
"It was very difficult to drive on the high fuel," he said. "I think we expected a bit worse on the low fuel runs – but then on the high fuel runs, we expected a bit better, looking at the low fuel runs! So we definitely need to try and find something for the race, otherwise it's going to be very, very difficult. We seem to struggle quite a lot with the balance and the overall degradation of the tyres during the high fuel run. So there's definitely a lot of work [to do] on that but quite positive to see our qualifying pace.
"Hopefully [we can get] into Q3, but I think it will be very close," added Leclerc, after both he and Vettel sensationally missed out on the final part of qualifying in Belgium last time out. "For now, realistically, we don't have yet the performance to get into Q3, but we are close to it… I don't think we'll be expecting much more than what we've shown today on the low fuel, but high fuel, I hope we can fix it, because it was definitely not a good day for race pace today."
Sebastian Vettel backed up his team mate's views on the SF1000's issues around Monza, saying: "The car is difficult to drive – but it's not the first time.
"Where are we lacking? I think we're losing down the straights, which is expected, but in terms of where we want to have a better car to drive, we're lacking grip on corner entry with pretty much all four wheels; the car is sliding quite a lot and it's a handful. It's very difficult to get everything right, to get the lap together but we're trying to make it a bit better for tomorrow.
READ MORE: Leclerc 'prepared to wait' for Ferrari recovery as he predicts more pain at home in Monza
"Part of it is Monza, part of it is our car. It is what it is and we try to use the time that we have now to improve and hopefully be in a bit of a better place tomorrow… [but] it's going to be a tricky one in the race. We'll be fighting other cars, we will be in a pack and it's not like racing at the front in clean air and having a nice car. But that's something to worry about on Sunday. Now we'll worry for tomorrow and hopefully get a better car because the better the car is, that will also help us on Sunday."