Report
Qualifying report: Hamilton storms to Spa pole as both Ferraris are knocked out in Q2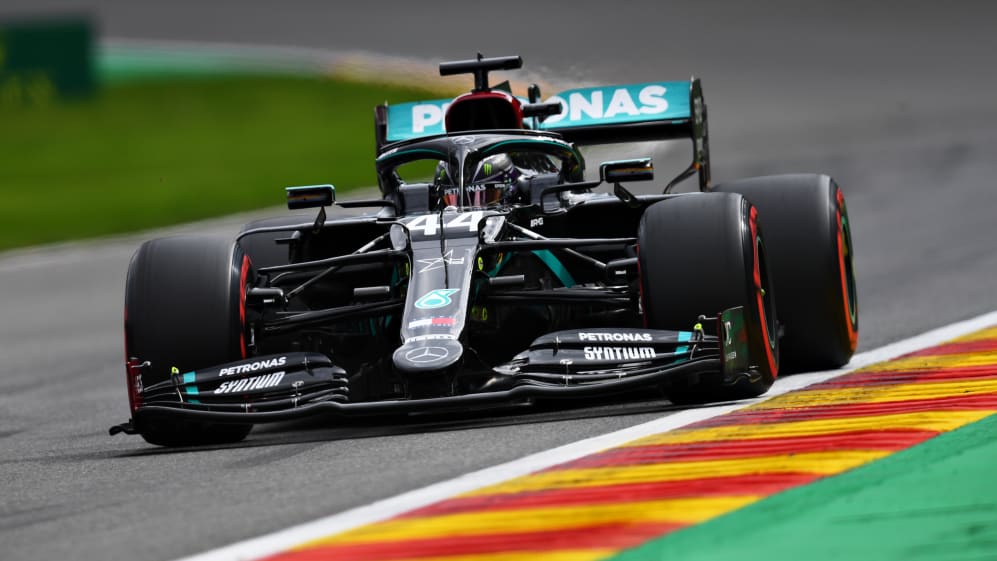 Lewis Hamilton was quietly confident after Friday practice despite having failed to hook a up a tidy lap at Spa Francorchamps – but as he has done so often in his glittering career, the reigning world champion delivered when it mattered with an astonishing lap to take pole position for the Belgian Grand Prix.
The Mercedes driver looked like he had the speed from the moment qualifying began, the Briton at one with his Silver Arrows, comfortably getting through Q1 and then easing through Q2 on the medium tyre to give him the favoured compound for Sunday's race.
Then when it came to Q3, he pulled out an epic lap on his first run, and then was even quicker, ending up 0.5s clear of team mate Valtteri Bottas, to secure his sixth pole at Spa and fifth of the season.
Bottas slotted into second to give Mercedes their first front row lock out in Belgium since 2015, the Finn making his first appearance in the top two, but only just with Red Bull's Max Verstappen finishing just 0.015s adrift in third.
READ MORE: Bottas 'not bothered' to miss pole as he looks for Lap 1 advantage over Hamilton
FORMULA 1 ROLEX BELGIAN GRAND PRIX 2020
Belgium
2020
Qualifying results
POSITION
TIME

1

Lewis

Hamilton HAM

Mercedes

1:41.252

2

Valtteri

Bottas BOT

Mercedes

1:41.763

3

Max

Verstappen VER

Red Bull Racing

1:41.778

4

Daniel

Ricciardo RIC

Renault

1:42.061

5

Alexander

Albon ALB

Red Bull Racing

1:42.264
Still, the Dutchman is in a great position for Sunday's race, given his Red Bull's team's supreme race pace and the fact he will start on the more durable medium tyre like the two silver cars ahead of him.
Renault's Daniel Ricciardo finally managed to carry his Friday pace through to qualifying as he ended up a brilliant fourth fastest, his best-ever qualifying at Spa on what is his 10th visit, ahead of Red Bull's Alex Albon who continued his improved form with his most accomplished qualifying performance of the year.
Esteban Ocon made it two Renaults in the top six for the first time since Monza last year, while Carlos Sainz starts seventh – his best Spa qualifying, beating the two Racing Points, who didn't light up the timesheets as anticipated. McLaren's Lando Norris completed the top 10.
Ferrari, who were so dominant at Spa last year, were nowhere to be seen in the top 10 shoot-out, the red cars lacking the pace in all three sectors, with Charles Leclerc and Sebastian Vettel 13th and 14th respectively. That was the first time since Silverstone 2014 that a red car took no part in Q3. They have a lot of work to do if they are to salvage anything from this race.
Belgian GP qualifying facts and stats: No Ferraris in Q3 for first time since 2014
Q1 – Ferrari scrape through as Russell impresses
So the big question heading into Q1 was whether the Scuderia could avoid the ignominy of seeing at least one car getting booted out in the first part of qualifying for the first time in the turbo hybrid era based on pure performance.
It wasn't looking great after the first run, with Vettel in the drop zone after the first runs, the Ferrari looking very uncomfortable around the sweeping turns of Spa.
But after some jostling for position on the final out-laps, as drivers tried to avoid being the first car on track, Vettel and Leclerc saved their blushes by scraping through in P13 and P15 respectively, the latter scraping through by a tenth. What a difference a year makes, the red cars 1.048s slower than they were last year.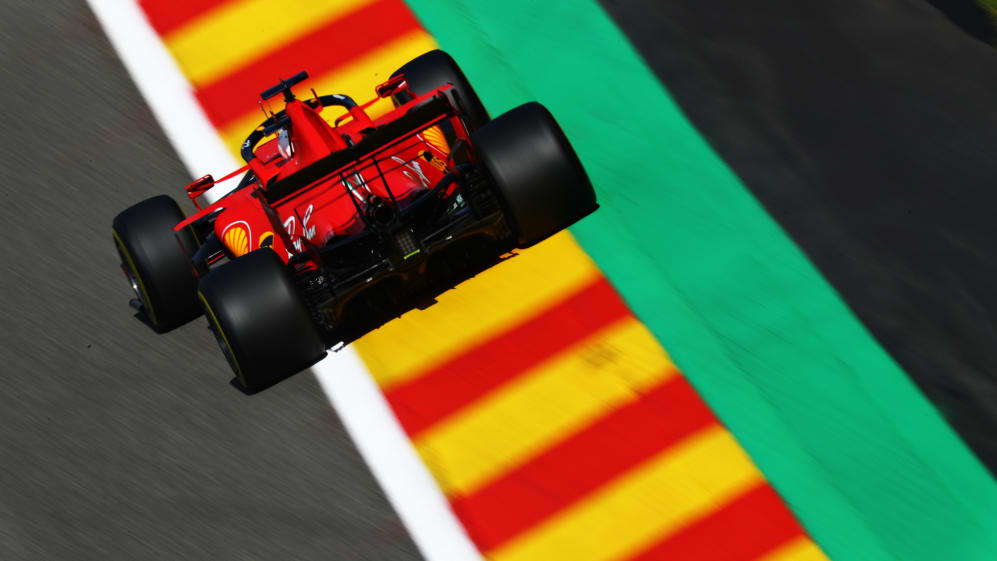 Kimi Raikonnen just missed out, two places clear of Alfa Romeo team mate Antonio Giovinazzi, who remains the only driver to have been knocked out in Q1 in every qualifying session this season. In contrast, George Russell impressed once again, splitting the Ferraris as he made it into Q2 for the fifth time in seven races.
Haas may have started in the top 10 with both cars at Spa for the last two years, but they were both kicked out in Q1 this time around, Kevin Magnussen getting it all wrong on his final lap to skate across the gravel before re-joining.
Up front, Lewis Hamilton was quickest, ahead of Mercedes team mate Valtteri Bottas, with the Silver Arrows 0.959s quicker in Q1 than they were in Q3 last year.
Knocked out: Raikkonen, Grosjean, Giovinazzi, Latifi, Magnussen
Q2 – Albon impresses as Mercedes dominate
Such is Mercedes' pace advantage over the rest of the field, the Silver Arrows were able to head out on the medium tyre. Verstappen followed suit as did the two Racing Points. However, only Mercedes and Verstappen were able to make it work.
Sergio Perez and Lance Stroll had to box and fit soft tyres, as they ended the first runs in the drop zone, but with the softer rubber fitted, they had the pace to make the top 10 shoot-out.
Red Bull's Albon has looked stronger in Spa and in qualifying he showed a great turn of pace as he used the soft to go third fastest, with McLaren's Carlos Sainz also delivering a cracking lap with the fifth best time.
Ferrari's resurgence ended in Q2, Leclerc admitting he did the best that he could on team radio, as he ended up 13th quickest, one place ahead of Sebastian Vettel, behind the two AlphaTauris.
READ MORE: Leclerc says P13 'better than expected' after double Q2 drop-out for Ferrari
Knocked out: Kvyat, Gasly, Leclerc, Vettel, Russell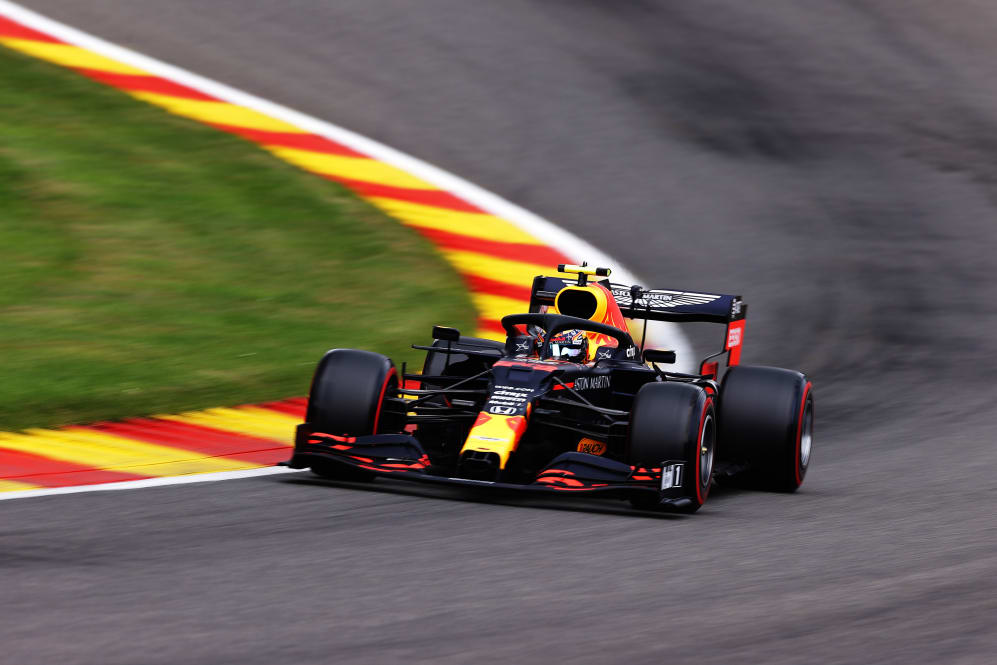 Q3 – Hamilton beats Bottas as Verstappen just misses out
Hamilton looked effortless as he pumped in a new track record on his first run in the final segment of qualifying, while his team mate Bottas made an error in the opening seconds, running wide on the exit of the first corner.
The Finn, who celebrated his 31st birthday on Friday, recovered to complete a more respectable lap, but he was no match for Hamilton, who went even faster on his next run, breaking the track record again.
Verstappen came ever so close – closer than even he expected – to the front row, but slotted into third for Red Bull's first top-four start in Spa since 2016. Elsewhere, Ricciardo was third quickest after the first runs and was strong enough in the second to ensure a top four spot on the grid.
Though Norris was outpaced by team mate Sainz, his Q3 appearance finish means he is he only driver other than the two Mercedes racers and Verstappen to start every race this year inside the top 10.
The key quote
"I didn't make any mistakes on all of the laps," said pole-sitter Hamilton, "but the Q3 run one lap was ace and I was thinking there's probably no way I'm going to beat that.
"But Turn 1's probably been a weakness for me for the last few years and I just got stronger and stronger through there. I saw that I was up out of Turn 1 and then I just kept eking away throughout the lap, so that was a very, very good lap, so I'm happy with that."
READ MORE: Hamilton says Chadwick Boseman inspired him to 'drive to perfection' as he dedicates Spa pole to late actor
What's next?
The Belgian Grand Prix kicks off at 1510 local time, which is 1210 UTC. Mercedes lock out the front row for the first time in five years, but they will be wary of the huge threat Red Bull's Verstappen poses from P3.
Bottas also fancies his chances starting second, with an eye on catching a tow down the Kemmel Straight that could see him catapult past Hamilton.