Ferrari duo say Baku pace 'better than expected' – but think McLaren haven't shown their hand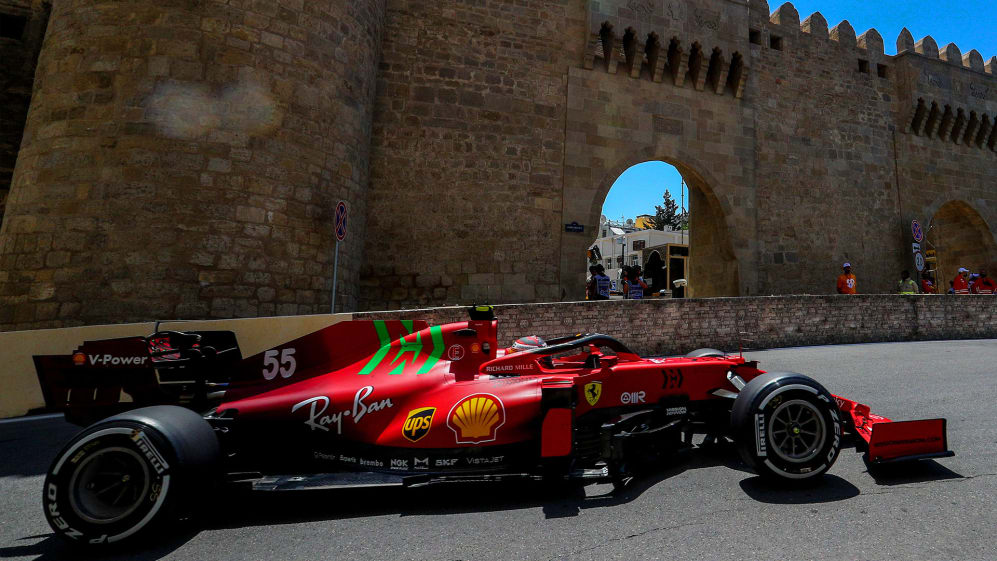 Ferrari had downplayed their chances of carrying their impressive Monaco pace through to Baku, but after Carlos Sainz and Charles Leclerc ended Free Practice 2 for the Azerbaijan Grand Prix in P3 and P4, that looked to be exactly what they had done – with both drivers admitting their performance had been "better than expected".
Leclerc wound up just 0.043s adrift of Max Verstappen's leading time in FP1 as Sainz took third – while Sainz in P3 ended up only 0.128s off Sergio Perez's P1 time in Free Practice 2, as Leclerc claimed fourth, despite wiping his front wing off on the barriers at Turn 15 midway through the session.
READ MORE: 'Ferrari and Red Bull a long way ahead of us' says Norris after low-key day for McLaren
"I actually felt quite comfortable in the car today, especially on braking," said Leclerc. "Maybe a bit too comfortable and pushed a little bit too much into Turn 15. But in the end, that's what it's for, the free practice. I've been trying [to find] a little bit the limits.
"It's definitely better than we expected, but it's only FP1 and FP2. The pace looks promising. Now we'll keep on working during the night and hopefully we'll be as competitive tomorrow."
"We're definitely a bit quicker than maybe what we anticipated," agreed Sainz, fresh from his first Ferrari podium at Monaco two weeks ago. "But it is true also that I got a couple of tows in my good laps, the long run we didn't quite clearly see the pace, so maybe the whole picture is not quite as clear as it can get.
"Red Bull did particularly a strong long run, which showed us that they probably have something more to come tomorrow," added Sainz, with both Ferrari drivers having suffered graining on their own long runs, leading Leclerc to request to pit at one stage to prevent him from crashing.
READ MORE: 'We're just slow' – Hamilton and Bottas 'scratching their heads' over Mercedes pace deficit in Baku
"We were decent on the short run, but then on the long run, I think we still need to analyse how we can get those rear tyres to work a bit better in the window.
"At least it's exciting. It looks like it's not easy for anyone out there, and this might bring opportunities. But we are probably also not as good as Monaco, not as good as the lap times showed, but still better than we expected."
Despite the promising look of the timesheets, Monaco polesitter Leclerc also echoed his team mate's slightly pessimistic note, in particular drawing his attention to Ferrari's chief rivals McLaren, who he suggested might be sandbagging on Friday, as Lando Norris and Daniel Ricciardo ended up P8 and P13 in FP2 – while Leclerc added that he expected to see Mercedes bounce back from their disappointing day, after Lewis Hamilton and Valtteri Bottas claimed P11 and P16 in FP2.
"McLaren are very, very quick, but they haven't showed it for some reason today," said Leclerc. "Maybe it was less of a clean day compared to us, but I feel that they are still a bit ahead of us here, so we'll have to wait and see tomorrow.
READ MORE: Verstappen hails 'great start' to Baku weekend, even after FP2 changes put his Red Bull 'backwards'
"Definitely Red Bull [are faster] and Mercedes – I don't really know what happened either, but I'm pretty sure they will be in front, and it will be basically a fight with McLaren, that are our main competitors," added Leclerc. "So we need to make sure we do everything perfect, because they are doing very few mistakes this year. So we are going to try and maximise our potential and hopefully we can be ahead of them tomorrow in quali."
Just two points separate third-placed McLaren and fourth-placed Ferrari in the constructors' standings ahead of the Azerbaijan Grand Prix, McLaren with 80 to Ferrari's 78.