Ferrari hoping cold Austin weather means repeat of Barcelona testing dominance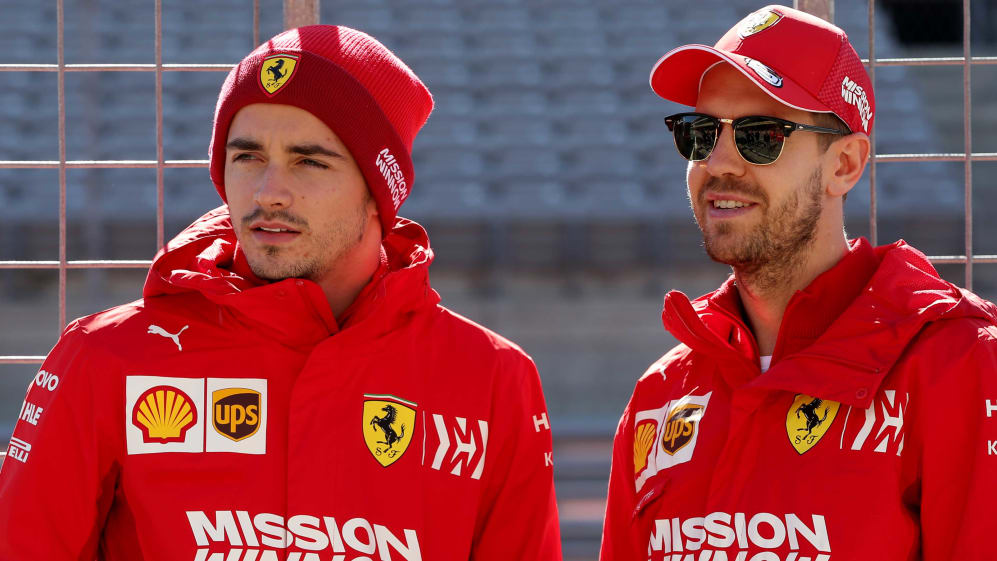 Warm jackets and winter coats were very much the order of the day when the drivers arrived at an unseasonably chilly Circuit of The Americas. But Ferrari were hoping that the frigid temperatures boded well for their United States Grand Prix weekend, after the Scuderia dominated in similar conditions during Barcelona pre-season testing.
With the mercury reading just 4 degrees Celsius on Thursday morning in Austin, the drivers were forced to wrap up warm for their track walks – while the temperatures are expected to remain relatively low for the rest of the weekend.
READ MORE: 2021 car revealed as FIA and F1 present regulations for the future
But with the Ferraris having been the cars to beat in the chilly conditions at the Circuit de Catalunya ahead of the season start – and with some long straights at COTA to give the powerful, aerodynamically efficient Ferrari SF90 its head – both Charles Leclerc and Sebastian Vettel were feeling positive about their chances for this weekend.
We were very strong in Barcelona during winter testing – although it's a long time ago...
"There are quite long straights so I believe we should be strong," said Leclerc. "To know how much, we'll only see on Saturday and Sunday, but pretty confident.
"We were very strong in Barcelona during winter testing," he added, when asked about the cold weather. "It's a long time ago but, for us, it doesn't change. If it's a problem, it will be a problem for everyone, and we'll try to adapt."
Asked whether a repeat of Kimi Raikkonen's sensational 2018 win for Ferrari was possible this weekend, Vettel replied: "I hope so!
"It's not an easy track to get everything right. A high speed section to start with, a very slow one in the middle and a sort of medium speed section at the end. Bit of everything that you need, which is why I think it's important to feel well in the car. Also how the track comes towards us. We have a strong car, a very efficient car, but we'll see.
"I think once we get in the car tomorrow, get a feel and see how the car works, how the initial feel is and balance [we'll have a better idea]," he added.
In qualifying, we have good form, but in the races we drift back a little bit
Ferrari won the first three races after the summer break, in Belgium, Italy and Singapore, before Mercedes appeared to retake the advantage, winning the following three in Russia, Japan and Mexico last week. And Vettel admitted that, while the Ferraris' one-lap pace has been strong – the team having taken every pole positon since Spa – race pace was still an area he'd like to see improvements in, preferably starting this weekend in Austin.
"I think in terms of race pace it's pretty clear," he said. "Qualifying we've found ourselves in a good position – obviously we have good form. Last race [Max] Verstappen was on pole by quite a bit [before receiving his penalty] but more or less we were fighting for the front row, and in the race we could see that we drift back a little bit and we can't confirm that strong pace over one lap with fresh tyres in the race, with many, many laps.
"There's still some work to do, but [these race pace] weaknesses we've been facing all year. We've closed the gap, but in the race there's still a bit of a gap."
READ MORE: Rivals' criticism means 'I'm in their heads', says Verstappen
With the constructors' crown already decided in Mercedes' favour, and the drivers' title similarly only able to be won by either Valtteri Bottas or Lewis Hamilton, Ferrari will likely use the remaining three races of 2019 to prepare for a fresh assault on 2020, with rule stability between the two seasons meaning any positive changes made by the Scuderia could help them going into next year.