Ferrari juniors Schumacher, Ilott and Shwartzman reflect on 'unforgettable' Fiorano test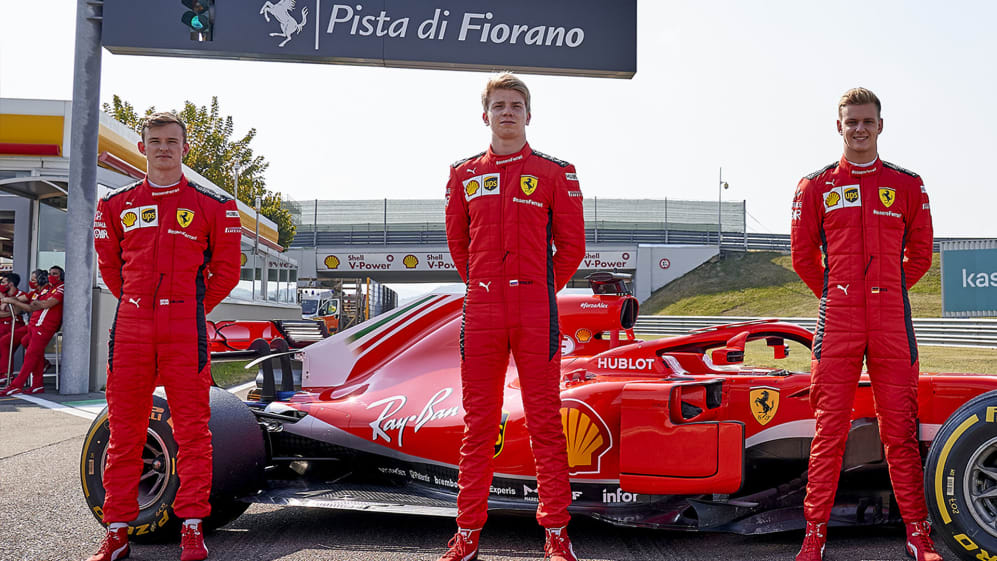 With their Formula 1 Free Practice 1 debuts looming on the horizon, Ferrari gave their junior drivers Mick Schumacher, Callum Ilott and Robert Shwartzman the chance to test a 2018 Ferrari SF71H on their legendary Fiorano test track this week – with the three F2 drivers revelling in an "unforgettable" day.
Schumacher and Ilott will be in action at the Eifel Grand Prix for Alfa Romeo and Haas respectively, taking over Antonio Giovinazzi and Romain Grosjean's cars for Free Practice 1 at the Nurburgring. Shwartzman – who had never driven a Formula 1 car before his Fiorano outing – will get his chance at the season-closing Abu Dhabi Grand Prix, also with Haas.
IN PICTURES: Schumacher, Ilott and Shwartzman sample Ferrari F1 machinery at Fiorano
"I have dreamed of the day when I would drive a Formula 1 car for the first time ever since I was a little kid and finally today was the day," said reigning Formula 3 champion Shwartzman. "Driving this car was fantastic and great fun.
"The power is what strikes you most: when you accelerate the horsepower never seems to stop. The brakes are equally impressive: the car stops when it feels as though it's too late to make the corner. Apart from the actual driving, it was also special to work with the team. There are a lot of them and they pay attention to every little detail. They really work at a very high level. Thanks to everyone who made this memorable day possible."
Schumacher is no stranger to F1 machinery, having already tested for Alfa Romeo and Ferrari previously, while he's also performed several demonstration runs in his father Michael's cars, most recently driving a Ferrari F2004 at Mugello. And he said it would be special to drive for Alfa Romeo at the Nurburgring, with some of the team's mechanics having previously worked alongside his father.
READ MORE: Ferrari juniors Mick Schumacher and Callum Ilott to make F1 practice debuts at Eifel GP
"A few weeks ago in Mugello, I was able to drive an F2004, an amazing car, but quite old fashioned now," said Schumacher, who currently heads Ilott by 22 points in the Formula 2 standings, while Shwartzman lies fifth with two rounds to go. "Getting behind the wheel of a 2018 hybrid car allowed me to understand how important the electronics are for the power unit and how much progress Formula 1 has made in terms of aerodynamics.
"I can't wait to jump into the cockpit in Germany, and it will be nice to take part in a practice session for the first time in front of my home crowd. In the team, there are some mechanics who worked with my father and that will make the day even more special."
Ilott, too, has previous F1 experience, having tested for Alfa Romeo at Barcelona last May. But the Briton was suitably impressed by his first ever run in a Ferrari.
"This was an unforgettable day," said Ilott. "I'd already been able to drive a Formula 1 car last year, but today I was able to get to grips with the car with just 10 days to go to my debut on a Grand Prix weekend.
"What struck me about the SF71H was its aero efficiency, which means you have grip levels you just don't find in other categories. Then there's the extreme power from the engine and instant braking."
All three of the Ferrari Driver Academy drivers will be angling for Formula 1 seats for next year, meanwhile, with Alfa Romeo and Haas – who both use Ferrari power units – seen as the most likely destinations.
READ MORE: The lowdown on the three Ferrari juniors set to make their Grand Prix weekend debuts this year