Feature
The lowdown on the three Ferrari juniors set to make their Grand Prix weekend debuts this year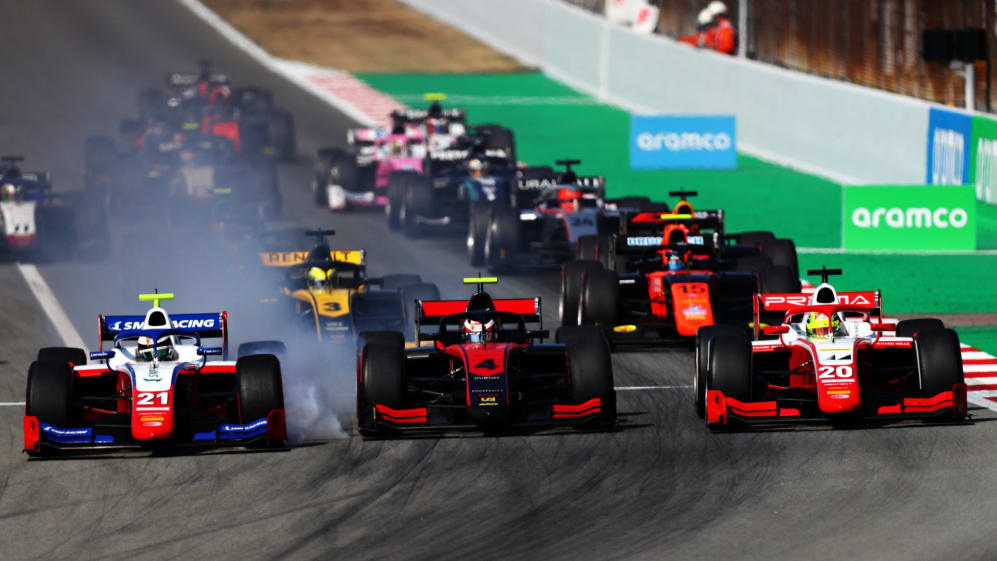 There was exciting news on Tuesday when Ferrari announced three of their F2 drivers would be making their Formula 1 practice session debuts this year, with Haas and Alfa Romeo. All three are in contention for the F2 title – but who are these promising young stars of tomorrow, and who is most likely to take the crown come the end of the year?
Eyebrows were raised when Ferrari announced a sizable haul of five drivers in Formula 2 for the 2020 season. How would they all fit? Would they all perform? And ultimately, would there be a seat available in Formula 1 if they did excel?
It's been a miserable season in F1 for the Scuderia, but three of their five Ferrari Driver Academy (FDA) young guns are fighting for the F2 title, suggesting the decision-makers over at Maranello will be pretty chuffed with their work at the moment. Mick Schumacher (currently first in the standings) and Callum Ilott (second) have made notable steps up from their debut campaigns, while 2019 Formula 3 champion Robert Shwartzman has looked instantly at home in F2.
But who will take the glory, and what will the ultimate championship picture mean for their F1 chances? With two rounds (and four races) of the season remaining, we answer the key questions…
READ MORE: The Ferrari Driver Academy – F1's golden ticket to the top?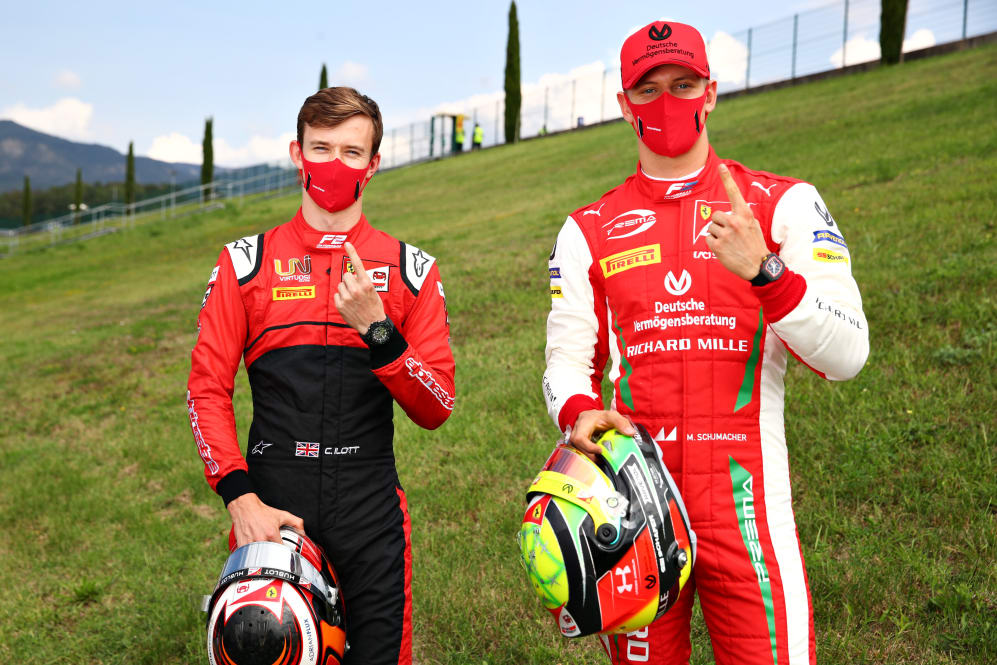 Why do Ferrari have so many drivers in F2?
Timing. Ferrari had three rookies in F2 in 2019, none of who impressed enough to earn an F1 drive, but all impressed sufficiently to be awarded another F2 seat in 2020 - those being Ilott, who took two podiums and a pole position, Schumacher, who memorably won in Hungary, and Giuliano Alesi, who claimed five points finishes from his final six races.
Meanwhile in F3, FDA duo Shwartzman and Marcus Armstrong took first and second in the championship, earning both promotion into the top tier of junior motorsport. It may sound convoluted, but with seats in F1 potentially up for grabs in 2021, it was a chance to pit them against one another, in a 'may the best man win'- style scenario.
READ MORE: Piastri fends off Pourchaire for F3 title as Lawson wins from pole at Mugello
Of course there was always the possibility they'd all flop. Armstrong has so far failed to hit the heights of his 2019 F3 season, with ART Grand Prix, while Alesi has flattered to deceive, albeit in an HWA machine which has had its fair share of issues this year. He has now moved to MP Motorsport, replacing Nobuharu Matsushita.
However, Ilott (UNI-Virtuosi), Schumacher and Shwartzman (both PREMA) have gone above and beyond expectations – and that's a big win for the FDA.
Who is under the most pressure?
That's a toss-up between Schumacher and Ilott. Schumacher's last name means that he's under constant pressure to perform. Coupled with an indifferent debut campaign, when he finished 13th, he needed to prove the doubters wrong.
Ilott is under a completely different type of pressure. He doesn't possess the budget that other drivers do and has openly admitted this will almost certainly be his last year in F2, especially if he is to make it in F1. It is pretty much win or bust for him.
Shwartzman doesn't quite have the same expectations, which is handy given that he dropped down to fifth in the standings after scoring zero points at Mugello and Sochi. The Russian is still in his rookie season, which means he'll always be cut a little slack. He is rated highly by the FDA and another season in the second tier wouldn't do as much damage to him as it could the other two.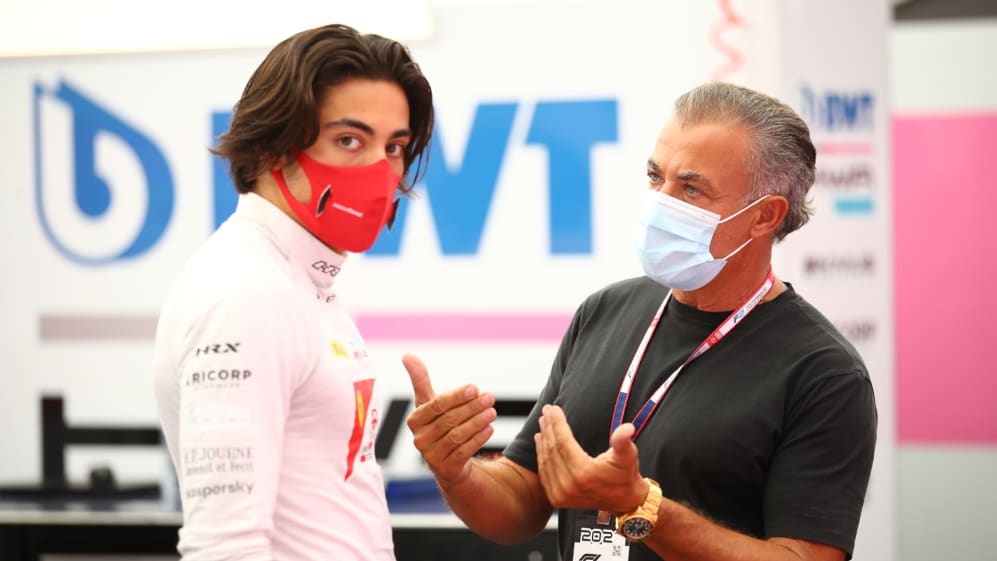 Who has the momentum?
One of the beauties of the current F2 season is that the momentum has constantly shifted. Every time you think a driver is about to grab the championship by the scruff of the neck, another comes to the fore.
The man in possession of the in-form tag right now is very much Schumacher. Heading into Mugello, he had taken five podiums from five races, including a first Feature Race win in Monza.
He followed this up with two top-five finishes in Round 9 and then a win and a third place in Sochi to take the championship lead – that's title-winning form.
Who has performed better?
One of the most impressive aspects of Schumacher's season is the manner in which he has overcome a tricky start. The German was challenging for a win in the season opener, but a mistake saw him lose the rear and dive into the gravel trap, only just keeping his PREMA out of the barriers.
In the following two rounds he struggled with tyre management, which cost him podiums, while of course, there was his infamous collision with Shwartzman in the Silverstone Sprint Race. All the while, Ilott and Shwartzman had been picking up podiums and wins. Many drivers would have lost their nerve and buckled, but Schumacher's belief in himself has never wavered.
READ MORE: 'Women should be part of Ferrari Driver Academy' – Binotto
While Schumacher's season has been one of two halves, Ilott and Shwartzman's have been more up and down. There have been big moments: Shwartzman's win from 11th in Hungary was spectacular, while Ilott's dominant opening round victory laid down a marker.
The problem is, these have been sandwiched between moments of bitter disappointment as well. Between Rounds 4 and 6, Shwartzman scored just two points finishes – albeit one of them on the podium.
Ilott has managed to finish in the points in all bar four races, taking two wins, five podiums and four pole positions, but has lost victory from first on more than one occasion, whether this be through sheer bad luck, or struggles with tyre management. Any one of the three could have run away with it by now, but haven't.
Who could stop Ferrari tasting glory?
Take your pick. Just 51 points separate the top six and each of Christian Lundgaard (fourth), Nikita Mazepin (sixth) and Yuki Tsunoda (third) could still make a late challenge, if results go their way.
Red Bull protege Tsunoda is an outside bet for a move to AlphaTauri next season and needs a minimum of fourth to get a Super Licence, which is pretty hefty motivation. Mazepin is a slightly different case, given that he is not linked to a driver academy. The Russian has, however, previously tested for both Mercedes and Racing Point, so has connections in F1.
Meanwhile Renault junior Lundgaard is 46 points off first place. His season is all the more impressive considering it began with the blow that there will not be a place for him at Renault in 2021, due to the return of Fernando Alonso.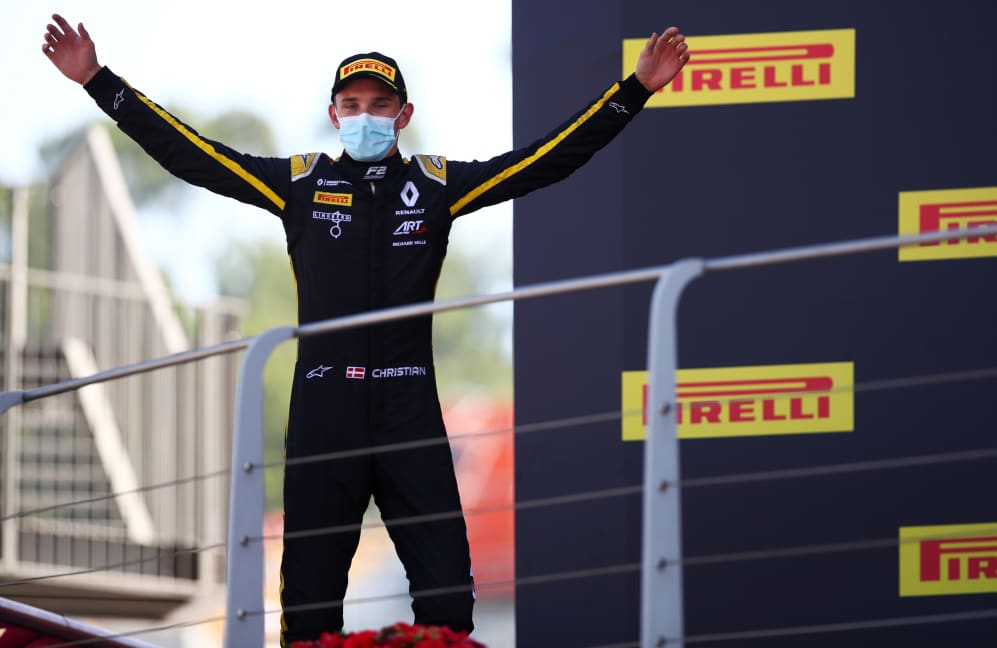 What will happen if a Ferrari driver is crowned champion?
This one's complicated. There are potential vacancies at Ferrari-powered Alfa Romeo and Haas in 2021, but that's not to say either of them will definitely plump for an FDA driver, though the fact that both teams will be running the Ferrari juniors in FP1 session this year won't hurt their cause. Only one of those four seats is technically earmarked for a Ferrari Academy driver, and Antonio Giovinazzi is currently in possession of that, at Alfa Romeo.
READ MORE: Hulkenberg interested in Alfa Romeo seat for 2021 as he plots full-time return to F1
Schumacher is believed to be Ferrari's first choice, and his recent form will only have strengthened his position. Should he win the title, he will almost certainly get a crack at F1 next season. But what happens if Ilott or Shwartzman win the championship? British driver Ilott has spent the longest period at the top of the standings, but is thought to be third choice of the three.
If Ilott wins, then it'd be harsh to ignore him in favour of another FDA member, and it would also mean that he'd be unable to re-enter F2 in 2020. Should this scenario happen, then it is plausible that Ferrari will look into a way of promoting two of them.
Before any of that materializes, one of them actually needs to win the title. Two career-defining rounds remain…
WATCH: Rise of the Rookie - Sebastian Vettel
This is an updated version of an article that was originally published on September 20, 2020.