Feature
Ferrari looking feisty and Mercedes on the back foot as a new era begins – What To Watch For in the Bahrain GP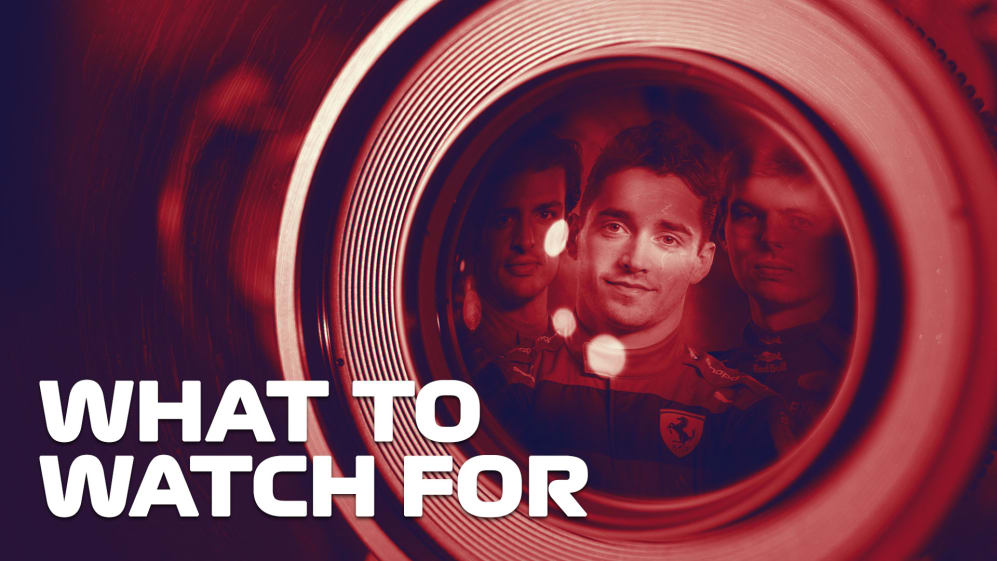 From another two-team battle for victory to Mercedes struggling, and fairytale results for some drivers balanced by nightmares for others, we pick out some of the key areas to keep an eye on as the 2022 season gets under way at the Bahrain International Circuit.
1. Ferrari vs Red Bull
Throughout last season we were used to seeing Mercedes versus Red Bull, and while the latter are still right up there, it's Ferrari that have replaced the Silver Arrows as the main challenger. More than that, Ferrari had the edge in qualifying and were 0.006s away from a one-two result but for Max Verstappen's final lap that pipped Carlos Sainz.
READ MORE: Leclerc takes stunning Bahrain pole for Ferrari ahead of Verstappen and Sainz
Still, there were only 0.129s between the top three drivers in a thrilling qualifying session, with Sergio Perez securing his spot on the second row just under a quarter of a second off his team mate. It's clear that the two teams are closely matched in qualifying trim at the Sakhir circuit, and both were happy with the work they did throughout pre-season testing when it came to race simulations, too.
Ferrari have the advantage in terms of starting position and they also seem to have a strong power unit that should help if they need to get defensive, but Red Bull are particularly confident in their race pace. With both teams having both cars at the front, this could be an epic battle both strategically and on track.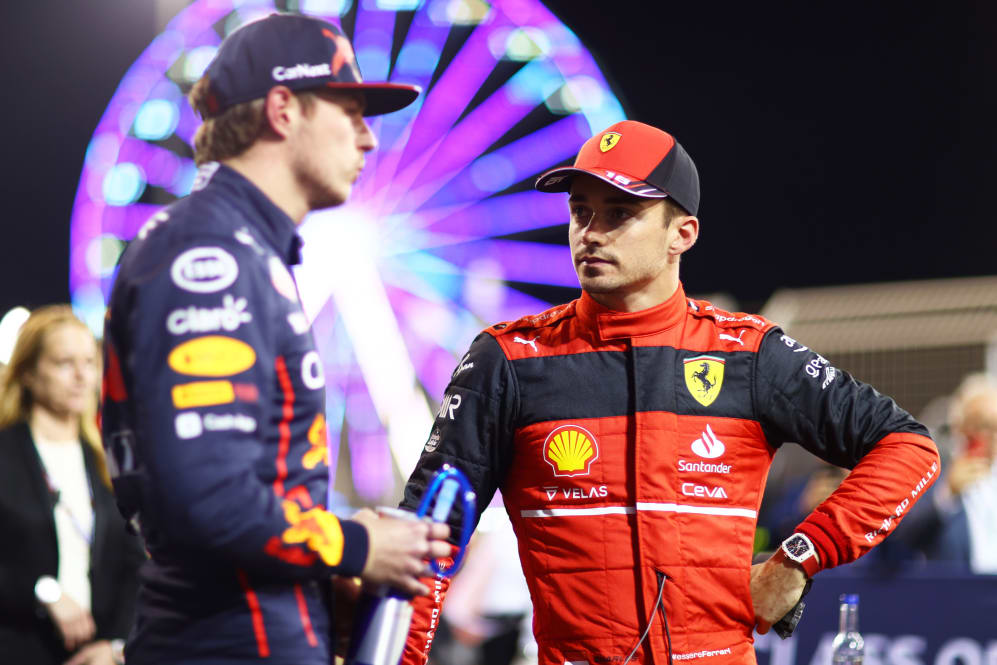 2. Can Mercedes hang in the fight?
For all the warnings from Mercedes about their potential (or lack of it) this season, it is still always a surprise to see a previously dominant team struggling. But there were already positive signs from the defending champions as Lewis Hamilton secured best-of-the-rest status with fifth on the grid, albeit nearly 0.7s off Leclerc's pole time.
READ MORE: Mercedes 'not in the fight' with Ferrari and Red Bull says Hamilton, after worst Bahrain quali since 2009
At the very least it gives Hamilton a chance to limit the damage compared to the drivers from Red Bull and Ferrari while Mercedes try to get a handle on their car issues, but perhaps there will be more than that on offer…
The Mercedes looked the most settled it has been all year during qualifying, suggesting progress has been made with the bouncing that so limited the team throughout testing. If that improvement translates into a better car in race trim, then Hamilton could still be a factor in the battle for the podium and even victory.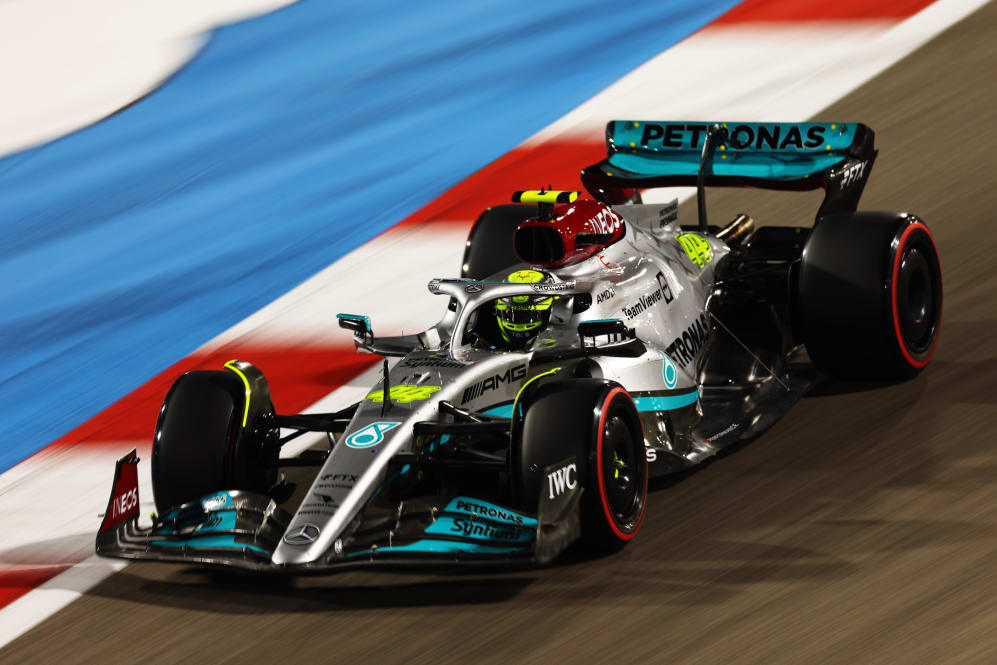 3. Bottas and Magnussen with dream starts
While there are some worried faces at Mercedes, the complete opposite is true for the two cars that will be lining up directly behind Hamilton on Sunday's grid.
It has been common for Valtteri Bottas to share a row with Hamilton in recent years after five seasons as team mates at Mercedes, but the Finn's move to Alfa Romeo was not expected to continue that trend. Yet Bottas showed Alfa Romeo's headline lap times in testing were not the result of glory runs, securing a top-six starting spot despite missing FP1.
READ MORE: Bottas proud after 'super smooth' first Alfa Romeo quali sees him start ahead of a Mercedes
If that seemed like a fairytale story, just look at the next car on the grid. Kevin Magnussen didn't even think he would be racing in Formula 1 again just two weeks ago, but then the phone call from Haas came and he accepted Guenther Steiner's offer to return to his former team.
More than that, he stepped into a much-improved car that he immediately felt comfortable in, and Magnussen got plenty of performance out of it under the lights in Bahrain to qualify in seventh place, after putting Haas in Q3 for the first time since the 2019 Brazilian Grand Prix.
4. McLaren starting on the wrong foot
The start of a new Formula 1 season always brings fresh optimism from all of the teams who are hoping to improve on the previous year, and a new era even more so, with the chance of a big change in the pecking order.
For McLaren, the shakedown in Barcelona suggested they had put themselves right in the mix with the likes of Ferrari and Red Bull to start this year, as the car looked quick and settled throughout the opening three days. But once they got to Bahrain, cooling issues and inherent car weaknesses in terms of lower-speed corners started to bite.
WATCH: 'As bad as P13 sounds it's the best we could have done today' says Norris
A lack of running actually masked how bad the situation could be, but after Daniel Ricciardo missed the official test due to Covid-19 infection, the Australian was always going to be on the back foot and he dropped out in Q1.
Lando Norris progressed but never looked a threat to the top 10 and will start from 13th on the grid, with McLaren the eighth-fastest team ahead of only Williams and Aston Martin on Saturday.
Just finishing the race would be an achievement after the team's struggles trying to complete long runs last week, but if they can do so, then McLaren will also be seeking to unlock a bit more of the potential that was seen in Barcelona. It's a tall order from their starting positions, though.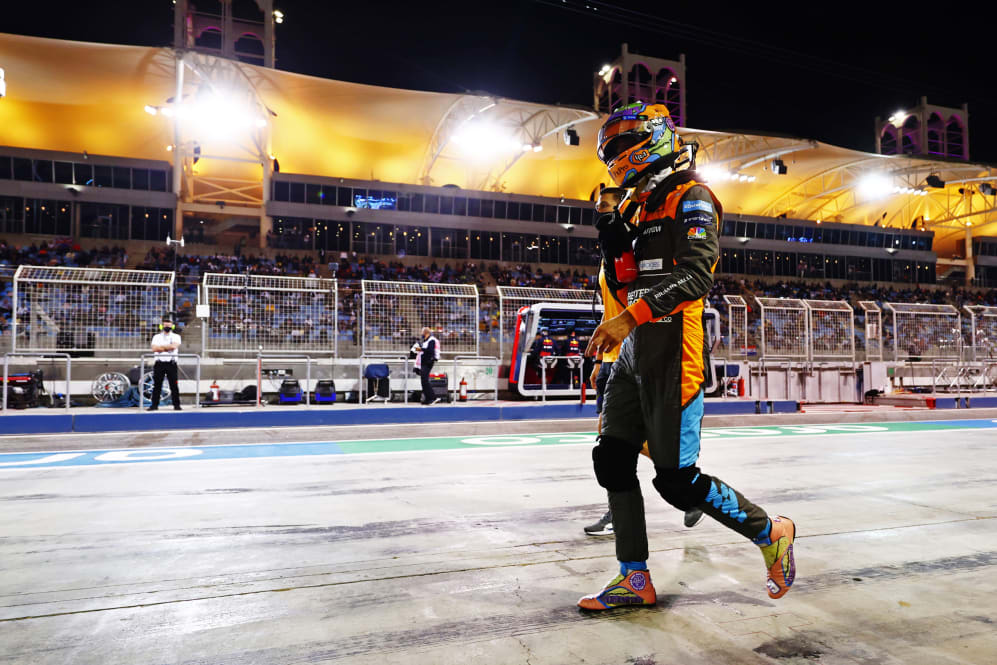 5. Closer racing
Perhaps a source of optimism that could help McLaren's attempts to recover in the race comes from the intention of the 2022 regulations, which were designed to improve racing by allowing cars to follow each other more closely.
The new rules were specifically developed to ensure a car does not lose so much aerodynamic performance when it is behind another car, and the initial signs from the pre-season running suggest good progress has been made on that front.
READ MORE: Red Bull race pace 'very strong' says Verstappen after missing out on Bahrain pole
But any examples of cars following each other came without a whole group of drivers fighting for every last inch in a race situation, and also with the caveat that it wasn't clear what their respective fuel loads and run plans were. On Sunday we'll finally get the first true test of the new regulations, and the impact they could have on the racing.
Overtaking is not supposed to become easier – it should be a challenge to pass another F1 car, especially in such a closely-matched field – but the battles that develop should be able to continue for much longer without the following car needing to drop back to find clear air.
If the new rules do as intended, we should be in for some entertaining fights up and down the field throughout the evening in Bahrain.