'Ferrari need to be on top' – Leclerc vows to 'do everything' to take Baku Sprint win after out-qualifying Red Bulls for second day in a row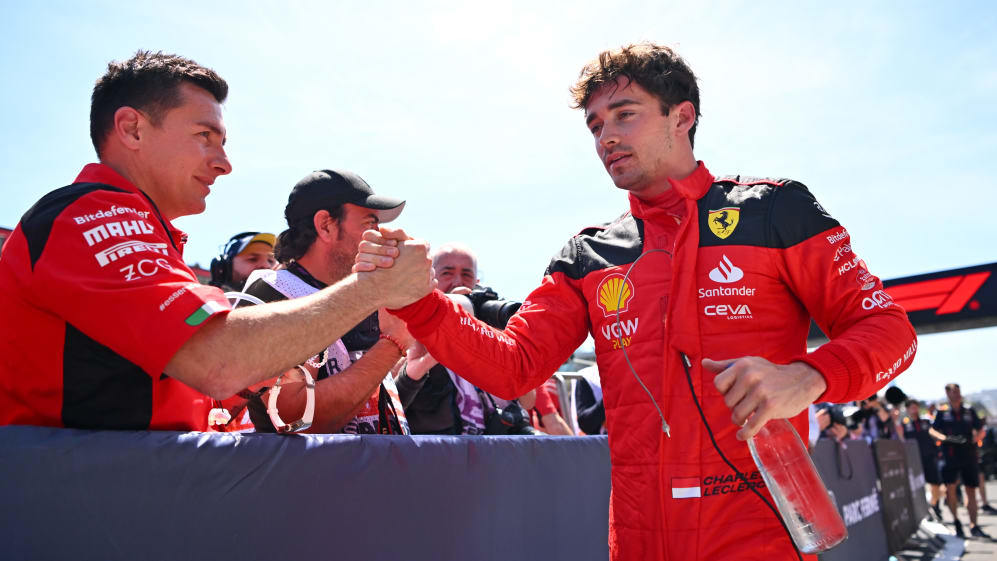 Charles Leclerc is hopeful that he can convert his strong qualifying pace around the streets of Baku into a Sprint race victory after out-pacing Red Bull drivers Sergio Perez and Max Verstappen in F1's first-ever 'Sprint Shootout'.
After claiming pole position for the Grand Prix in Friday's standard qualifying session, Ferrari driver Leclerc doubled up in Saturday's Shootout, despite crashing on his second SQ3 attempt with a trip to the barriers at Turn 5.
READ MORE: Leclerc leads Red Bulls in first ever Sprint Shootout despite crashing in SQ3
Reflecting on his session, and the moment that removed his front wing, Leclerc said: "I mean, with the soft [tyres] it was a little bit tricky, because you get into Q3, and we haven't driven on this tyre since yesterday. It's not a long time ago, but the conditions are very different, so it was behaving much differently.
"The rear overheated on the second lap, I tried to push a bit more to gain some lap time as I was behind my first best lap time and I lost it in Turn 5. At the end it doesn't have any consequence on [my] qualifying.
"I don't know about [team mate] Carlos [Sainz] behind me, it's a shame if he was improving. But [I was] happy with the first lap, very happy with the first lap, and now we have to confirm that in the race."
As for how he plans to tackle the 17-lap Sprint race, Leclerc said: "Well, we will go for it. But we need also to be realistic and until now we have been on the backfoot in the race, especially the Red Bulls seem to be a step ahead. Let's see how it is.
"Hopefully we have a good surprise. I think we improved the car quite a bit, but today we will have more of an answer to see where we are compared to them. I'll do everything for it [the victory]. We are here for that at the end. Ferrari needs to be on top and I'll do absolutely everything to win."
MUST-SEE: Drama in the Sprint Shootout at Baku as Sargeant slams into the wall
Asked by Sky Sports what he enjoys about Baku, having now claimed pole at the venue in 2021, 2022 and 2023, Leclerc added: "I don't know – I like street tracks in general – I like the challenge of being in between walls without having the possibility to overstep it like we've seen in the second lap today.
"But it's something that I really, really enjoy. It's good to be quick here in quali, but I've never won so this is our main priority now; we really need to make sure we work on our car in race pace.
"In the past few years we've always been quick in quali, but once it comes to tyre management we are struggling, we are heating the tyres too much. I think we've done some steps forwards after Australia but we still need to confirm it."