Ferrari race pace as good as last weekend insists Leclerc, despite P16 in FP2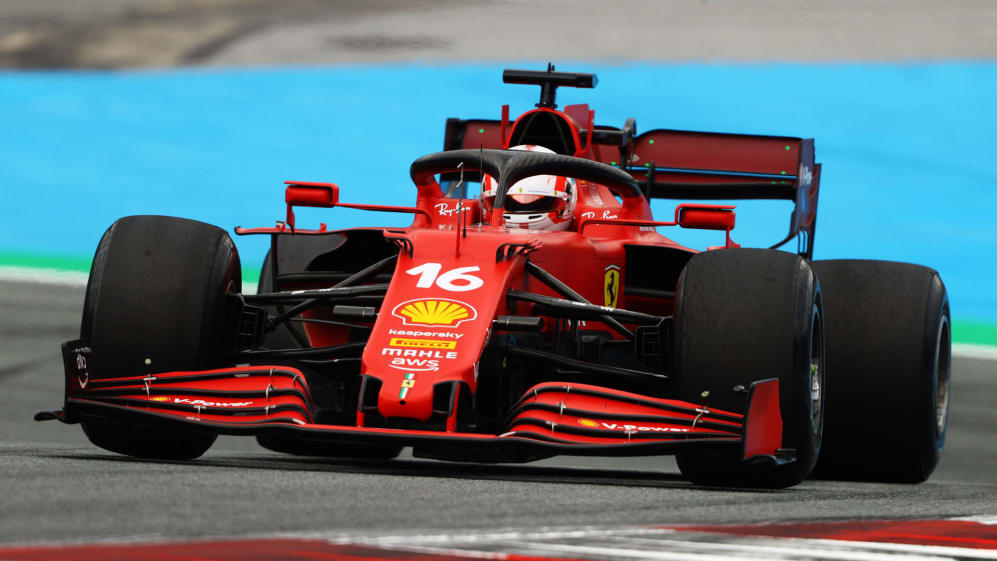 After their team's strong showing in last weekend's Styrian Grand Prix, Ferrari fans are hoping for more of the same at the Red Bull Ring this Sunday. And Charles Leclerc says they should maintain that optimism, despite his lowly 16th place in second practice, with team mate Carlos also well outside of the top ten.
With the ongoing Euro 2020 football tournament still very much on many drivers' minds, Friday was definitely a game of two halves for Ferrari. They finished second only to the Red Bull of Max Verstappen in FP1, as teams got used to the softer tyre allocation for the second part of the Austrian double-header, but then slumped to P13 and P16 in FP2.
FP2 REPORT: Mercedes hit back as Hamilton leads one-two in second practice at the Red Bull Ring
Leclerc, however, insisted the second practice times were not representative: "There's still quite a lot of work to do to understand this C5 [tyre] – it's the first time we use [here] and I don't think we are on top yet of making them work in the optimum situation.
"So we still need to work on that, but overall it's been quite a good day – our race pace is still as good as last week, and our quali pace, we are still working on it…
"We still haven't found the small step that we need to be a bit further up, but we are working on it and hopefully we will find it from today to tomorrow."
The cooler temperatures in Spielberg, coupled with softer Pirelli rubber, had prompted questions over whether Ferrari could again struggle with tyres here, just as they did in France at the start of this triple header – and Sainz admitted he was shocked at how different things felt compared to last weekend on the very same circuit.
"We basically put a very similar car to last week on track and everything starts to feel different, which shows just how complex these Formula 1 cars," said the Spaniard. "Slight changes in wing, slight changes in track condition makes it feel like a completely different car."
But like Leclerc, Sainz did not believe their Styrian race pace has deserted them…
"I think we are in a very similar picture [to last weekend]. I think qualifying, just because of the amount of time you spend flat-out at this track, even if we are really good through the corners – which we are – by simple statistics and by simple numbers, with 80 percent of the lap done in full throttle, we are always going to be a bit behind.
"Then come the race, when you struggle a lot more for grip in the corners and you don't have that extra grip from the tyres, then hopefully our car comes alive and we can still keep going forward."
READ MORE: Leclerc confirms he's driven early version of Ferrari's 2022 car on simulator – and says it's 'very different'