FIA unconcerned about being pulled into middle of Mercedes-Red Bull title fight, says Masi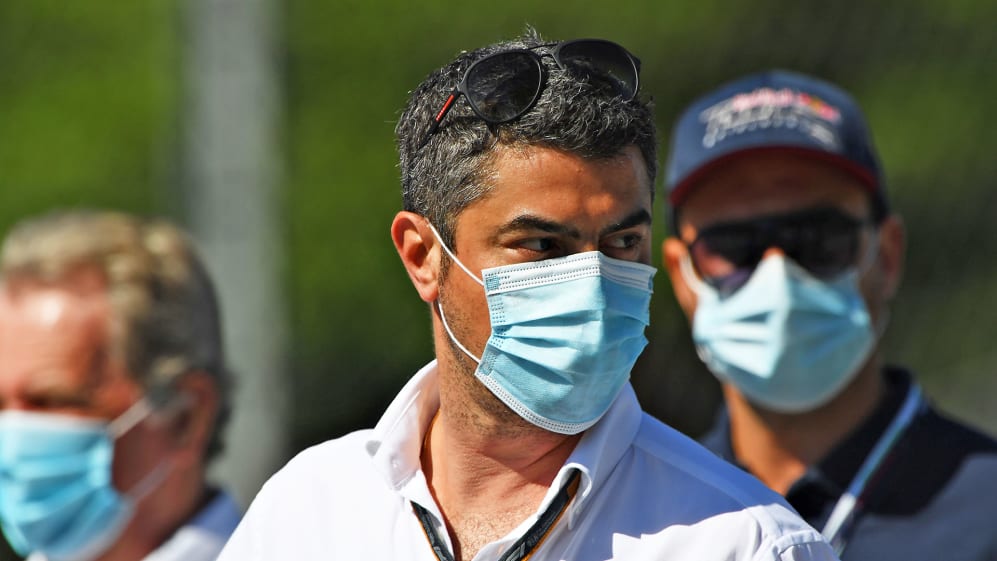 FIA Race Director Michael Masi cut more of a boxing referee figure during the British Grand Prix, as both Red Bull and Mercedes appealed to him over the Lap 1 crash between Max Verstappen and Lewis Hamilton. But Masi insists that getting in the middle of those kind of fights was simply a part of his job.
F1 fans were able to listen into conversations between Masi and representatives from both Red Bull and Mercedes – including Team Principals Christian Horner and Toto Wolff – in the wake of the crash between Hamilton and Verstappen, as each argued their driver's case, with Wolff even referencing an email he'd sent to Masi containing a diagram explaining his point of view.
READ MORE: Masi backs stewards on Hamilton penalty, adding that decisions are always based on incident alone not outcome
The stewards eventually ruled that Hamilton had been 'predominantly' responsible for the crash and handed the Mercedes driver a 10-second penalty – a judgement Masi said he agreed with.
But asked if the stewards were being used too much in the increasingly bitter fight between Red Bull and Mercedes this year, Masi replied: "You've got such a close championship which is fantastic for Formula 1, you've got two magnificent drivers fighting it out for the World Championship.
"As a regulator, you're always going to come out like any referee in any sporting competition so there's always going to be an element of it. But whatever sniping is happening between Mercedes and Red Bull behind closed doors is not of concern to us. We judge it on what happens out there on the sporting field or on the track."
Pushed on whether being harried by the F1 teams mid-race was frustrating for him, meanwhile, Masi replied: "No, no frustration, obviously that's part of what they do, it comes about in various waves depending on what it is.
READ MORE: Ross Brawn on why he hopes we don't see a repeat of Hamilton and Verstappen's clash
"There were a couple of instances there, be it with Mercedes or Red Bull, where I said just hang five and I'll get back to you, which you probably didn't hear, you only heard the ones you heard on the radio.
"Everyone is looking after their own patches of turf so to speak, as you'd expect," added Masi. "But from my perspective, I treat them all equally, balance up what we've got to do and set certain priorities in my mind of what you've got before you and need to prioritise accordingly."