Fighting in midfield 'a lot tougher' than leading a race, says Ocon after maiden Grand Prix win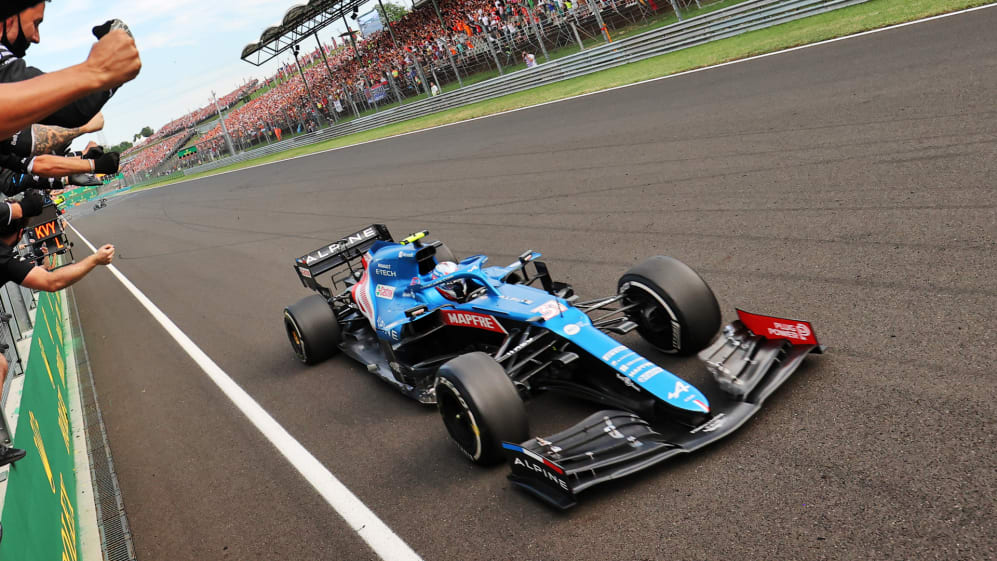 After winning his first Formula 1 Grand Prix, Alpine's Esteban Ocon has said it's easier to be a leader than a follower – saying his extensive experience fighting in the midfield pack prepared him well to run at the front of the Hungarian GP.
Ocon led the first laps of his Formula 1 career on Sunday, with 65 out of 70 being led by him, three by Lewis Hamilton and two by team mate Fernando Alonso.
F1 NATION: Hungary Turn 1 chaos, Ocon's win, and the inside story on that spiky Verstappen press conference
Asked if he felt 'rusty' leading a race, given his last single-seater win was at the 2015 GP3 Series opener, Ocon replied: "No, I didn't feel rusty and I'm sorry to disappoint but it's easier to fight at the front like we did now, to manage the opponents that are behind, than to fight in the midfield how we are [usually] doing. This is much harder. So, you know, we had good training the whole time."
With four-time champion Sebastian Vettel behind him for all but one lap (when Ocon pitted on Lap 37), the Frenchman remarked that it was difficult to have Vettel behind but admitted that being in clean air helped him stay ahead of the driver who was eventually disqualified from P2.
"The fight in the midfield is a lot tougher than what's happening in the front," he reiterated. "It was hard with Seb putting a lot of pressure, he gave me a hard time, but you know, when you are ahead, you have clean air. You are the one who is dictating the pace on such a track."
Ocon took P2 at the start of the race when the Lap 1 collisions eliminated five drivers but said he thought he had got it wrong when he pitted for dry tyres on the restart formation lap, while then-leader Lewis Hamilton stayed out on his intermediates. As it turned out, Ocon was right, and Hamilton had to pit on the following lap, dropping him to the back of the field.
READ MORE: Race Director Michael Masi explains how Hungary restart would have worked if Hamilton had pitted
"Lewis normally doesn't take wrong decisions – never, I've never seen him taking a wrong decision, so to box when you are P2 on the road, it's a bit heart-breaking at first, but glad that we did it because we were a long way ahead and yes, the guys did a great pit stop as well," he said.
And the Alpine driver conceded that if Vettel had not had a slow pitstop on Lap 36, he would have been undercut by the Aston Martin racer: "I heard you say that Sebastian had a slow stop, that's probably what made the difference because they would probably have undercut us on that, so yes, the guys in the garage again, top job by them," added Ocon.