Race Director Michael Masi explains how Hungary restart would have worked if Hamilton had pitted
Lewis Hamilton played a part in one of the more bizarre starts ever witnessed in Formula 1 when he lined up alone at the Hungarian Grand Prix to take the post-red flag restart, as his 14 rivals all dived into the pits. But FIA Race Director Michael Masi has explained how the start would have worked had Hamilton decided to pit too.
Mercedes stood by their decision not to pit Hamilton ahead of the Lap 4 restart, opting to keep him out on intermediates as the rest of the field switched to slicks before the start – with Hamilton setting off alone on the grid before the rest of the field filed out of the pit lane and chased after him.
READ MORE: The red flag restart shaped the race – but was the call not to pit REALLY what cost Hamilton the win?
And Race Director Masi admitted it was one of the more unusual scenarios he'd ever witnessed, before clarifying how the situation would have worked had all the cars pitted.
"I haven't had one of those before – it was a bit different," said Masi. "What would have happened [if Lewis had pitted], basically once the last car was in the pit lane, the start signal would have been initiated and then once that went off, the green light at pit exit would have come on and it would have been the order at pit exit."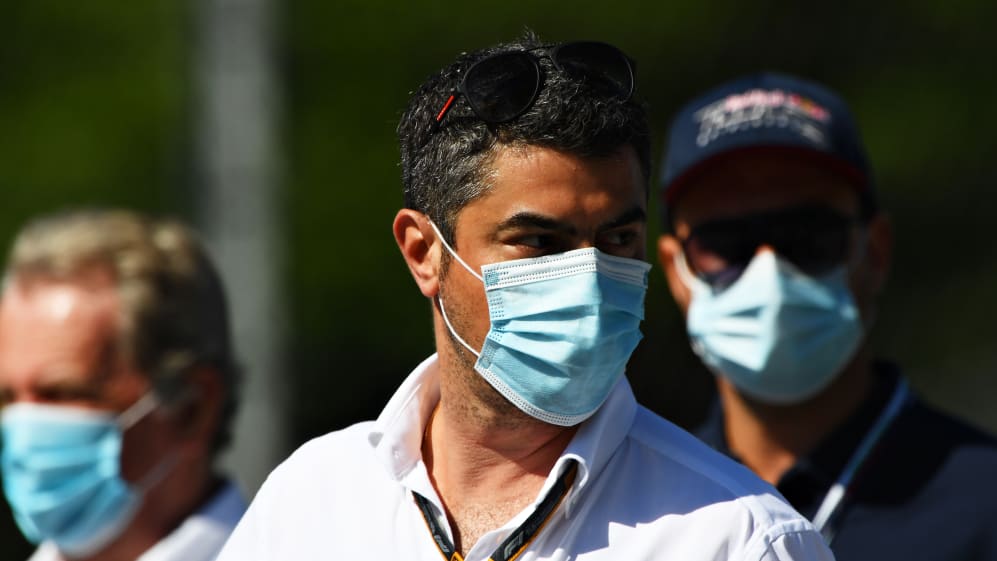 Asked if the procedure would be looked at for future events, meanwhile, Masi replied: "It's nothing anyone could have ever foreseen but we'll let things calm down and have a chat about it in the light of day with all the sporting directors. But having spoken to some of them already up and down, some of them have already said, 'was it really a bad thing?'"
READ MORE: Hamilton explains decision not to pit for dry tyres at restart as Wolff maintains Mercedes 'did the right thing'
Masi, meanwhile, went on to explain the rationale behind handing Mercedes' Valtteri Bottas and Aston Martin's Lance Stroll five-place grid drops for the next race in Belgium, after the pair were deemed to have triggered the Lap 1 chaos that resulted in the red flag.
"As we've said before, it's not effectively the outcome, it's the incident itself," said Masi, "and both of those incidents were judged on their merits and deemed it wasn't a three grid slot [penalty].
"[The stewards] can issue [drops of] three grid slots, five, 10 grid slots, pit lane start, whatever, depending on what they judge the incident as. It was judged on the basis of the incident not the outcome.
READ MORE: 'I don't think one race will influence anything' – Bottas says Hungary error won't decide Mercedes future
"Even allowing for the rain and so forth, you could say possibly if it was dry conditions and the same incident happened, it might have been a stronger penalty. Based on that it was quite clear cut and that's why the stewards said in both those decisions they were wholly to blame, there was no 'predominantly' or anything else. It was point blank, they made a mistake."