'For a moment I thought I got through' – Ricciardo says Turn 1 crash damage was behind race struggles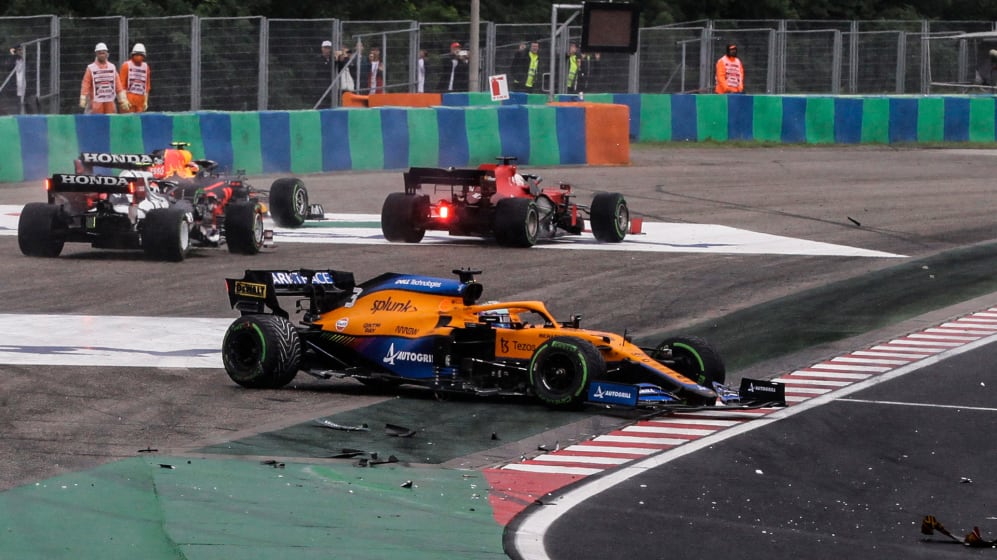 Daniel Ricciardo says he initially thought he'd got through the Turn 1 melee of the Hungarian Grand Prix unscathed in P2, but the chain reaction of crashes caught up to him and he was tagged into a spin by Charles Leclerc's Ferrari, which, as the Australian exlained, badly compromised the rest of his race.
The Australian qualified 11th at the Hungaroring and swept through the chaos, triggered by Valtteri Bottas, as the lights went out. But Leclerc was also caught up in the Turn 1 drama having been hit by Aston Martin's Lance Stroll, and Ricciardo's brief hopes of emerging from the drama in P2 were dashed when Leclerc careered into him, as he explained.
READ MORE: 7 Winners and 6 Losers from the Hungarian GP – Who goes into the summer break on a high?
"For a moment I thought I got through the chaos in Turn 1," he said. "The start was good, I think I got through two or three off the line; obviously I saw Valtteri go into Lando, who got into Max at the start, and I was able to get through that in second. I was like, 'OK, I obviously felt like I got through it…'
"Just as I went to exit the corner, I see Charles come into me and spin me around. I kind of knew already, the way he came into me, I think someone's gone into him, because we were already through the corner, and it seemed weird. He then damaged his car, damaged mine… The rest of the race, the team tried to tape up as much as they could, but it was very compromised on the right-hand side," he added.
With team mate Lando Norris having been eliminated from the race thanks to that contact with Bottas, Ricciardo was the sole McLaren – but on a day when many of the front runners were out and a shock result was on the cards, he couldn't do better than P11 behind the damaged Red Bull of Max Verstappen and both Williams cars.
The #3 driver explained why, as he said: "So we don't have the fastest car, and with some compromise it hurts. And with a tricky track to pass, it's just hard to do anything and it started to get away from us at the end there. Obviously, a lot of… races were compromised today – I'm not the only one – but of course frustrating when, for maybe half a second, we got out of this in P2."
READ MORE: Russell to drive for Mercedes in this week's 2022 tyre test in Hungary
Ricciardo will stay in Hungary for a mid-week Pirelli tyre test in which he tries out the 2022 18-inch compounds, but the Honey Badger said he's keen to get away and have a rest after a gruelling start to the season.
"Honestly, no I don't want another race after that," he quipped. "That was a long 70 laps… or whatever it was at the end. I want to get away from it but I've got testing – I test here on Wednesday. I stay on the game for 72 hours and then get away. It's been a busy last few weekends so, switch off for a little bit," he concluded.