Feature
7 Winners and 6 Losers from the Hungarian GP – Who goes into the summer break on a high?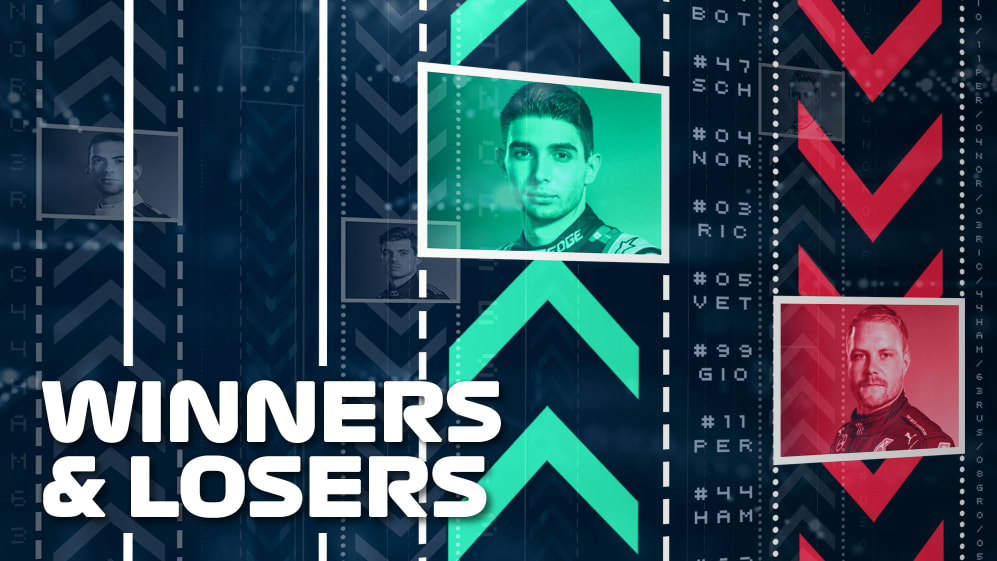 A sprinkling of rain created the conditions for a thrilling, action-packed Hungarian Grand Prix that saw some bouncing into the summer break with a spring in their step and others left to rue what might have been. We've picked out our seven winners and six losers from the Hungaroring...
Winners: Esteban Ocon and Alpine
Esteban Ocon added himself to the history books as he became the 111th driver to win a World Championship race in his 78th start.
Sure, there was some good fortune as he kept his nose clean through the first corner melee, but he still held his nerve under intense pressure from Sebastian Vettel to grab the victory and become the 14th French driver to win in F1 to boot.
MUST-SEE: Watch the moment Alpine's Esteban Ocon became a Grand Prix winner
The last French driver to win in a French car with a French engine was Alain Prost in the 1983 Austrian Grand Prix with Renault. This was the Enstone team's 50th win and first under the Alpine banner.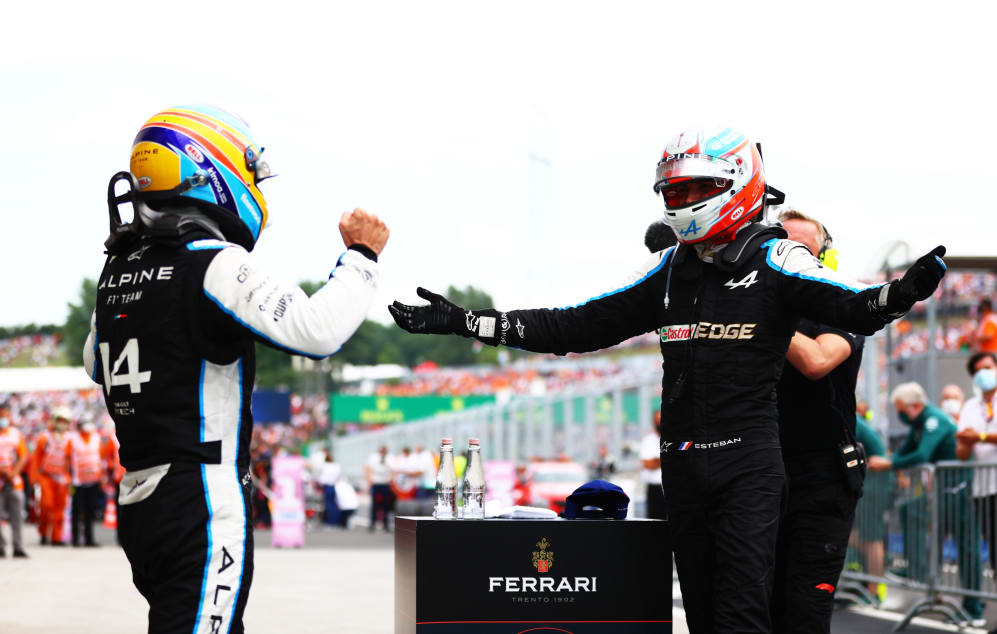 And with Fernando Alonso playing a key role in holding off Lewis Hamilton for around 10 laps to neutralise the threat to Ocon's lead, as well as crossing the line fifth, the team's points haul lifted them two places to fifth in the constructors' championship.
Loser: Valtteri Bottas
Valtteri Bottas had looked quick all weekend as he continued his upturn in form by locking out the front row alongside team mate Hamilton. But his race lasted just a few hundred metres after he misjudged his braking point and slid into the back of Lando Norris.
This was the first time in his career that the Finn has retired on the opening lap of a race. To his credit, he held his hands up and took the blame, while also apologising to Norris and Sergio Perez, who were both forced to retire because of the collision Bottas caused.
READ MORE: 'Apologies don't change anything' – Norris hits out at Bottas as Finn admits he created 'a mess'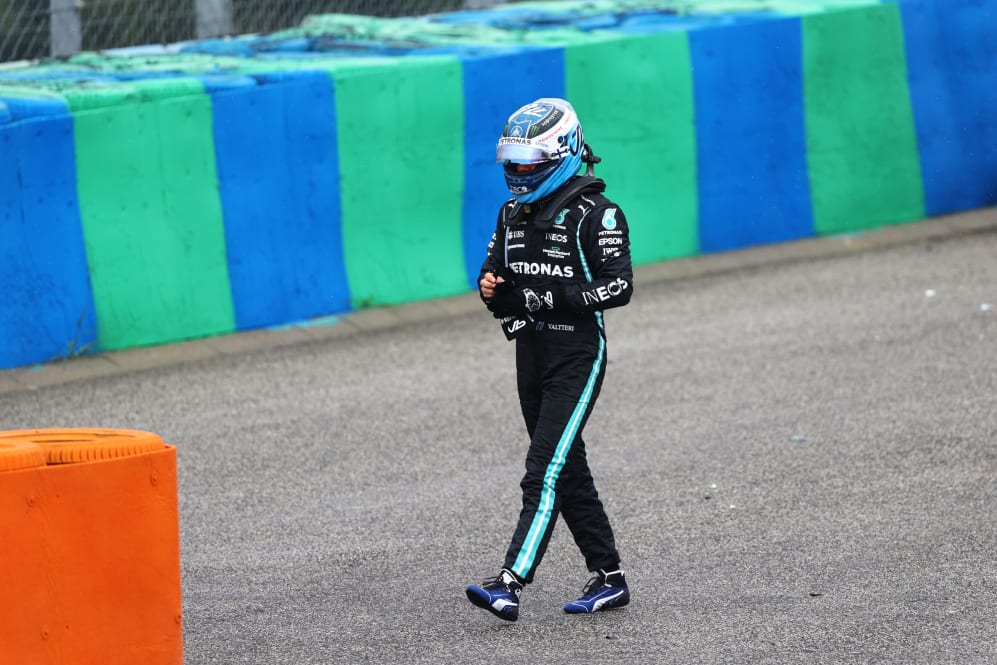 Winners: Sebastian Vettel and Aston Martin
There were signs of the old Sebastian Vettel in Hungary on Sunday, the German heaping the pressure on Ocon when he sniffed the chance of victory. Had he not lost a few seconds in the pit stop, he might have been able to jump the Frenchman.
But second at the line was nonetheless a very impressive result, in what was his second podium of the year and eighth rostrum at the Hungaroring.
READ MORE: Ocon claims shock maiden victory in action-packed Hungarian Grand Prix, as Vettel disqualified from P2
It was a strong way to end the first half of the season while the points were crucial to Aston Martin in their tight fight with Alpine and AlphaTauri for fifth in the constructors' championship – but then there was a twist on Sunday night….
Losers: Sebastian Vettel and Aston Martin
Vettel stopped out on track, rather than returning to the pits, after finishing the Grand Prix and it later emerged race officials were unable to take the required fuel sample.
As a result, Vettel was disqualified from the event, robbing him of the team's and his second podium of the year. Aston Martin said they will appeal, which is no surprise considering the large number of points at stake.
Winner: Lewis Hamilton
Lewis Hamilton remained calm on team radio when he found himself sat on the grid by himself for the restart as everyone else dived into the pits, despite knowing he would drop from first to last when forced to pit the following lap.
READ MORE: Hamilton explains decision not to pit for dry tyres at restart as Wolff maintains Mercedes 'did the right thing'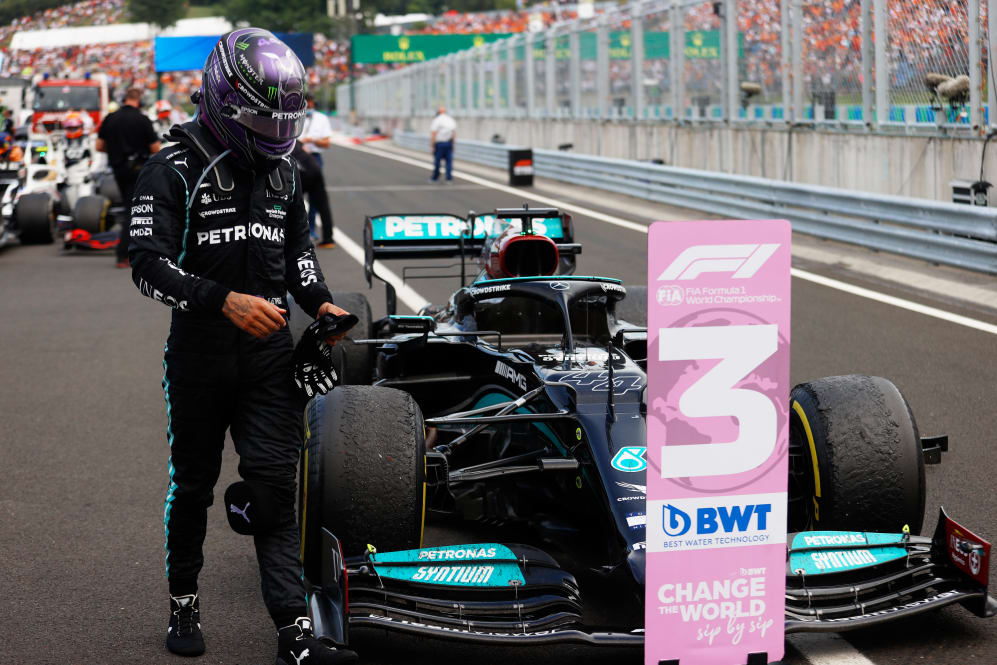 But he kept his cool and picked his way through the field, finally getting by Alonso after a titanic battle before picking off Carlos Sainz to take third, which became second when Vettel was disqualified. He wasn't feeling too well when he got out of the car, experiencing fatigue and mild dizziness.
But he can take some comfort in the standings, which see him retake the championship lead for the first time since before the Monaco Grand Prix, as he now heads Max Verstappen by eight points, a swing of 40 in two races.
Losers: Max Verstappen
This has not been a good couple of events for Verstappen and Red Bull, with the team scoring just five points – including those collected in the F1 Sprint – courtesy of the Dutch racer. In Hungary, they appeared a fraction off Mercedes in pure performance, with Verstappen's race taking a blow when he was hit at the start, causing significant damage to his RB16B – and his title hopes.
READ MORE: Verstappen laments frustrating run to P9 in Hungary after being 'taken out by a Mercedes again'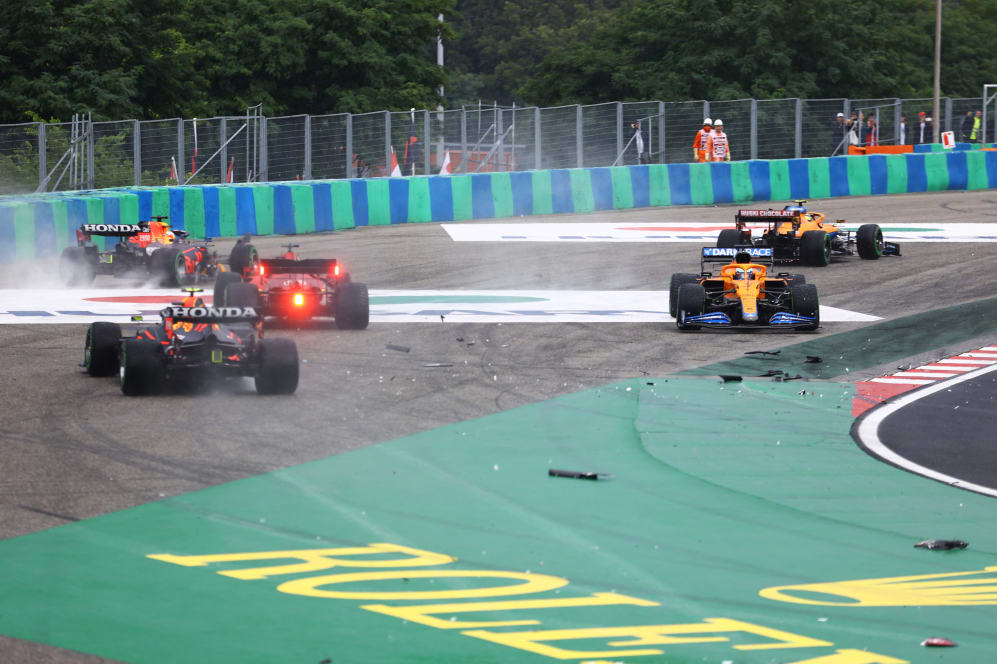 Though he continued, he could only fight his way back to 10th, which became ninth with Vettel's DSQ, and meant he relinquished the championship lead. Red Bull, meanwhile, fall further behind the Silver Arrows in the constructors', with the gap now 12 points.
Winner: Carlos Sainz
Carlos Sainz has made a name for himself as a comeback king – and he only reinforced that tag on Sunday with a mature drive from 15th to fourth, which became later third – his second podium for Ferrari and the second time he has had a podium without being able to stand on it.
READ MORE: What the teams said – Race day in Hungary
He kept his nose clean at the start – and then showed strong pace when in free air after Nicholas Latifi pitted – to secure his fourth consecutive top-five result when starting 15th or lower. It moves him up to sixth, and ahead of team mate Charles Leclerc, in the drivers' standings.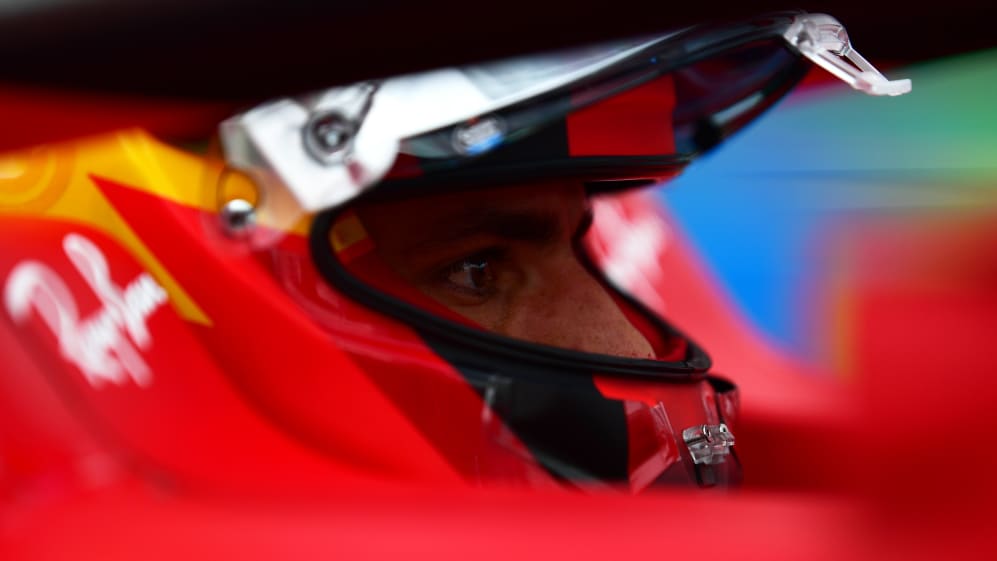 Loser: Charles Leclerc
There was little Leclerc could do when Lance Stroll came sliding into him, the Monegasque's Ferrari suffering such heavy damage, he was unable to continue.
It was the second time he has failed to see the chequered flag this season and ends a run of three races in the points, which included his brilliant drive to almost win the British Grand Prix at Silverstone.
Winners: Williams
Williams haven't had the best of luck this season, with George Russell missing out on points on multiple occasions already – but they were not to be denied in Hungary.
READ MORE: Russell says he 'shed a tear' after sealing his first-ever points for Williams in Hungary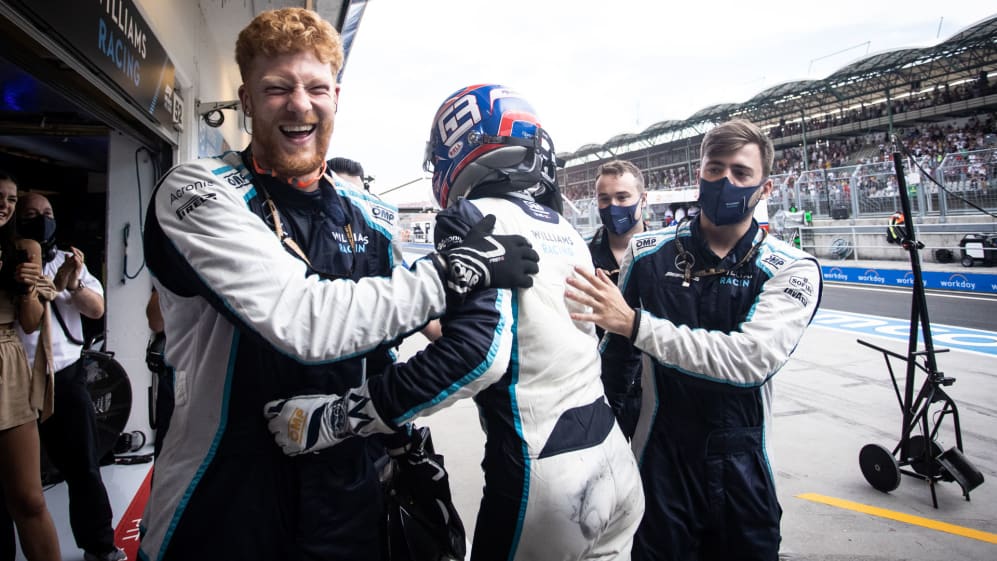 Latifi briefly ran third – but held on to his place in the top 10 to finish eighth (which became seventh) for his first career points while giving the team their best result since the 2018 Azerbaijan Grand Prix. Russell, who offered to compromise his race to help Latifi score a better result, finally got his first points for Williams in his 48th start for the team.
And collectively that haul of 10 points – their first double points finish since Monza in 2018 – moves them up to eighth in the constructors' standings, seven points clear of Alfa Romeo. In a season where the bottom three rarely score, this is a significant result.
Losers: Red Bull
Red Bull left their home race in Austria leading Mercedes by 44 points in the constructors' championship but just two races later, they head into the summer break trailing by 12 – after a 56-point swing.
READ MORE: Perez fears costly engine damage after 'big mistake' from Bottas
They had their request to review Hamilton's Silverstone penalty on Thursday in Hungary turned down, and things didn't really improve from there as Mercedes had the upper hand on track.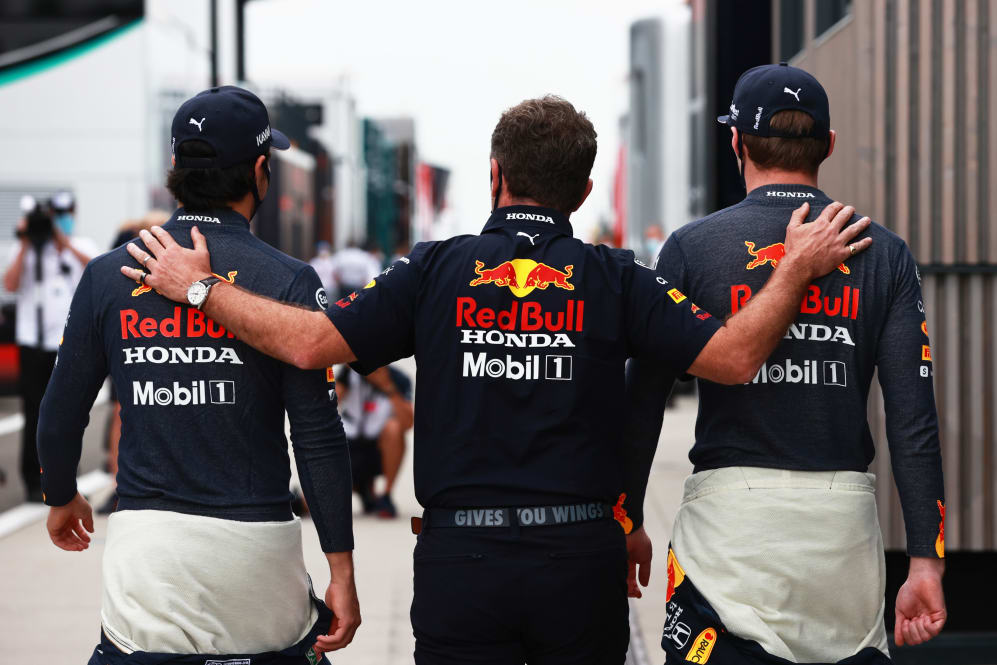 The team's race was essentially ruined in the opening corner, after Bottas triggered a multi-car collision, knocking Perez out on the spot and causing so much damage to Verstappen's car he could only limp home in 10th, which became ninth after Vettel's post-race DSQ. They will be determined to come out of the blocks fighting when the season restarts in Belgium.
Winner: Mick Schumacher
It may not have been points, but this was yet another example of Mick Schumacher's potential as the Haas driver made up 10 places at the start to run inside the top 10.
READ MORE: Hungarian GP Facts & Stats - Ocon secures first French triple since Prost – and there's a new record for Alonso
He then brilliantly defended from Verstappen and Russell, and even though he eventually lost the positions, he didn't make it easy for either of those much more experienced drivers. He crossed the line 13th to maintain his 100% finishing record.
Loser: Lance Stroll
Lance Stroll's Hungarian Grand Prix didn't last long, the Canadian locking up under braking and losing control of his Aston Martin in slippery conditions.
He clattered into Leclerc, causing damage that forced both to retire. It was the fifth race of the year in which Stroll has failed to score.
READ MORE: Bottas and Stroll handed five-place grid drops for Belgian GP for triggering Turn 1 crashes in Hungary
Winners: AlphaTauri
AlphaTauri scored points with both cars for only the second time this season – and while they lost a position to race winners Alpine in the constructors' championship, a double points haul keeps them in sight, just 11 points adrift.
Pierre Gasly's sixth place was his eighth points finish of the year, while a late stop for softs allowed him to pick up an extra point for fastest lap, too. Despite feeling uncomfortable in the car all weekend, Yuki Tsunoda stayed out of trouble to take seventh, matching his career-best result.