Feature
FORM GUIDE: The favourites for pole, points and victory in Belgium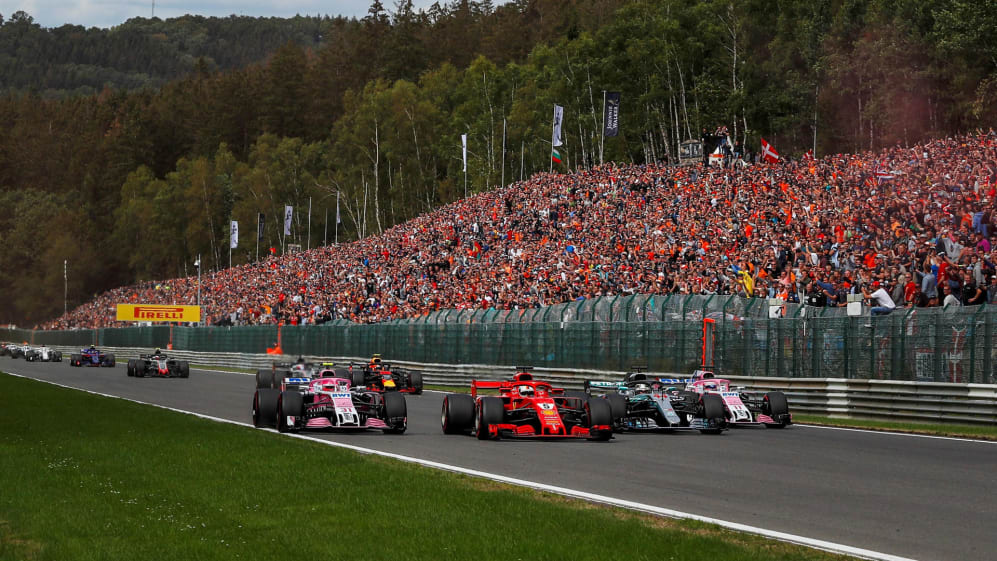 As racing gets back underway after the summer shutdown, we look at the drivers poised for success as Formula 1 descends on Belgium's iconic Spa-Francorchamps circuit.
Who's the top tip for pole?
Hmm, good question that. If you're talking form-wise, Lewis Hamilton is your man. He's been P1 on the grid here five times (three of those in the last four years), the most of any driver in F1's long history of racing at Spa (Ayrton Senna and Juan Manuel Fangio are tied on four apiece behind him). Tie that to the fact that the last time a non-Mercedes took pole in Spa was Jenson Button in 2012, and you've got yourself a heady cocktail for more Hamilton success in Belgium this year.
But it might not be that simple, and the reason it might not be that simple is that, on paper, Ferrari should be the team to beat in Spa. Their SF90 is the slipperiest car of those fielded by the top three teams, while its power unit is also packing the most punch.
The theory goes, therefore, that if Ferrari can maximise their advantage in the blasts through sectors one and three in Belgium, they should have enough in hand to withstand Red Bull and Mercedes's likely advantage in Spa's more wiggly sector two and snatch pole – which would be a second for Sebastian Vettel here, or a first for Charles Leclerc (although it's worth noting that Charlie Lec was on pole here in F2 two years ago, and by a massive 0.668s, so he obviously digs Spa).
READ MORE: Why Ferrari's SF90 is tailor-made for Spa and Monza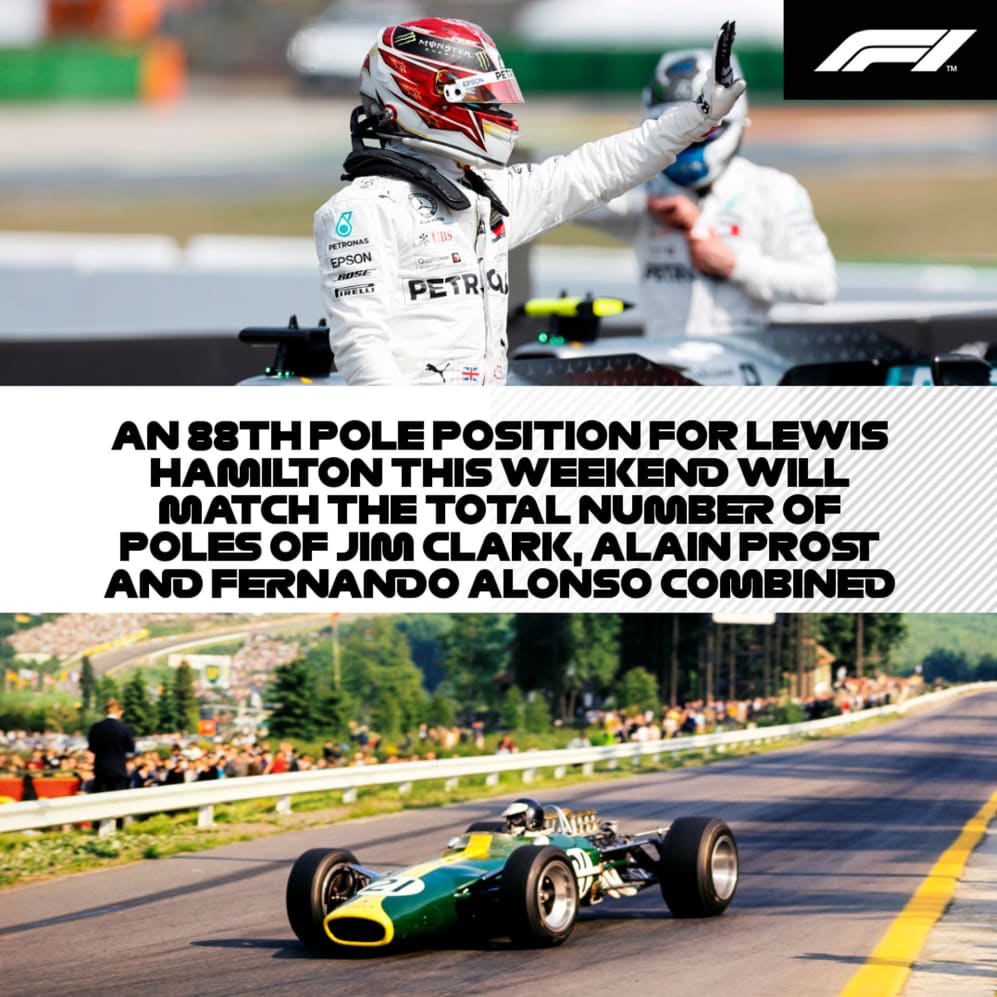 Who's looking good for the win?
We'd wager that the winningest Belgian Grand Prix driver on the grid this year is unlikely to have a repeat in 2019 because it's… Kimi Raikkonen. Yes, Kimi has four wins to his name here, one more than both Hamilton and Vettel, with Vettel's 2018 victory standing as the last time he took the top step of an F1 rostrum.
But the above-mentioned theoretical Ferrari advantage means that the German looks decently-placed to repeat that 2018 win this year, should everything finally go the way of Ferrari, while it will be interesting to see what Leclerc can do, given that his race last year ended at Turn 1, Lap 1 when he was dramatically wiped out by an airborne Fernando Alonso.
However, obviously with eight wins to his name so far this year and given his record at Spa, it would be churlish and foolhardy to rule Lewis Hamilton out of the running for the win – especially given how sweet his W10 should be through Spa's second sector – while similarly, Max Verstappen has already poached two wins this year, and will be looking to impress in the improving Red Bull RB15 on what he considers his home track.
Who's a podium outsider?
Well, how about Alex Albon? Thrust into Pierre Gasly's forcibly-vacated seat at Red Bull, the Thai driver knows he's now in a car where podiums are to be expected – and having tasted podium glory at Spa in F2 last year, a repeat of that this weekend would make for a hell of a story.
Elsewhere, we reckon Valtteri Bottas is more likely to be in contention for a podium than a win here this weekend, given that his record at Spa isn't great, the Finn not having appeared on the rostrum at the circuit since all the way back in 2014.
Meanwhile, current forecasts are suggesting some traditional patchy Belgian rain lurking around the Ardennes on race day – and given what we witnessed when rain hit in Germany two races ago, it might just pave the way for a midfield upset. We'd expect the most likely candidates for said upset to be the two McLaren lads, given the pace of the MCL34 currently – although interestingly, Carlos 'Consistent' Sainz has only taken a solitary point at Spa in four times of asking…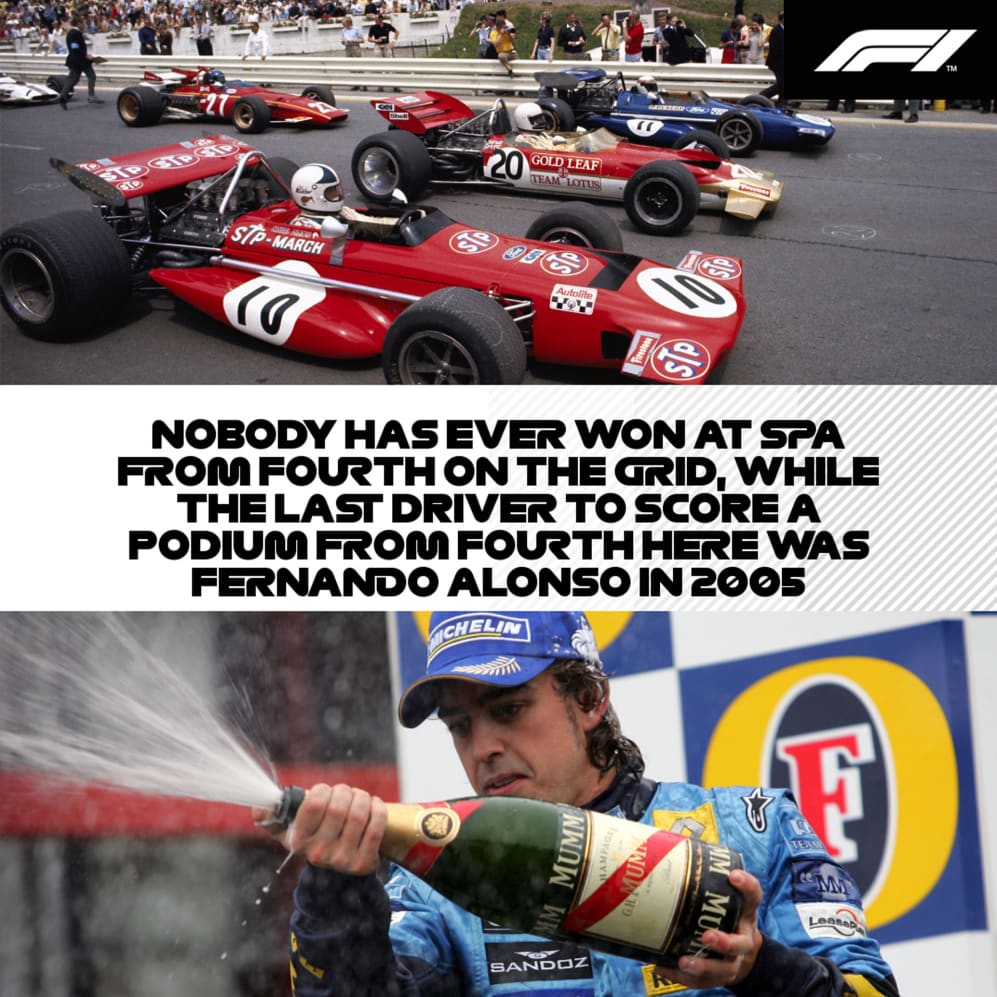 Who'll hoover up any points on offer?
Look at the list of Spa winners and you can see that it's a track that rewards 'natural' drivers with great car control – and there are plenty of those in F1's midfield who'll be jonesing to steal some points and begin the second 'half' of the season in style.
Apart from the McLarens, four-time winner Raikkonen has obviously got Spa smarts, while Sergio Perez has finished fifth in Belgium three times in the last four years, meaning that if Racing Point can continue to tune their major Hockenheim/Hungaroring-introduced upgrade, he should be sitting pretty. Prettier than team mate Lance Stroll at any rate, with the Canadian one of the very few drivers to openly admit that he doesn't have much affinity for the Belgian track, despite his mother hailing from nearby Brussels.
WATCH: 5 shock moments from Belgian Grand Prix history
Over at Renault, meanwhile, Daniel Ricciardo is a former winner, and has also featured on the podium twice in the last three years, while team mate Nico Hulkenberg has twice finished fourth in Belgium in his career, and tends to run well here.
Another driver with a strong record in Belgium is Romain Grosjean, having taken third here with Lotus in 2015, and finished seventh in the past two seasons. And if he can built a rapport with Haas's latest aero spec, which both he and Kevin Magnussen will run on their cars throughout the weekend, he'll be looking good to do some much-needed point-grabbing as well.